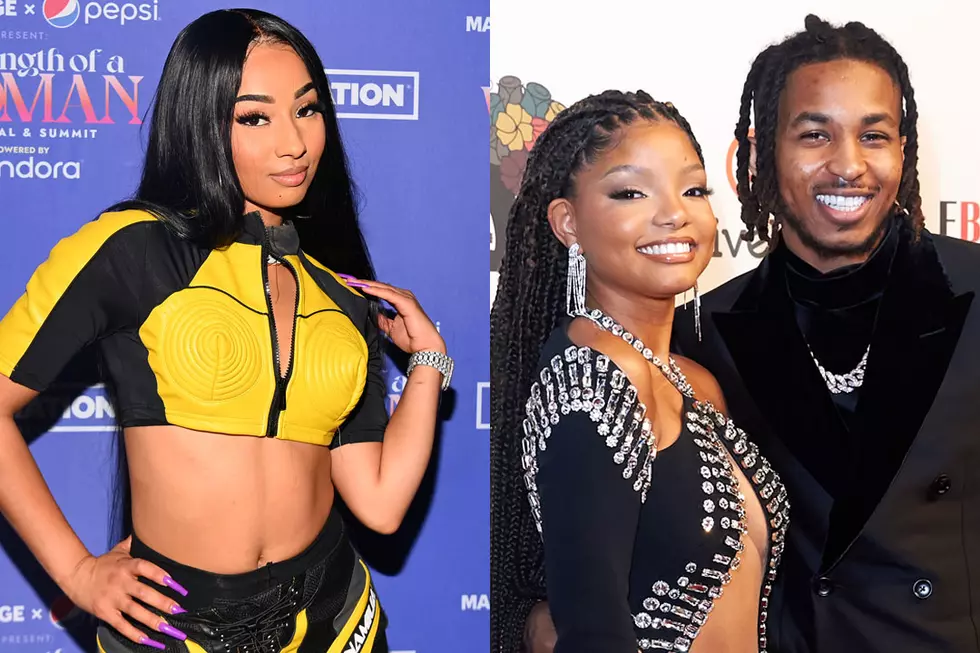 Rubi Rose Exposes DDG's Alleged DMs Amid Halle Bailey Breakup Rumors, DDG and Halle Respond
Paras Griffin/Getty Images for Strength Of A Woman Festival & Summit/Unique Nicole/Getty Images
After Rubi Rose accused DDG of giving his girlfriend Halle Bailey her old T-shirt, the drama between Rubi Rose and DDG has escalated into a war of words on social media.
On Sunday (Feb. 12), Rubi Rose shared alleged Twitter DMs from DDG amid rumors that he and Halle Bailey have broken up. In a tweet, Rubi showed a direct message from DDG wondering if she was still in L.A. and asking where she was at. You can see the DMs at the bottom of this post.
"He mad i wouldn't go home with him after caresha party," she tweeted, referring to Yung Miami's birthday party last Saturday (Feb. 5).
DDG caught wind of the tweet and lashed out at Rubi Rose.
"Don't believe nun she say. She been stuck on me for 2 years. She hurt," he reportedly tweeted, adding, "Superrr [two blue caps, three tears of joy emojis][.] Niggas is not pressed over you."
He also denied the Twitter DMs are real. The DMs do not look fake, however, DDG claims they are "CGI" in a comment on The Shade Room.
When a fan criticized DDG for allegedly DMing Rubi when he has a girlfriend, the Michigan rapper shot back, "To start.. Yo chin fat as hell. and secondly Halle is fine. She knows what's real. We been hashed this situation out days ago. Rubi just clout chasing."
DDG's girlfriend, Halle Bailey, seemingly responded to the drama on her Twitter account as well.
"[The] devil is working [red heart emoji] lol please don't feed into the lies, especially from a third party [double hearts emoji and glittering stars emoji] stay blessed everyone," she wrote.
The back-and-forth between DDG and Rubi Rose continued on Twitter. Thankfully, The Shade Room chronicled all their tweets, which you can viewed below. "Don't believe that DEMON!! I REBUKE IN THE NAME OF JESUS!" DDG added.
Meanwhile, DDG's big sister, @ms_tawanna on Instagram, jumped in the fray and announced that she wants all the smoke with Rubi Rose.
"Y'all can tell [Rubi Rose] I want all the smoke...," she wrote on her Instagram Story. "I owe that bitch an ass whopping' anyway for that shit she pulled with my mama and sister."
This is getting really messy. Check out all the tweets below.
See DDG's Alleged DMs and Rubi Rose and DDG's Tweets Below
See 12 Rappers Who Have Deleted Their Social Media Accounts