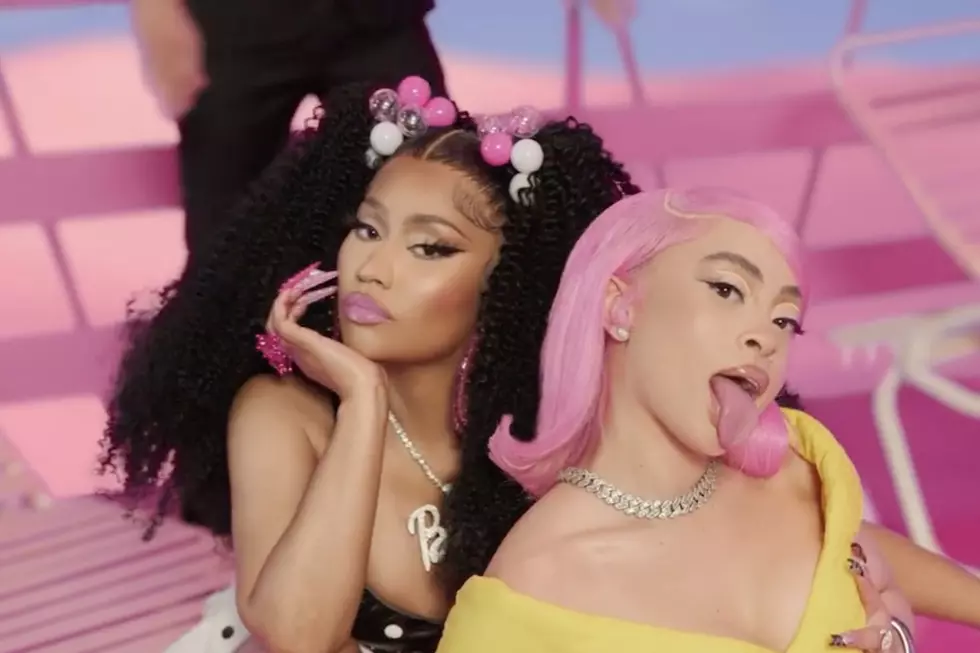 Nicki Minaj and Ice Spice Drop 'Barbie World' Collab Song – Listen
Nicki Minaj/TikTok
Nicki Minaj and Ice Spice reconnect again for their latest collaborative track "Barbie World."
Nicki Minaj and Ice Spice release "Barbie World"
On Friday (June 23), Nicki Minaj and Ice Spice dropped their latest single for "Barbie World" from Barbie: The Album, the accompanying soundtrack to the upcoming film Barbie, which arrives in theaters on July 21. This is the second musical partnership between Nicki and Spice following their last collaboration, the top-10 Billboard Hot 100 hit "Princess Diana Remix."
Hours before Nicki dropped her duet, she posted a snippet of the music video for the song on her TikTok account. In the clip, the two New York baddies are having fun in Barbie's dream world where they are racing each other on pink jet skis over puffy pink clouds. The dynamic rap duo spit girly rhymes over an Aqua-sampling drill beat produced by Ice Spice's go-to hitmaker RiotUSA.
"And I'm bad like the Barbie (Barbie)/I'm a doll but I still wanna party (Party)/Pink 'Vette like I'm ready to bend (Bend)/I'm a ten, so I pull in a Ken (Like)/Jazzie, Stacie, Nicki (Grrah)/All of the Barbies is pretty (Damn)/All of the Barbies is bad/It girls, and we ain't playin' tag (Grrah)" raps Nicki and Spice on the track.
The duo has released a full-length music video (below) directed by Hannah Lux Davis.
Nicki Minaj Is Dropping Her New Album This Year
Earlier this month, Nicki Minaj announced on her Twitter page that her fifth studio album, dubbed "NM5," will arrive at DSPs this fall.
"10/20/23 The Album," the Grammy-nominated rhymer tweeted along with CD and ribbon emojis.
Nicki's last album was Queen, which dropped in August of 2018. Additionally, Nicki will embark on a world tour in support of her fifth album as well.
Listen to Nicki Minaj and Ice Spice's Song "Barbie World" Below
Watch Nicki Minaj and Ice Spice's "Barbie World" Video Below
See the Best-Selling Hip-Hop Songs Since 1991 Ranked