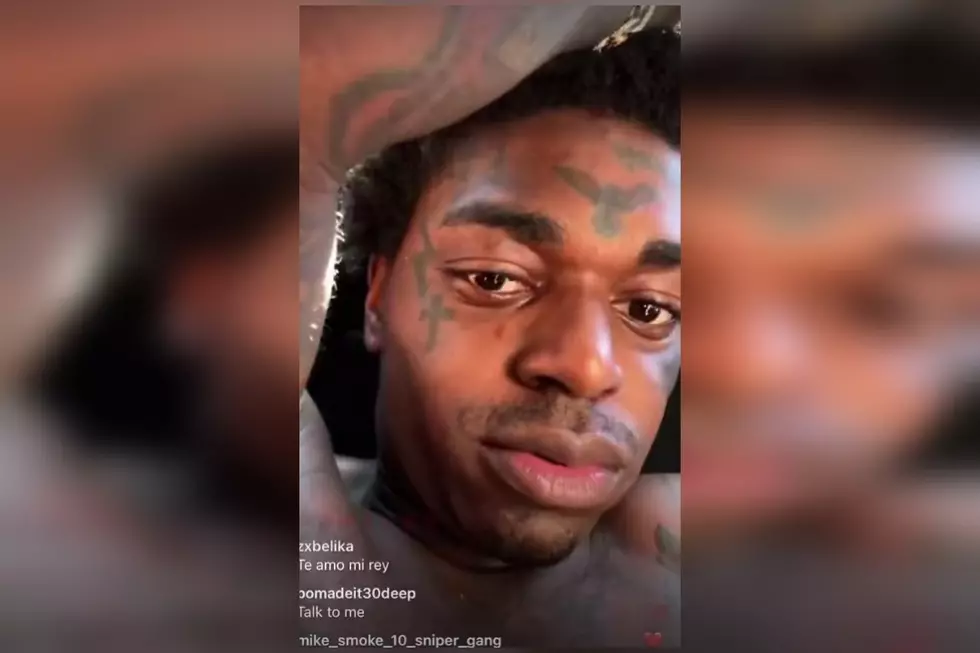 Kodak Black Responds to Fan Saying Rapper Needs to Go Back to Jail and Sober Up – Watch
kodakblack/Instagram
Kodak Black recently responded to a fan who suggested the rapper needed to go back to jail to sober up following Yak's recent legal issues.
Kodak Black Responds to Fan on Instagram Live
On Wednesday (June 28), Kodak Black hopped on Instagram Live to interact with fans. During the session, he addressed a fan who opined that jail time is what the "Super Gremlin" rapper needs in order to stop using drugs.
"Damn, what kind of person are you?" Kodak Black responded to the comment. "This muthaf**ka said, 'You need to go back to jail and sober up, Yak, for real for real.' Why do you feel like that's the answer to my whatever you feel like? Why do you feel like that's the answer to my whatchamacallit?"
Kodak continued, "It was this officer, he said, 'Man, damn, why the hell woo woo woo woo?' And I was like, 'S**t, many is called few is chosen, bro. When muthaf**kas know you chosen and s**t, that's when they torment you. But I ain't on all that.' He was like, 'Man, stop capping. You ain't choose to go to jail. You ain't choosing all this s**t.' I said, 'Bruh, I'm just following my divine self. However God whatchacallit, I'm just going through with this s**t."
Kodak Black's Recent Legal Issues
Kodak Black is currently out on at $250,000 bond in connection to a drug-trafficking case he caught in July of 2022 when police in Florida allegedly discovered over 30 Oxycodone pills and $75,000 in cash on the rapper during a traffic stop. In the months since the arrest, Kodak has had multiple issues with court-appointed drug screenings. Back in February, a warrant was issued for his arrest when he failed a drug screening. A judge allowed him to spend 30 days in a drug-rehab facility instead of revoking his bond.
Earlier this month, another warrant was issued for Kodak's arrest after he failed to show up for a random drug screening. He turned himself in on Monday (June 26) and was released an hour later after a judge boosted his bond by $175,000. A day prior to his surrender, a viral Instagram Live video had fans concerned for Yak's well being that appears to show him sitting on a floor shirtless and mumbling incoherently.
Watch Kodak Black Responding to a Fan Who Told the Rapper He Needs Jail to Sober up Below
See the Definitive List of Bizarre Tweets From Rappers