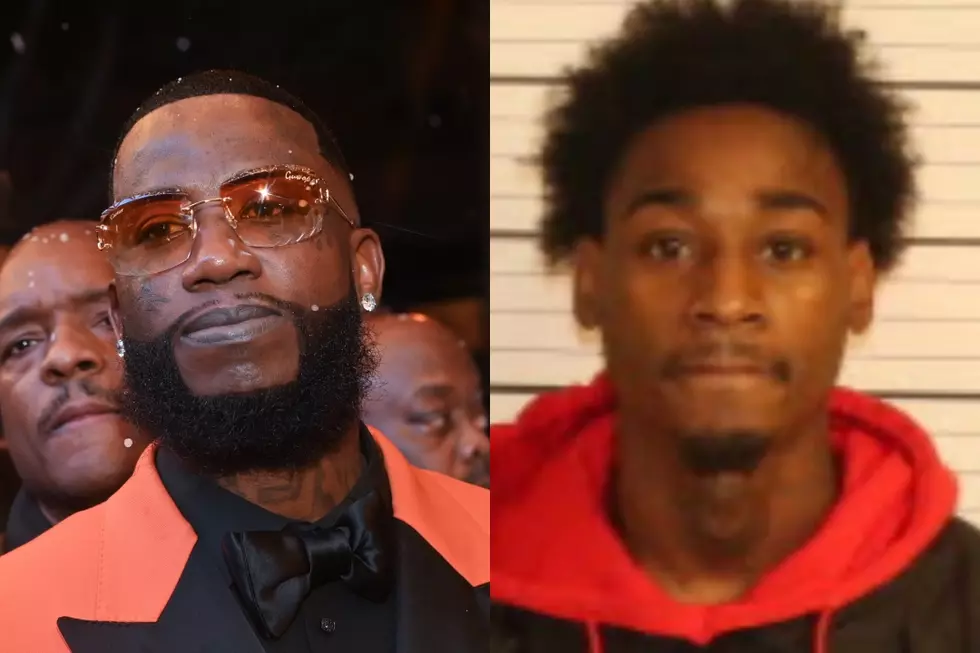 Gucci Mane's 1017 Label Takes Another Blow With Mac Critter Murder Arrest
Prince Williams/Shelby County Sheriff's Office
Another one of Gucci Mane's artists has run into trouble with the law, fueling speculation of a curse surrounding the Atlanta rapper.
On Monday (Jan. 2), 1017 Global artist Mac Critter was arrested and charged with first-degree murder, XXL has confirmed via police records. According to a police affidavit, Mac, born Daniel Bates, is one of three men charged with the murder of Markeith Taylor, which occurred in North Memphis on Dec. 21, 2022. Police say four suspects met Taylor in a vacant lot where all four men brandished handguns. One of the suspects, identified as Gary Taylor, has been ID'd by a witness as the person who fired several shots that struck the victim.
The witness also identified Mac Critter out of a photo lineup. Danterio Owens has also been charged with first-degree murder in connection to the killing. The suspects have been arrested and remain behind bars without bond.
On Tuesday (Jan. 3), Mac's attorney Arthur Horne released the following statement to local Memphis news station Fox 13:  "I thought that my client would have gotten a bond," Horne said. "It's alleged, in the affidavit, that he was there but he is not the shooter. When Gary Taylor got bond, he was the alleged shooter. I was optimistic that we were going to get bond today but we didn't."
Horne also released a statement to XXL about the arrest.
"We would ask his fans and the public to not rush to judgment in this case," Horne said. "We are hopeful and optimistic that Daniel Bates p/k/a Mac Critter will be able to clear his name so that he can move forward with his life and music career."
Mac Critter's team provided out a statement on Tuesday via his Instagram Story.
"Mac said he will be home real soon some small to a giant," the IG message reads. "He wanna thank all his fans for supporting him from day1!!"
Mac Critter's next court date is Jan. 10.
News of the arrest has caused people online to speculate about a "curse" being attached to artists who sign to Gucci Mane's label.
"Mane Critter been rapping so long … to be on this type of shit after he done finally got signed is crazy. It's the Gucci Mane curse," one person tweeted.
"All of gucci manes artist have a curse on them or something," another person added.
"Boy is it a Gucci curse or something EVERYBODY dude sign get locked up!" someone else tweeted.
Mac Critter is the fourth artist on Gucci Mane's eight-person label to be locked up on serious charges in the last year. Last April, Pooh Shiesty was sentenced to over five years in prison after pleading guilty to a firearm conspiracy charge. Last May, Foogiano was sentenced to five years in prison after melting off his ankle monitor and going on the run after being on bond for a firearm possession charge. Last January, Hotboy Wes was arrested on a robbery charge in Texas.
In another bit of misfortune surrounding the label, promising young artist Big Scarr tragically died late last month.
XXL has reached out to Gucci Mane's team for comment.
See More Reactions to New of Mac Critter's Arrest Below
See 44 of the Longest Prison Bids in Hip-Hop History
C-Murder, Max B, B.G. and more.