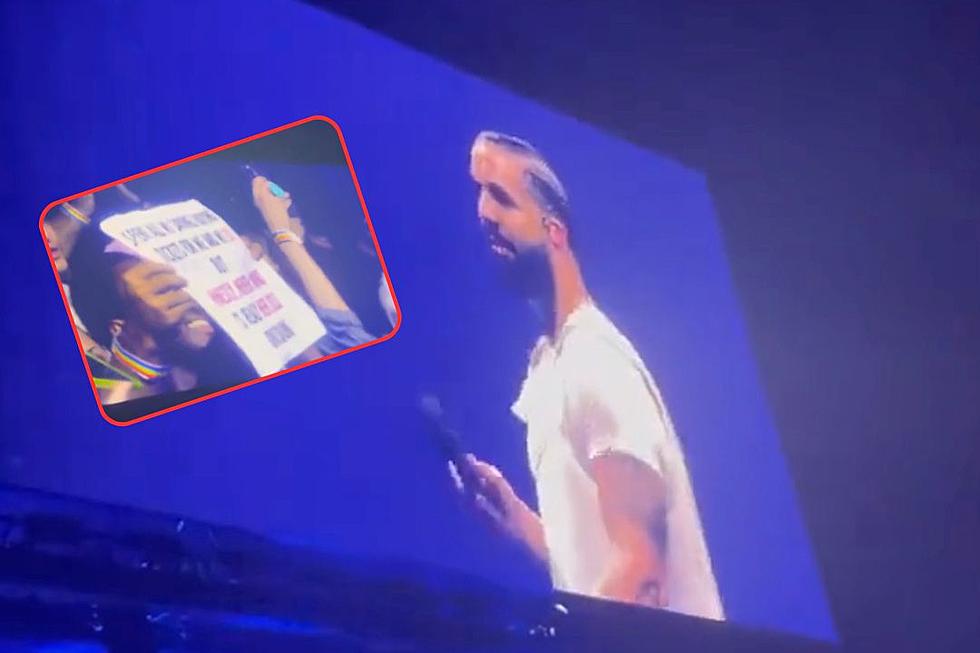 Drake Gives $50,000 to Man Who Got Dumped by His Girlfriend
planet_aviation/Twitter (2)
At a recent show, Drake gave $50,000 to a man who got dumped by his girlfriend and went to Drizzy's show alone.
Drake Gives $50,000 to Brokenhearted Man at His Show
During Drake's It's All a Blur Tour stop in Miami on Friday night (Sept. 29), the Toronto rap superstar was surveying the crowd when he saw a sign that a male fan was holding up. According to the sign, the man got dumped by his girlfriend so he went to Drizzy's concert alone.
In a fan-captured video, which you can watched below, Drake noticed the clever message on the sign that read, "I spent all my savings buying tickets for me and my ex, but Honestly, Nevermind, it's really Her Loss."
"So she ain't come with you tonight? She ain't come with you tonight to the Drake show?!" Drake questioned the fan. "What the f**k is wrong with her? And you in here just icy with the gold chain and the sunglasses on? Aye, you know what?"
When the crowd began chanting "F**k that b***h," the 6 God responded: "Alright, that's a little aggressive, but you know what? She's gonna feel real f**ked up 'cause I'ma give you 50 bands so you gon' flex on her tonight. That's how we doing it tonight, big dog! It's your night tonight! And I won't say it how y'all said it, but f**k that young lady."
Judging by the young man's ecstatic reaction to his windfall, it looks like his broken heart is finally starting to mend.
Drake Gifts Fan With a Really Expensive Birkin Bag at His Show
This isn't the first time Drake has been generous to his fans at his show. In August, Drake stunned the crowd at his Inglewood, Calif. show by giving a Birkin bag to a lucky fan in the front row.
"Drake ain't cheap," the altruistic rhymer said before finding the lucky recipient. "Give this to her right here. Give her that nice little Birkin bag. Give that girl that nice little Birkin, take that home with you. Make sure she has security on the way out, too, so nobody robs here for it."
The bag Drake gifted is reportedly worth $30,000.
Check out Drake giving 50 bands to a man at his show below.
Watch Drake Give $50,000 at His Show to Man Who Got Dumped by His Girlfriend
See What Drake Revealed About His New Album For All the Dogs on Tour