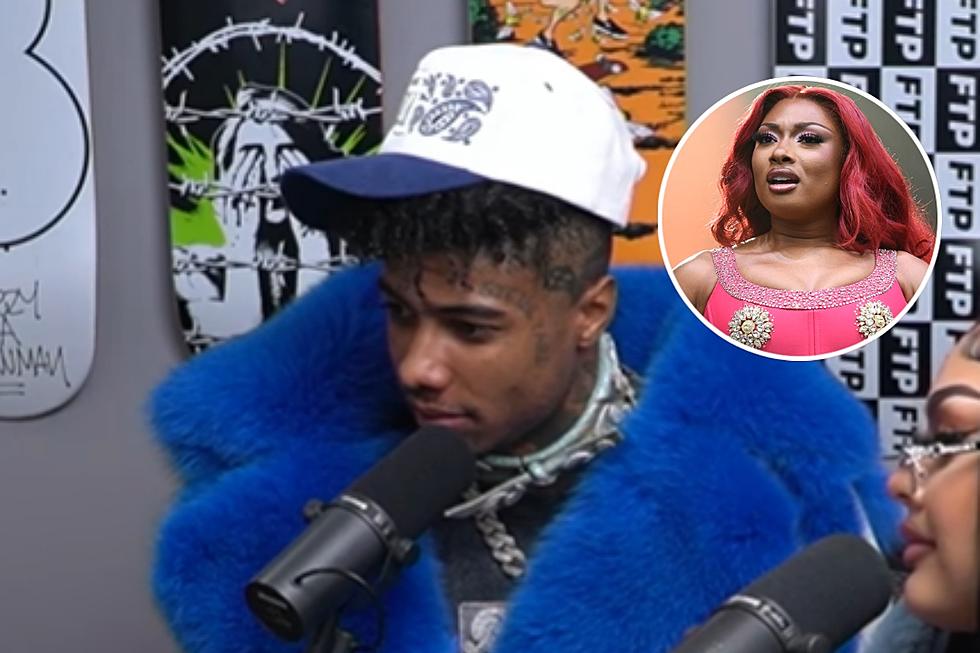 Blueface Claims He Saw Megan Thee Stallion's Wounds on Her Foot After Being Shot by Tory Lanez
No Jumper/YouTube/ Tim Mosenfelder/Getty Images
Blueface is claiming he witnessed the wounds on Megan Thee Stallion's foot that were the result of her getting shot by Tory Lanez.
Blueface Claims He Saw Megan Thee Stallion Gunshot Wound
On Wednesday (Oct. 18), the No Jumper podcast aired a new interview featuring Blueface and his children's mother and artist, Jaidyn Alexis. During the lengthy talk, Blueface spoke about his alleged sexual encounter with Megan Thee Stallion and claimed he even saw her gunshot wounds.
"When she got shot, I sent her a message, like, 'Hey, you OK?' We chopped it up, mixed and mingled," Blueface claimed around the 1:31:00-mark of the interview below, adding he received oral sex from Megan around that time.
When asked if he saw the gunshot wounds on Megan's foot, Blueface admitted he did.
"I didn't examine them. I saw them," Blueface said. "It seemed like something occurred. I ain't gon' say it looked like she got shot in the foot."
Tory Lanez was convicted of shooting Megan Thee Stallion last December. He has been sentenced to 10 years in prison for the 2020 shooting.
Blueface Tells All in Jason Lee Interview
The No Jumper interview comes on the heels of Blue and Jaidyn appearing on The Jason Lee Show. During that interview, Blueface finally admits to posting the photo of his newborn son's hernia on social media, tells a wild story about Jaidyn catching him having sex with Chrisean Rock, discusses backlash he received for questioning his son's sexuality and more. He also claimed that he and Megan were intimate.
See Blueface claiming he witnessed Megan Thee Stallion's wounded foot below.
Watch Blueface's Interview on No Jumper
See Every XXL Freshman Class Over the Years