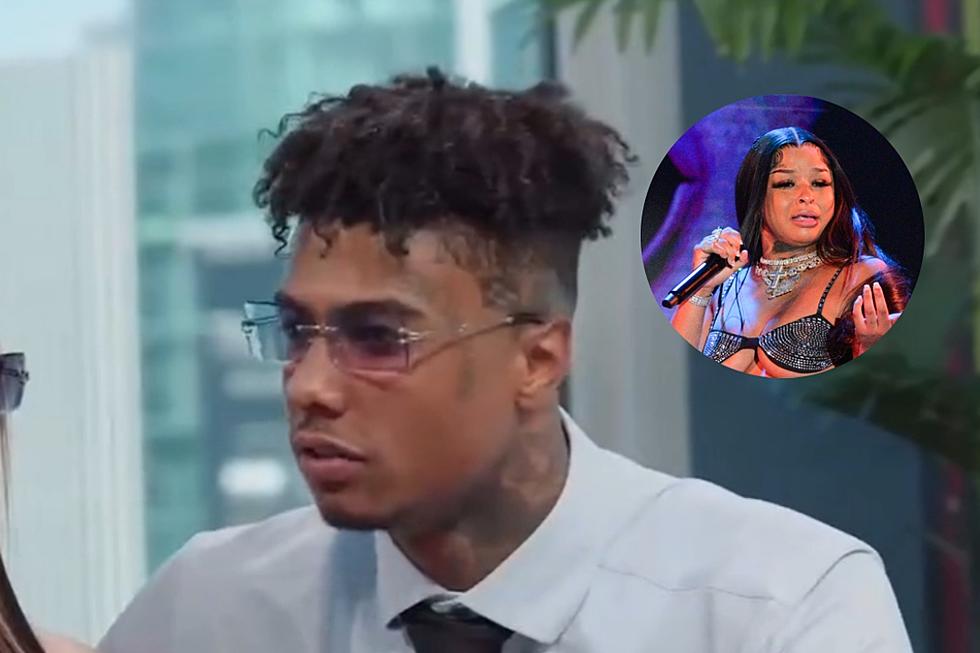 Blueface Admits He Posted Photo of Son's Hernia, Explains Why He Did It
TheJasonLeeShow/Instagram/Prince Williams/Getty Images
Blueface admitted on an upcoming episode of The Jason Lee Show that he posted a photo of his newborn son Chrisean Jr.'s hernia, despite saying he was hacked, and explained why he did it.
Blueface Admits He Uploaded Picture of Son's Hernia and Explains Why He Did It
On Tuesday (Oct. 17), Hollywood Unlocked shared a clip from an upcoming episode of  Blueface and Jaidyn Alexis' interview on The Jason Lee Show. In the footage below, Blueface reveals that he was the person who posted a photo of his son's hernia after the show's creator, Jason Lee, wondered why the rapper did it to begin with. From there, Blueface explained that he uploaded the explicit picture so that Chrisean Rock could take Chrisean Jr.'s health condition seriously.
"It was taking way too long," Blueface responded. "I told her, 'Don't come back to California until you go into the next appointment and it gets done. Time just kept going. She back in California. I didn't post it 'till damn near a month."
Blueface continued, "When I had that show, me and her [Jaidyn Alexis] performed, his surgery was the day of the performance. She's [Chrisean Rock] like, 'OK, I'ma tell them to take him, I'ma make it,' Hell no, you better take that baby and do that. It's an expensive baby. So that's the reason she went by herself that time. I literally told her, 'No, you have to do this.'"
Picture of Chrisean Jr's Genitalia Appear on Blueface's X Account
On Sept. 24, a photo was uploaded to Blueface's account on X, formerly known as Twitter, that shows a close-up photo of his son Chrisean Jesus Malone's genitalia. The photo was captioned, "This what my son d**k look like and she worried about me and lil baby c*ck like bih get our son c*ck right then do what you want."
The next day, Blueface hit up X and typed that the picture was posted by a  hacker. The tweet can be seen below.
"My phone was stolen yesterday I just got a new one guys im back my twitter was hacked," the Los Angeles rapper tweeted.
Blueface and Jaidyn Alexis' interview airs on The Jason Lee Show on Hollywood Unlocked's YouTube channel on Oct. 18 at 5 p.m. EST.
See Blueface explain why he posted a picture of his son's hernia below.
Watch Blueface Admit He Posted Photo of Son's Hernia and Explains Why He Did It
These Tone-Deaf Hip-Hop Moments Prove Rappers Can Get Hit With Serious Backlash