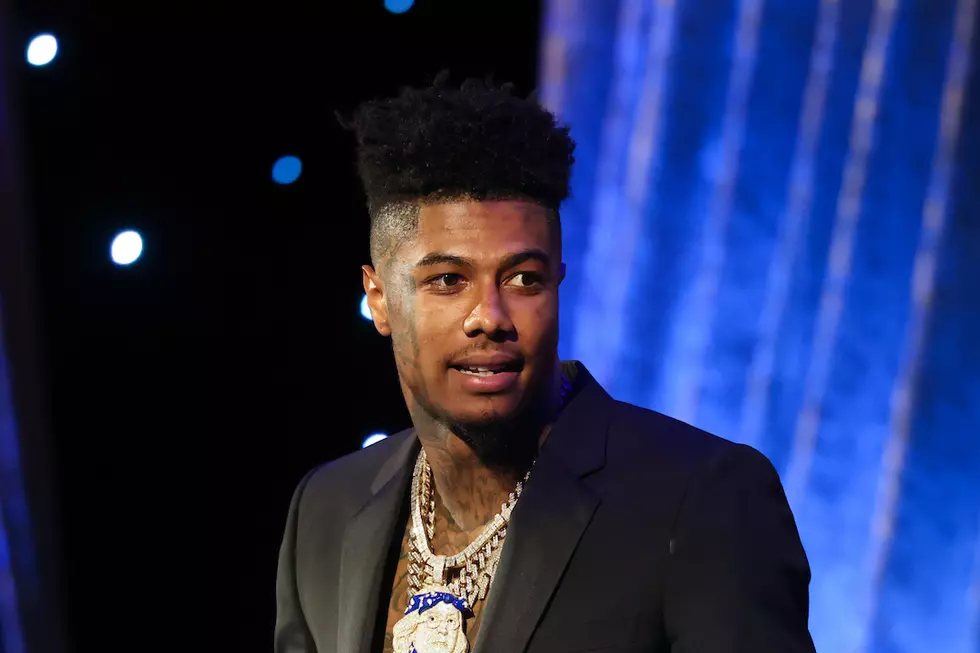 Blueface Gets Backlash for Showing Newborn Son's Genitals on Social Media, Claims Account Was Hacked
Randy Shropshire/Getty Images
Blueface is facing backlash for sharing a photo of his newborn son's genitals on social media. However, the rapper is claiming the post was the result of his X account being hacked.
Blueface's X Shares Photo of Newborn Son's Genitals
On Sunday (Sept. 24), a photo was shared on Blueface's account on X, formerly known as Twitter, that shows a close-up photo of his newborn son Chrisean Jesus Malone's genitalia. The photo was captioned, "This what my son d**k look like and she worried about me and lil baby c*ck like bih get our son c*ck right then do what you want."
Blueface Faces Backlash
Blueface faced immediate backlash for sharing the photo from people on social media.
"Did Blueface just post his son's....JAIL...for real. It's illegal," one X user posted.
"Blueface been a weirdo after he asked his son if he was gay And now y'all surprised about him exposing his baby. He needa be in jail nowwwww," another person posted.
"CPS should definitely step in and take action!" another post reads. "Blueface was completely out of line for sharing that inappropriate picture of his son. Prioritize the child's well being and ensure they're not in any pain."
Blueface Claims His Account Was Hacked
On Sunday, Chrisean Rock appeared to respond to the viral photo by claiming their child needs hernia surgery. On Monday (Sept. 25), Blueface responded to the backlash by claiming the photo reveal was the job of hackers.
"My phone was stolen yesterday I just got a new one guys im back my twitter was hacked," the Los Angeles rapper tweeted.
See Chrisean Rock's response to Blueface's photo and his excuse below.
See Blueface's Tweet Claiming His X Account Was Hacked
These Tone-Deaf Hip-Hop Moments Prove Rappers Can Get Hit With Serious Backlash