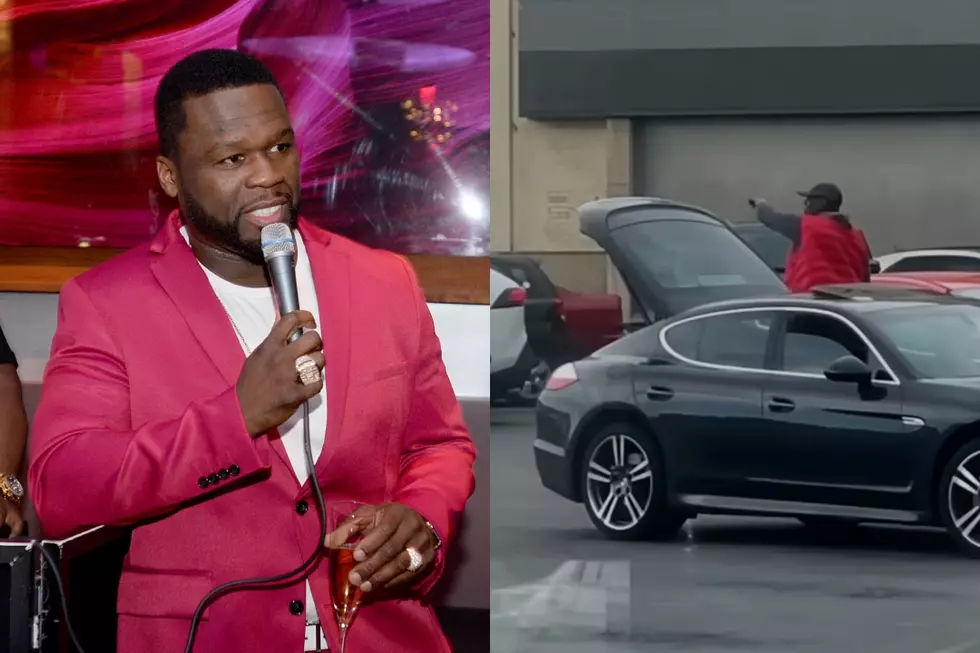 50 Cent Says Don't Judge Former NBA Player Shawn Kemp After Kemp Is Arrested for Mall Parking Lot Shooting
Brad Barket/Getty Image
50 Cent has weighed in on former NBA player Shawn Kemp recently being arrested for allegedly getting into mall parking lot shootout.
On Wednesday (March 8), hours after Kemp's story went viral, 50 Cent hopped on Instagram to comment on the situation in a since-deleted post.
"I don't know what's going on here, but don't judge this brother till all the facts come out," 50 Cent captioned a screenshot of a news report featuring a picture of the former Seattle Supersonics forward during his playing days.
Shawn Kemp was arrested on Wednesday as part of a drive-by shooting investigation, according to local Seattle news station Fox 13 New. Police were called to the Tacoma Mall in Tacoma, Wash. after reports of shots being fired in the parking lot. Kemp reportedly claimed he had property stolen from his car on Tuesday (March 7), and he tracked his iPhone to the malll parking lot on Wednesday. When he approached the vehicle, he claims the suspect shot at him and he fired back in self-defense.
Later, video surfaced (below), that shows the aftermath of the shooting. In the clip, Kemp appears to be pointing out the car of the man he shot at to police as they approach the scene in police cruisers. It later shows Kemp in handcuffs.
W. Scott Boatman, Kemp's attorney, provided the following statement to FOX 13 News about the arrest: "Late Tuesday evening Shawn Kemp's vehicle was broken into and numerous items were stolen, including an iPhone. On Thursday, Mr. Kemp tracked his iPhone to an occupied vehicle in a shopping mall parking lot in Tacoma. When Mr. Kemp approached the vehicle in an attempt to retrieve his stolen property, individuals inside the vehicle shot at Mr. Kemp, who then returned fire in self-defense. There was not a drive by shooting as previously reported and Mr. Kemp's actions were reasonable and legally justified. Mr. Kemp met with law enforcement at the scene in an attempt to assist in the matter. Mr Kemp has retained criminal attorneys Aaron Kiviat and Tim Leary to represent him and ensure that he is exonerated of all charges."
On Thursday (March 9), the Pierce County Prosecuting Attorney's Office announced it would not be pursuing charges against Kemp: "The Prosecuting Attorney's Office is not filing charges against Mr. Kemp today. This case's status will be 'No Charges Filed pending further investigation by Tacoma Police, and Mr. Kemp will be released."
See a News Clip About the Shawn Kemp Situation Below
See Rappers Named After Notorious Crime Figures