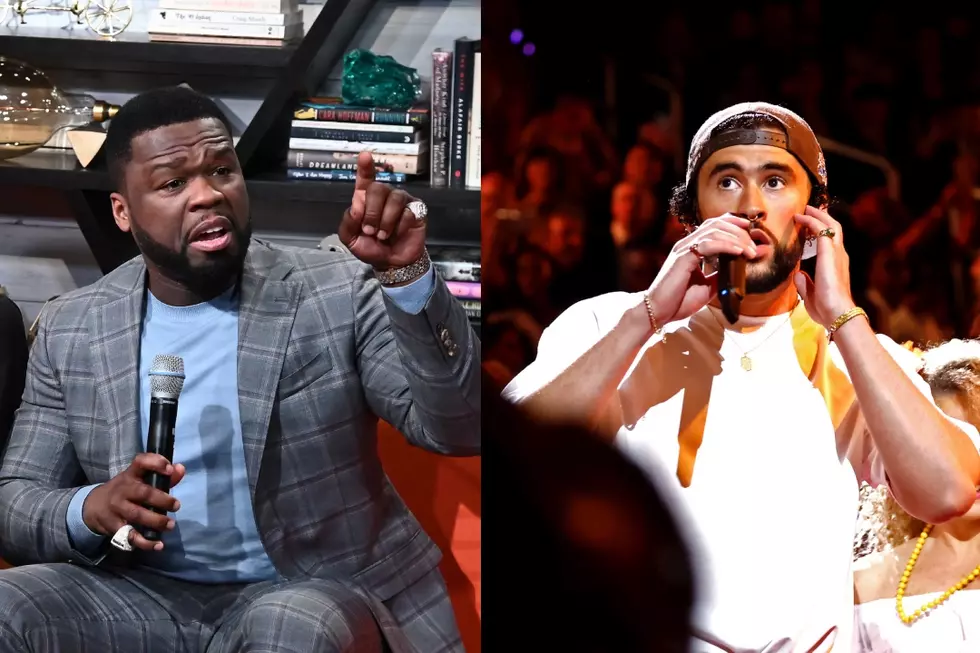 50 Cent Calls Out Grammys for Writing 'Speaking Non-English' on Screen During Bad Bunny Performance
Theo Wargo/Emma McIntyre/Getty Images (2)
50 Cent is calling out the Grammy Awards for "speaking non-English" appearing on the screen when Bad Bunny was performing instead of actual translated subtitles.
On Thursday (Feb. 9), 50 Cent shared two posts on Instagram blasting the Grammys for the blunder. In both posts, Fif shared screenshots of Puerto Rican pop star Bad Bunny performing and giving his acceptance speech at the recent 2023 Grammy Awards. Both photos show "speaking non-English" and "singing non-English" as closed captions.
"The Grammys need to be check about this," 50 Cent captioned one post. "Fvcking @badbunnypr bigger than everybody right now and you can't pay for closed caption. Wtf is this speaking Non-English. FIX IT!"
In a follow-up post displaying the same issue, he added, "WTF going on here, I DONT WANT TO HEAR SHIT FIX IT!"
50 Cent wasn't the only public figure to voice his opinion about the issue. Yesterday (Feb. 8), Congressman Robert Garcia called out CBS for lack of closed captioning for Bad Bunny.
All eyes were on the 2023 Grammys on Sunday night (Feb. 5). Bad Bunny took home the award for Best Musica Urbana Album for Un Verano Sin Ti. He also performed the tracks "El Apagón" and "Después de la Playa."
The show featured several hip-hop highlights. Jay-Z performed "God Did" with DJ Khaled. There was a medley set in celebration of hip-hop's 50th anniversary. The 14-minute tribute featured LL Cool J, Missy Elliott, Busta Rhymes, Black Thought, Grandmaster Flash, Run-D.M.C., Lil Baby, GloRilla, Lil Uzi Vert, Rakim, Scarface, OutKast's Big Boi and others.
Quavo had a special moment when he performed his Takeoff tribute track, which has been marred by reports that he got into a fight with Offset prior to taking the stage. Kendrick Lamar had a huge night, winning Best Rap Song ("The Heart Part 5"), Best Rap Album (Mr. Morale & The Big Steppers) and Best Rap Performance ("The Heart Part 5").
See 50 Cent's Posts Calling Out the Grammy Awards Below
See Rappers Named After Notorious Crime Figures