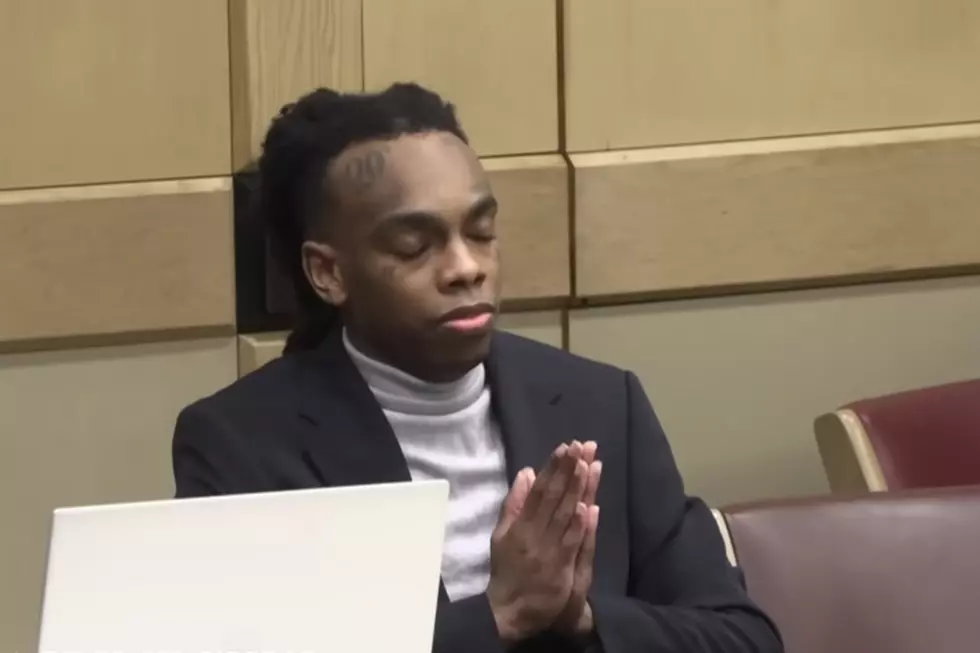 YNW Melly Murder Trial Jury Deliberations – What We Learned
Law&Crime Network/ YouTube
YNW Melly's fate is now in a jury's hands as his trial has concluded and the jury is currently in deliberation mode.
UPDATE (July 22):
A mistrial has been declared in the YNW Melly double-murder case.
UPDATE (July 22):
According to journalist Bryson "Boom" Paul, Judge John Murphy lll spoke with the jury after a juror dry snitched that someone has an Apple watch in a note given to the judge by the bailiff yesterday: "Does anyone have an Apple Watch?"
The jury responded while showing their hands: "No."
Judge Murphy III replied: "Ok."
Also, the jury asked to see YNW Juvy's damaged blue phone. The judge told the court that he will send it back with gloves and instructions for the jury.
UPDATE (July 21):
Jury deliberations in the YNW Melly trial have concluded for the day. No verdict has been made. The jury will return to court on Saturday (July 22), at 8:30 a.m. to continue to try to come to a unanimous decision.
UPDATE (July 21): 
Will There Be a Mistrial?
The jury is having a tough time coming to a unanimous decision, with the possibility of a mistrial being brought up. The jury has sent the judge a letter questioning would happen if they can't come to a decision.
"Everyone is stuck on what side they've chosen," the letter read.
The judge and attorneys for both sides have discussed an Allen charge for the jury, where the judge would encourage those in the minority to reconsider their decision. If the case was decided a mistrial, the State would decide if they want to try Melly again, during which time he would likely stay in jail.
ORIGINAL STORY (July 21):
YNW Melly Jury Weighs Innocence or Guilt
On Thursday (July 20), the defense and prosecution rested their cases in the YNW Melly double-murder trial, following 17 days of evidence and testimony. Now, we are in verdict watch mode as the 12-person jury, consisting of five men and seven women, decides whether to find the rapper guilty of two counts of first-degree murder with a firearm in connection to the killing of YNW Juvy (Christopher Thomas) and YNW Sakchaser (Anthony Williams) back on Oct. 26, 2018.
On Friday (July 21), a little over an hour into deliberation for the day, the jury requested to review testimony from Michael Kelly and Treveon Glass. Treveon Glass testified during day 12 of the trial that he was in the studio on the night of the murders with YNW Melly, YNW Bortlen, YNW Juvy and YNW Sakchaser when the foursome called it quits after Melly and Bortlen could not stay away. Glass told the jury he went to Melly's house and went to sleep and was awakened by people hitting his phone with news of the murders. Glass said when he later saw Melly at Fredo Bang's house, Melly was wearing different clothes.
A court stenographer read Glass' entire testimony to the jury. The jury was then excused to continue deliberations. Michael Kelly's testimony will not be available until tomorrow (July 22). Kelly is Miramar Police Crime Scene Supervisor who analyzed the crime scene.
What's at Stake for YNW Melly
If he is found not guilty, YNW Melly will be freed immediately, or shortly thereafter. However, if the jury finds Melly unanimously guilty, he will then move into the sentencing phase, where the jury would vote on whether or not to sentence Melly to death. In order for that to happen, the jury would have to come a majority 8-4 vote. If not, Melly will be sentenced to life in prison without the possibility of parole.
See courtroom video of day 18 of the YNW Melly trial below.
Watch Live Video From Day 18 of the YNW Melly Trial Below
See 44 of the Longest Prison Bids in Hip-Hop History
C-Murder, Max B, B.G. and more.