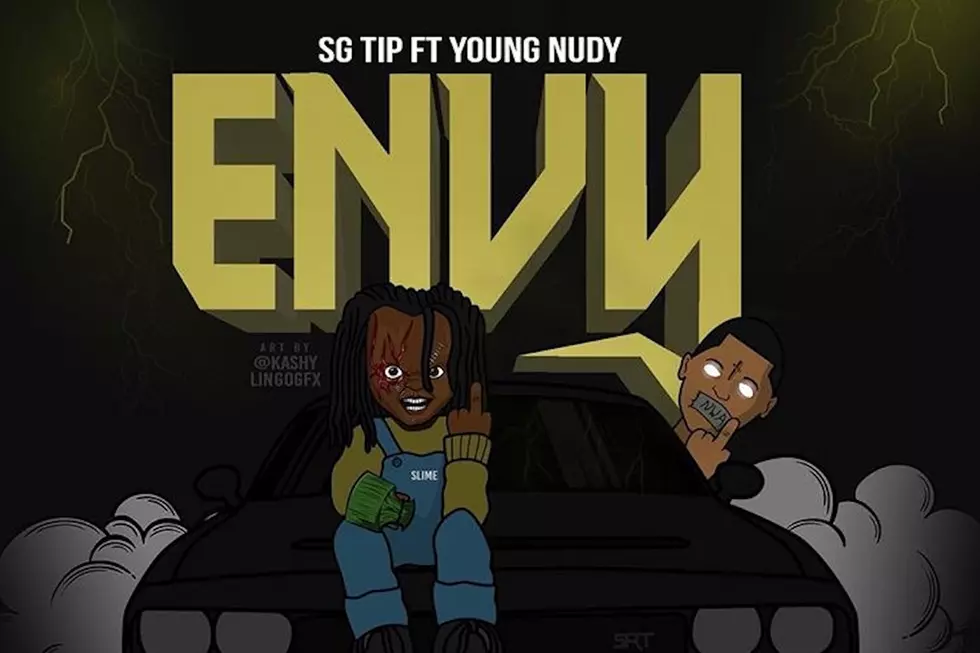 SG Tip and Young Nudy Watch Out for Haters on New Song "Envy"
SG Tip LLC
SG Tip is one of the youngest rappers in the quickly evolving world of Atlanta rap, checking in at just 18 years old. After dropping his Block Boy Tip mixtape earlier this year, Tip is back with his latest, "Envy," which features Young Nudy.
Pi'erre Bourne is on the beat; he's produced for both Nudy and Tip in the past. The song opens with Pi'erre's familiar beat tag, then SG Tip goes right into the hook. "Niggas, they be killin' outta envy/Thought that was yo' dog, then he turned into a witness," he raps. "Niggas always getting in they feelings 'bout these bitches/That's why I keep that Draco and I hardly do the missin'."
Tip also has the first verse. "Red dot, headshot, that's his brain/Fuck you, and them niggas in yo' gang," he spits, brutally. "Every time, I push up on you, don't say a thang/Twenty in, jewelry, y'all share your partner chain/Fake street punks stop tellin' everythang/Everybody, in your crew broke, that's a shame/The way she, gave me head, I thought she had no brain."
Lastly, Nudy swoops in to close the song out. "I live a rough life, all these niggas bitches trippin'/Uh huh, wanna suck my dick and yeah, slime really gettin' it," he brags. "I really count that paper dog, I really thumb through it/Thumb through it, get money, my nigga, now can you do it?/ The baddest of the baddest, slimeball, he got them bad hoes."
Young Nudy has been dropping new music here and there, starting with his appearance with 21 Savage on Tay-K's "The Race" remix last year. He followed that up with a song of his own, "No Deal," then another collab with his cousin 21, "Since When."
Listen to SG Tip and Young Nudy's "Envy" below.
See New Music Releases for May 2018