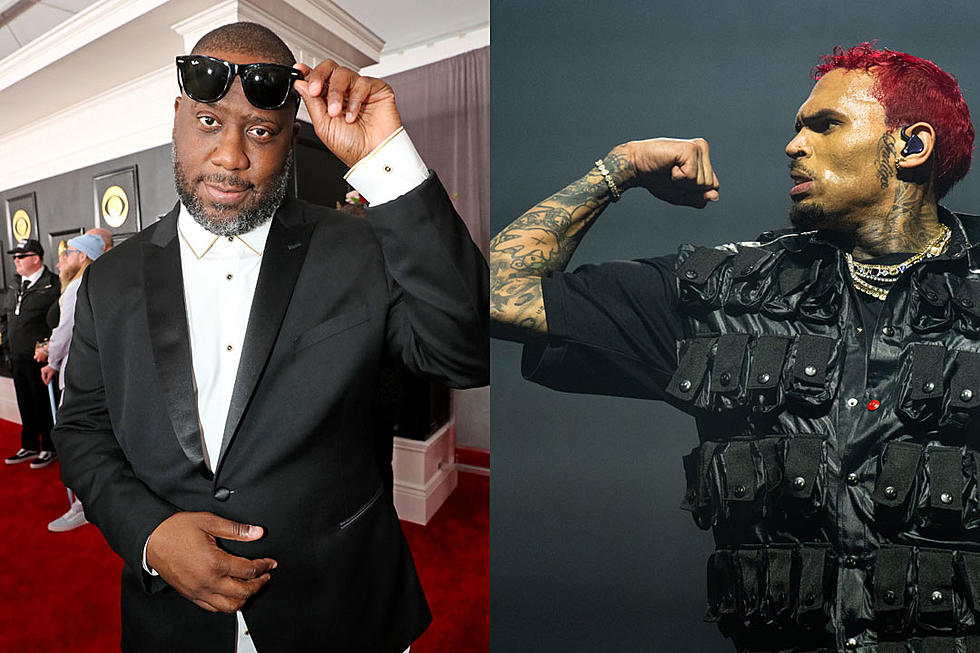 Musician Robert Glasper Sells T-Shirts Designed With Chris Brown's 'Who the F*!k Is Robert Glasper?' Question
Johnny Nunez/Getty Images for The Recording Academy/Samir Hussein/WireImage
Robert Glasper has turned an infamous question into big money by selling T-shirts inspired by Chris Brown asking, "Who the fuck is Robert Glasper?," earlier this month
On Tuesday (Feb. 14), Robert Glasper announced he had sold out of T-shirts with the words "Who the fuck is Robert Glasper?" on its front. A laughing emoji appears on the "o" in "Who" and a blue censor line covers the expletive in a similar fashion to Chris Brown's surprising Instagram Story post on Grammys night.
On Feb. 5, Brown's Breezy (Deluxe) lost Best R&B Album to the acclaimed pianist and producer's Black Radio III. As a result, he asked, "Who the fuck is Robert Glasper?," in a series of IG Story posts taking aim at the musician. Brown also apparently had no idea about Glasper's respected resume.
"Thanks for the support. A portion of the proceeds from this shirt will be donated to the Community Music Center of New Orleans. A nonprofit created to share the music culture and music education in New Orleans, providing free music lessons to underserved youth. I can't thank y'all enough for supporting this cause," Glasper wrote on Instagram Tuesday after his T-shirts sold out.
Last Thursday (Feb. 9), four days after his big Grammy win, Glasper began selling the shirts for $25, ranging in sizes small to 3XL. The tees are labeled "WHO TF IS ROBERT GLASPER? T-SHIRT (IYKYK EDITION)" on the Loma Vista website and will be released on March 3. While the shirts are currently sold out, they're still available to view.
"I heard y'all!! LIMITED EDITION "Who TF is Robert Glasper?" shirts available for PRESALE NOW at the link in bio! Order NOW BEFORE THEY'RE ALL GONE!!!!!!!!!" Glasper posted on IG last week when he kicked off the sale.
Breezy hasn't posted anything to his Instagram Story recently in light of Glasper's new T-shirt nor it selling out. Chris Brown did eventually apologize to Robert Glasper via Instagram DM a day after the Grammys. However, Glasper has never acknowledged Brown's infamous question nor his apology publicly.
See Robert Glasper's T-Shirt Inspired by Chris Brown Below
See the Definitive List of Bizarre Tweets From Rappers