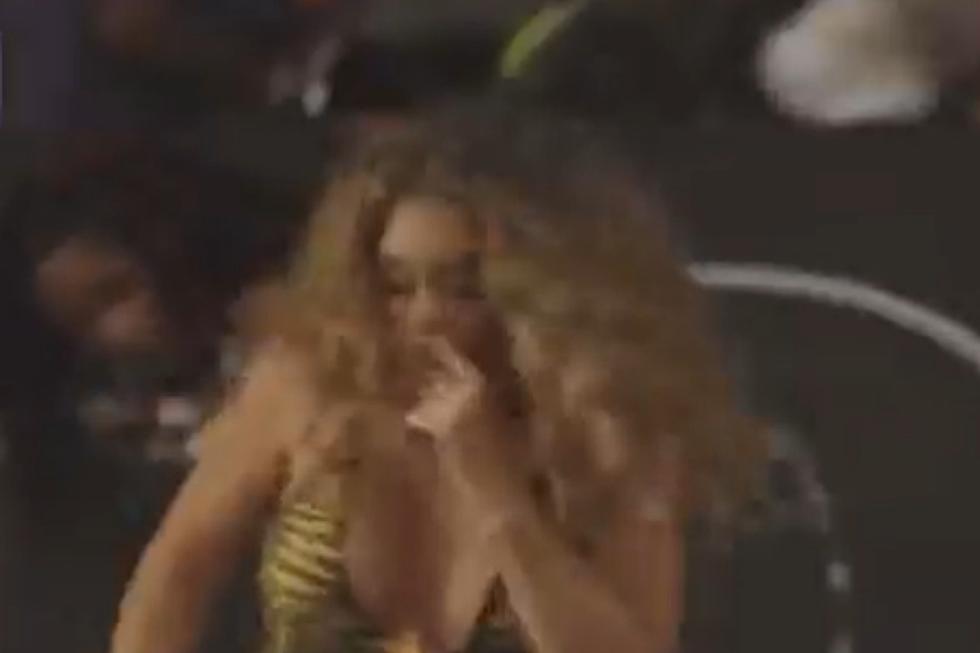 Latto Makes Coke-Sniffing Gesture While Performing Alleged Nicki Minaj Diss
@glizzyimdrunk/YouTube
Latto made a coke-sniffing gesture while performing her alleged Nicki Minaj diss song "Put It on Da Floor" at 2023 Rolling Loud Miami over the weekend.
Latto Performs at 2023 Rolling Loud Miami
On Sunday (July 23), Latto performed at day 3 of Rolling Loud Miami at Hard Rock Stadium. During her set, the Atlanta rapper gave the crowd her single "Put It on Da Floor" and appeared to take a shot at Nicki Minaj in the process. In a video clip of the performance, which can be seen below, Latto raps the line, "She thought that I would kiss her ass, she must ain't took her meds." At the same time, Latto presses one finger to her nostril and makes a motion like she's sniffing a line of cocaine.
The Latto and Nicki Minaj Beef
Latto and Nicki Minaj's beef dates back to last October when they went back and forth on Twitter after Nicki name-dropped Latto during a Twitter rant about her "Super Freaky Girl" single being removed from the rap category for the voting for the 2023 Grammy Awards. They have since traded shade, with Latto debuting "Put It on Da Floor" at Coachella in April, which many people deem to be a Nicki diss song. The coke-sniffing gesture appears to be a reference to internet rumors that Nicki Minaj is a user.
See Latto performing "Put It on Da Floor" at 2023 Rolling Loud Miami below.
Watch Latto Making a Coke-Sniffing Gesture While Performing Her Alleged Nicki Minaj Diss Song at 2023 Rolling Loud Miami Below
See Wild Rap Beefs That'll Probably Never Be Resolved
Pusha-T and Drake, YG and 6ix9ine, and more.