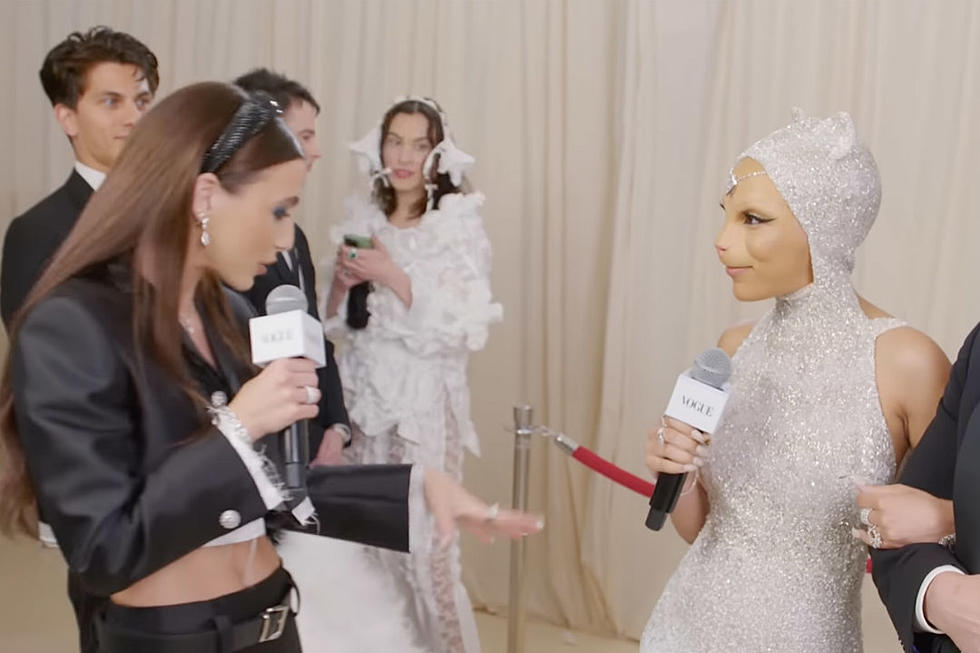 Doja Cat Meows During Her Whole Met Gala Interview – Watch
Vogue/YouTube
Doja Cat came to the 2023 Met Gala wearing special effects prosthetics to make her look like a real-life cat. Apparently, the "Woman" rhymer also stayed in character while speaking with the media.
The famed Metropolitan Museum of Art in Manhattan, N.Y. was the place to be last night (May 1) as the stars showed up to the 2023 Met Gala. Easily, the most head-turning getup of the night belonged to Doja Cat, who stayed true to her name and showed up as a cat. This year, the Met's Costume Institute exhibition "Karl Lagerfeld: A Line of Beauty" debuted in honor of the acclaimed designer who worked at fashion houses such as Balmain, Chloé, Fendi and Chanel. Doja's Cat's costume is reportedly a homage to Lagerfeld's cat Choupette.
Doja Cat was interviewed by Vogue in a one-on-one that could have used a feline interpreter. In the video below, a Vogue corespondent tries to get Doja's thoughts only to be met with meows from the California rhymer.
"Tell me all about this," Vogue's Emma Chamberlain asks Doja, who responds with a short meow.
"I mean, so who made it?" Chamberlain follows up, only to be met by another meow.
"Wow, OK. So, something a little different," Chamberlain reacts, playing along.
Doja is then asked to go into detail about the inspiration for her look, to which she responds with another short meow.
This isn't the first time recently Doja Cat's look at a fashion event has gone viral. During Paris Fashion Week in January, Doja made headlines after showing up to an event with her skin painted red and covered in 30,000 Swarovski crystals that were hand-applied by makeup artist Pat McGrath and her team.
Watch Doja Cat's Interview With Vogue at the 2023 Met Gala Below
See Every Rapper at the 2023 Met Gala