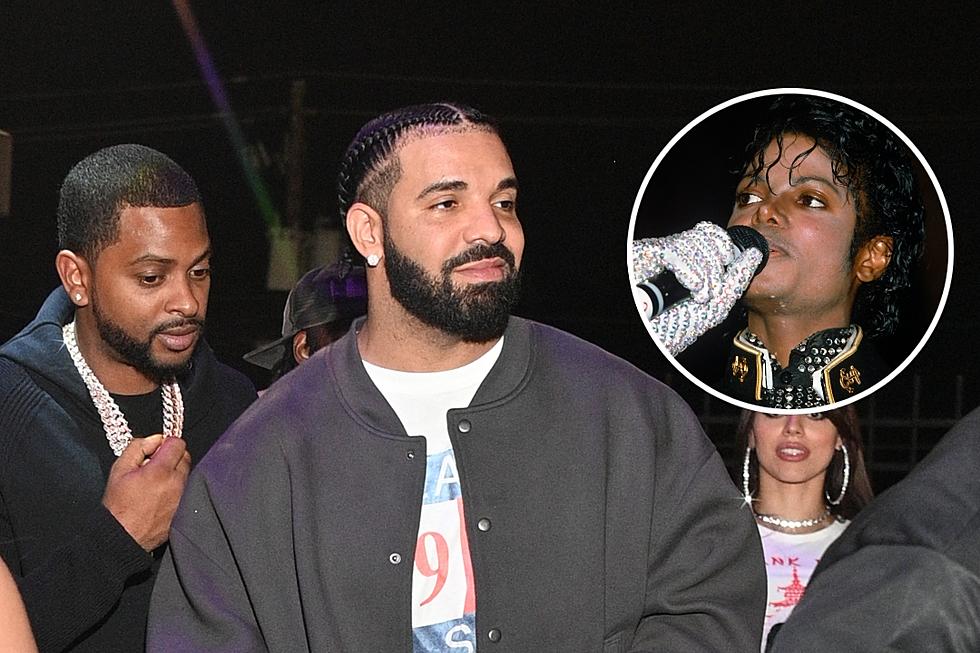 Did Drake Buy Michael Jackson's Crystal-Studded White Glove?
Prince Williams/Yvonne Hemsey/Getty Images (2)
Drake might be the proud owner of Michael Jackson's famous crystal-studded white glove.
Did Drake Buy MJ's Famous Glove?
On Monday (Oct. 17), Drake tied Michael Jackson's record for most No. 1 songs on the Billboard Hot 100 chart by a male soloist. Drizzy celebrated the accomplishment on social media by sharing three photos of himself wearing a glove that looks similar to Jackson's original accessory. Drake reposted a tweet about his accomplishment on his Instagram Story as well.
"'Sicko Mode' technically made 14 but they didn't count my feature so we got work to do," he wrote over the post.
In a follow-up IG Story, he posted a photo of himself holding a wine glass with a gloved hand. The glove appears to be the famed Swarovski crystal-covered glove worn by Michael Jackson when he performed "Billie Jean" at the Grammy Awards in 1983 and during his 1984 Victory Tour. In another post, Drake shared a photo of young Aubrey dressed as MJ. The "Rich Flex" rapper posted another photo that sees him smiling from ear-to-ear while showing off the same glove, as well as a Photoshopped pic of MJ wearing an OVO hoodie. He also posted another pic of himself holding a martini glass and wearing the white glove.
Michael Jackson's famed glove, which was custom designed by the late fashion designer Bill Whitten, has been up for auction multiple times. Back in 2010, it sold for $190,000 to Wanda Kelley, a fan and collector from Los Angeles. Last February, it was back on the auction block before being sold the same month for $123,000.
Drake's Recent Celebrity-Related Rich Flexes
Drake is no stranger to buying items formerly owned by famous celebrities. In January, he purchased $2.5 million of Pharrell's old jewelry collection that the super producer auctioned off. Back in July, Drake spent over $1 million on a custom ring once owned by Tupac Shakur. His tour merch for the It's All a Blur Tour also was inspired by Michael Jackson's own merch for the Dangerous World Tour in 1992.
Every Drake Project Ranked
XXL ranks all of Drake's albums and mixtapes.