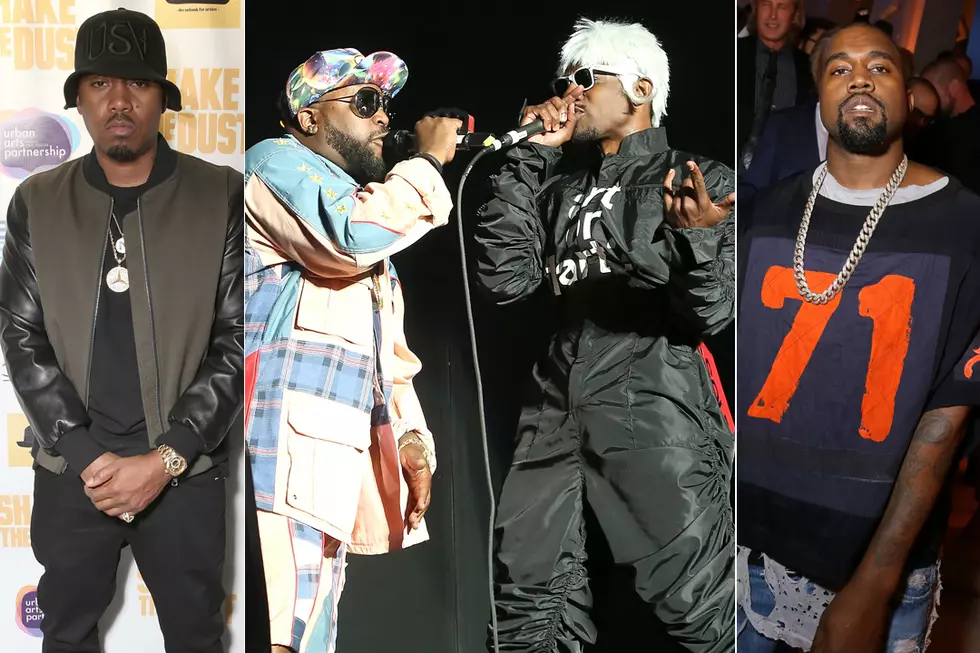 These Are the Best Hip-Hop Workout Songs to Stay Active
Todd Williamson / Paul Zimmerman / Victor Boyko, Getty Images
Since hitting the big time in 1979, hip-hop has matured over the years in many ways. From the sound of production to the style of the rhymes, the genre is always evolving itself and expanding its sensibilities. In addition to the music, the attitude of hip-hop and the way it presents itself has its traditional cues that are still highly regarded, but has changed in part as well. Long known as a culture strictly predicated by the actions, thoughts and vibes of the youth, hip-hop has grown old enough that both artists and fans debate about the hottest song or MC consume our time.
With age also comes the importance of health and well-being. Being birthed in the inner city where healthy living and wellness weren't always a top priority by the many bodegas that surrounded the area and few supermarkets with fresh produce, hip-hop was quicker to embrace burgers and fries than veggies and green juice. Famous rappers like the Fat Boys, Chubb Rock, the Notorious B.I.G. and Big Pun are just a few noted for (and even celebrated) their size. Fortunately, times have changed and hip-hop has made an attempt to correct that state of mind.
Staying fit and in shape isn't only a part of the culture, it's turned into a full-blown trend and has been beneficial for a slew of rappers, whether physically or monetarily. From formerly rotund rappers like Rick Ross, N.O.R.E. and Fat Joe deciding to trim off some of the fat and maintain workout regimens to Styles P and Jadakiss delving into the juice bar business, the culture as a whole has become a big proponent of working out in staying in shape.
Since looking fly and staying in shape is a must, XXL compiles a list of essential songs to give you comfort while you feel the burn. Here are the the Best Hip-Hop Workout Songs to Stay Active.
Onyx came on the scene in 1993, with their debut album, Bacdafucup, and quickly became one of the biggest groups in all of hip-hop. Following up their hit single, "Throw Ya Gunz," the scalped quartet delivered yet again with their next smash, "Slam." Full of infectious energy, the song would be one of the biggest rap songs of the year and is one of the signature tracks of its era. From the rambunctious chorus ("Slam, da duh duh, da duh duh/Let the boys be boys/Slam, da duh duh, da duh duh/Make noise b-boys) to the hard-boiled rhymes, this classic is perfect for hitting the bench and putting numbers on the board.

"Breath Easy / Lyrical Exercise"

Jay Z

Jay Z ascended to king status with his sixth studio album, The Blueprint, but wasn't above giving inspiration to those still getting callouses on their hands, which he accomplished with the bonus cut "Breath Easy / Lyrical Exercise." Clearly in his zone, Hov gets in two-minute drill mode with elite lyricism. "I jog in the graveyard/Spar in the same ring that was housed by the building Where Malcolm X was slain/I spring train in the winter, 'round early December / Run suicide drills over and over," he delivers, detailing his rhyme regiment. Lines like "Suckers Get your weight up, not your hate up/Jigga man is diesel, when I lift the eight up/Y'all ain't ready to workout with the boy/Your flow is brain on drugs, mines is rap on steroids," continue Hov's onslaught and stamps the track as a solid workout playlist addition. While every video featuring the lyrics has been scrubbed from YouTube, the instrumental below will hold you over until you dig into your Jay Z catalog.

"Jump Around"

House of Pain

The Irish are known to be some tough guys when it comes to enduring pain or taking and delivering blows. House of Pain, rap's favorite set of Shamrocks, repped that aesthetic and bottled it up on the timeless ditty, "Jump Around." Frontman Everlast gets busy from the outset, rhyming, "Pack it up, pack it in, let me begin/I came to win, battle me that's a sin/I won't ever slack up, punk you better back up/Try and play the role and yo the whole crew'll act up," setting the tone for the track with his aggressive rhymes. "Jump Around" may be pegged as a party record, which it is, but we also believe a sizable contingent of the brolic community also put it among their favorite songs to lift to.

"The New Workout Plan"

Kanye West

"You just popped in the Kanye West Get Right for the Summer workout tape/And ladies if you follow these instructions exactly, you might be able to pull you a rapper, a NBA player/Man, at least a dude with a car/So first of all we gonna work on the stomach/Nobody wants a little tight ass." Kanye West dropped those lines on his 2004 gym anthem "The New Workout Plan" and by the looks of society today, he was borderline prophetic. While he'll never be mistaken for a brute (unless you're paparazzi, that is), Kanye gifted chicks looking to upgrade with the perfect manual with this track. Predating the butt injection wave, the rapper's audio tutorial entails a bit more "work," but is effective all the same. Instructions like "1 and 2 and 3 and 4 and get them sit ups right and/Tuck your tummy tight and do your crunches like this/Give head, stop breathe, get up, check your weave/Don't drop the blunt and disrespect the weed," finds Yeezy giving his own version of hip-hop abs that is still garnering results today.

In the wake of Puff Daddy and his shiny suit clad family's takeover of the rap (and pop) charts in 1997, the game was in need of a little bit of hardcore to balance things out. DMX came out of the woodwork and injected that and more into the bloodline of East Coast rap, and it started with his first ubiquitous hit "Ruff Ryders' Anthem." Ordering listeners to "Stop, drop/Shut 'em down, open up shop," DMX emerged from his standing as a guest verse assassin to a bona fide star by rapping his ass off with a prison yard style workout session—this all took place in the background of the accompanying music video. That, not to mention the militaristic vibe, will have you doing deadlifts with the same ease of a jumping jack.

Out of all of the records on this list, "Stay Chiseled" by Nas is the most vastly slept-on. Although never included on an official Nas release and being claimed by the song's producer, Large Pro, on his own solo outings, the song is simply brilliant and features Nas dropping various references to work-out sessions within the framework of his verse. Rapping "Stay chisel like a boxer, wife-beater by Fila/Lou Ferrigno Arnold Schwarzenegger type steelo/Stay chiseled, check your paper nigga/Bring the bar to your chest, then push it up harder than the rest/Stay chiseled," God's Son's words instantly put you in the mood to just get ONE more set in. Other dope couplets, like "Light a Dumbbell L/Inhale then hear the lunch bell ring/Sweating, working up her appetite, setting/Mental calisthenics got my mind stretching, then I release it/Have my whole frame bulging under diamond pieces" also promote physical fitness and is sure to be a favorite of gym rats that weren't privy before.

OutKast started out serving mellow tunes to the public, but over time would move to more frenetic fare, like their single, "B.O.B." The lead track from their fourth studio album, Stankonia, was considered a sonic tour de force and still is today. Andre 3000's insane delivery and flow is other-wordly on this outing, sniping with rhymes like, "Inslumnational, underground/Thunder pounds when I stomp the ground/Like a million elephants and silverback orangutans/You can't stop a train," before Big Boi finishes the track off with a more methodical performance. One of the more adrenaline-inducing tunes in the OutKast catalog, "B.O.B" is stadium status and translates to a gym setting as well.

"Don't Sweat the Technique"

Eric B. & Rakim

One phrase used to describe finesse and guile is "poetry in motion," which can also apply to the flows of the original God MC, Rakim. Since he's as crafty as they come, being the author of a record as bruising, yet nimble as "Don't Sweat the Technique" isn't much of a surprise. Opening the track, spitting, "Let's trace the hits and check the file/Let see who bit to detect the style," Rakim toys with the beat before delivering a dexterous combo. "I change the pace to complete the beat/I drop the bass to MC's get weak/For every word they trace it's a scar they keep/'Cause when I speak, they freak to sweat the technique," he rhymes. While delicate stylistically, "Don't Sweat the Technique" is for those that like to pace themselves when working out and key in on technique.

"Victory"

Puff Daddy Featuring Notorious B.I.G.

Puff Daddy always had the swagger of a rapper, but fully transitioned into character with his debut album, No Way Out, in 1997. The album contained numerous smash records, but it was the least successful song out of the singles that would truly make a dent beyond the pop charts. That track was "Victory," which has turned into one of the rap songs most affiliated with endurance and physicality, thanks to its sampling of Bill Conti's "Going the Distance," from the Rocky soundtrack. Another aspect that makes "Victory" a prime cut for those fond of physical exercise are the bars provided by the Notorious B.I.G. "Excellence is my presence, never tense/Never hesitant, leave a nigga bent real quick/Real sick, raw nights, I perform like Mike/Anyone—Tyson, Jordan, Jackson," he raps, and all but guaranteed this classic inclusion on this list.

As far as female rap duos go, Salt-N-Pepa are the standard. Despite crashing on the scene and multiple hit rap singles, the around-the-way girls from Queen, N.Y. truly hit their stride with the release of their single, "Push It," in 1987. When the ladies rap "Salt and Pepa's here, and we're in effect / Want you to push it, babe/Coolin' by day then at night working up a sweat/C'mon girls, let's go show the guys that we know/How to become number one in a hot party show/Now push it," the innuendo is clearly sexual, but has also become a favorite for workout warriors, hence Salt-N-Pepa's 2014 Geico commercial.

"Good Vibrations"

Marky Mark Featuring the Funky Bunch

Mark Wahlberg is more known as an actor to most hip-hop fans of today, but believe it or not, he was once a successful rapper. Crashing on the scene in 1991 with his group, The Funky Bunch, Wahlberg, who rapped under the name Marky Mark, hit it big with their single, "Good Vibrations," which skyrocketed to No. 1 on the Billboard 100 that year. From the earth-shattering vocals on the hook, which features the workout friendly lyrics "It's such a good vibration/It's such a sweet sensation" to Marky Mark demanding to "see sweat coming out your pores," "Good Vibrations" is a quintessential song to burn calories to.

There's no way you can have a workout playlist without including rap's favorite enforcer, 50 Cent. We know "In Da Club" and even "Heat" could make an argument for inclusion, but there's just something about hearing 50 Cent bark, "G-Unit, we in here/We can get the drama popping, we don't care" at the top of the Get Rich or Die Tryin' opener, "What Up Gangsta." Rhyming over booming percussion, Fif asserts himself fulling, rhyming, "They say I walk around like I got an S on my chest/Nah, that's a semi-auto, and a vest on my chest/I try not to say nothing, the DA might want to playin' court/But I'll hunt a duck nigga down like it's a sport," with a sneer that transcends the record. Other songs of his may have topped Billboard charts and were more of an event, but "What Up Gangsta" is the only 50 record to put on when you're ready to max out on the bar, no debate.

"Let's Go"

Trick Daddy Featuring Twista & Lil Jon'

Trick Daddy hails from the rough and tumble streets of Miami, where only the strong survive, which means being able to hold your weight is a must. The rapper's 2004 cut, "Let's Go," embodies that spirit and could motivate someone to tear up the gym to get their gains up. The record, which features Twista and Lil Jon, finds the latter setting it off with the rallying cry, "Let's gooooo! (Let's gooooo!)/If you want it you can get it let me know (let me know)/I'm bout to fuck a nigga up, let's go," before Trick Daddy comes through with his verse. His previous hit single, "Take It to the House," may have been accompanied by a sports inspired visual, but "Let's Go" is more than likely most baller's pick out of the rapper's catalog to get their flex on.

"Insane in the Brain

Cypress Hill

1993 was a landmark year for Cypress Hill. The Cali-based rap group followed up on the success from their self-titled debut and released their sophomore album, Black Sunday. The album debuted at No. 1 on the Billboard 200 while their previous effort was still high on the charts, making them the first rap group to have two albums in the Top 10 simultaneously. And that success was largely off the strength of their high-powered single, "Insane in the Brain." B-Real's zany voice works wonders on the hook, but it's the pounding percussion and shrill guitar riffs that will have you ready to pump some iron without a moment's notice.

"Mama Said Knock You Out"

LL Cool J

The opening bars to LL Cool J's 1991 hit, "Mama Said Knock You Out," are some of the most iconic bars in rap history. Coming off his critically panned album, Walk Like a Panther, LL was in need of a win back and got a little inspiration from grandma Cool J, resulting in the classic. "Don't call it a comeback, I been here for years/Rocking my peers and putting suckas in fear/Making the tears rain down like a monsoon/Listen to the bass go boom," he raps. LL Cool J promises to floor the competition and would make life imitate art and bulk up himself in the years following this record. "Mama Said Knock You Out" is a hell of a record to get ripped to and serves as the genesis of one of the most sculpted rappers in histories rep as a workout fanatic.

"What U Gon' Do"

Lil Jon & the East Side Boyz Featuring Lil Scrappy

Lil Jon's voice alone can ramp up the energy in a room so put him on a record with a thunderous beat and things could get hardbody. After achieving platinum status with their fourth album, Kingz of Crunk, Lil Jon & the East Side Boyz reupped and came out the gate swinging with the single, "What U Gon' Do," featuring Lil Scrappy. Shouting "If you fall up in the club/And them niggas wanna mug/When you step up to they face/What they gon' do (Shit)," Lil Jon is the ultimate motivator and could make the most timid of people run through a wall. This record may have been made with the intention of tearing up the club, but is also appropriate for gym settings and will put you in the zone just when you feel like throwing in the towel for the day.

"Stress"

Organized Konfusion

"Crush, kill, destroy, stress!" Organized Konfusion made that couplet a chant among underground rap heads way back in 1994 on their sophomore album, Stress: The Extinction Agenda. The album's title track, "Stress" was a hot pick for those engulfed in the tunes permeating their headphones and is a surprisingly effective song when in need of a reason to continue to destroy and rebuild the body. Not to mention it features spellbinding rhymes provided by Pharoahe Monch, who catches wreck on the second verse, spitting, "My perception of poetical injection is ejaculation/The Immaculate Conception/The hall walker, who stalks bodies in Central Park/Soon emergency services'll outline that body in chalk/Then I begin to walk away and spit/Then when I walk away I talk shit!" Apathetic reality rap and dumbbells never meshed so well.

1992 was a big year for rap acts crossing over to the mainstream and perhaps the most successful of the group were also the youngest. Kriss Kross, hailing from ATL and not even old enough to catch a PG-13 flick, recorded one of the most hardbody rap singles of all-time with "Jump." The song launched the fashionably dyslexic group into household names. Despite this record nearing 25 years of age, it still remains a favorite in environments where rap kids just want to run, jump and play.

"Move Bitch"

Ludacris Featuring Mystikal

Despite being one of the more talented MCs of his era, Ludacris has caught subtle backlash for being more of a comedic rhymer than the prototypical wordsmith. But nothing was funny about "Move Bitch," the third single released from his sophomore album, Word of Mouth. Instantly catching you from the outset with its booming beat, Ludacris then provides the confrontational hook, shouting, "Move bitch, get out the way/Get out the way bitch, get out the way," and getting unruly on the track. Featuring guest verses from I-20 and Mystikal, "Move Bitch" is basically about people being in the way and impeding your progress, but has also been embraced by the sports community, where moving things—or rather people—around is part of the job. And besides, if Mystikal's verse doesn't help you power through your workout, you may not have a soul at all.

The lone addition on this list to feature international flair, "I Got the Power," has been one of the biggest songs to workout to for 25 years strong. Made by German music group, Snap!, the song touched down at the top of 1990 and was a hit internationally, as well as in the U.S. Featuring a rap from Pittsburgh native Turbo B and vocals by Penny Ford (lip-synced in the music video by Jackie Harris), "I Got the Power" peaked at No. 2 on the Billboard Hot 100 chart and was minted an instant classic by anyone who knew better. Definitely a shoo-in on any list about anything having to do with fitness and music.

"Runnin"

21 Savage and Metro Boomin

A pairing like few others, 21 Savage and Metro Boomin have elevated each other and possess a certain synergy that they continue to sharpen. The menacing "Runnin" is just more proof of that. Besides the obvious tie between the title and fitness, the song is bass-heavy and 21's lyrics about his enemies' fear of him is enough to make you feel invincible in the gym. There is something about the repetition of the hook that helps you focus, whether you're trying to get through that last mile or hit that personal record. That last set doesn't stand a chance, and nor do your fitness goals once you turn this one up.

Every workout needs a cool-down period, and Future's song "Goin Dummi" off The Wizrd album fits that to a tee. Known for so many booming trap classics, "Goin Dummi" is a light and airy tale of Future's lavish lifestyle. The song is so relaxing, and is perfect for some post-lifting cardio like the stationary bike or a light run. As a whole, "Goin Dummi" is almost dream-like, an imaginary world where all you do is travel and ball out; thats a great distraction on a long jog. A fitting end to a long day of lifting weights.

Most Migos songs will get you going in the gym, but "T-Shirt" and its staccato chorus, plus the aggression that all three members showcase on the song puts it way up there. It's easy to focus and zone out wile listening to the futuristic-meets-peak trap heyday production, and finish whatever you started. Those flows, which have turned Migos into a household name and made them a lot of money in the process, are excellent for keeping you motivated at the gym. They definitely had one with this single, a song that helped map out the early part of their mainstream star turn.

Playboi Carti's music specializes in energy and moshing, especially around the time of his sophomore album, 2018's Die Lit. Few songs centralize that kind of vibe like "R.I.P.," the second song on that LP. Carti's chorus is crazy (and lewd), and is far too easy to yell and sing along with. The key-driven beat produced by frequent collaborator Pi'erre Bourne sets the tone by being just the sort of organized chaos Carti needed in the moment. Add all those parts together and you get a pretty good workout song.

"Running Up Freestyle"

Megan Thee Stallion

Songs where Megan Thee Stallion is free to just let loose and just drop her best bars are where her pure talent shines. "Running Up Freestyle" is Meg hopping on a fire LilJuMadeDaBeat production, and coming in hot from bar one ("If they say I ain't the baddest then the muthafuckers lied/How you riding on a nigga who be asking for a ride?") The second half of her verse, where she raps faster and faster while still being technically sound, would make anyone want to turn up. Just what you need when you're trying to start or finish a tough workout. One of Meg's most charged songs, "Running Up Freestyle" should have a place in most people's gym playlists.

"Clout"

Offset featuring Cardi B

Offset and Cardi B absolutely put on for their fifth song together. "Clout" is about social media and how some people will do anything for attention in general. Offset's deadpan disgust at the very thought is enough to get a listener on his side and amped up, chanting, "Do anything for clout" right along with him. Cardi's verse is excellent, and Offset's bars and natural chemistry with Cardi really sell the song. Factor in those piano keys, and you'll finally get that lift you've been aiming for.

The late Young Dolph had plenty of anthems in his career, and thankfully, he got to see the love at shows, in the street, online and everywhere in between. "Get Paid" is one of Dolph's earliest signature songs, and it has a universal message: "Rule No. 1, get the money first." Dolph's distinct voice, unforgettable chorus and how he sells every single bar make this a classic. The beat, which sounds like the climax of an action movie, fits well into a day or night at the gym. There's no way anyone is quitting on a workout with Dolph in their corner.

Moneybagg Yo has worked hard for quite some time, building his popularity and music step by step over the years. "Said Sum" is one of the songs that kicked off his current run, where he's as big as he's ever been and has his first No. 1 album with 2021's A Gangsta's Pain. The way the beat is composed fits perfect with Bagg taking down all of his haters while flipping from flow to flow with an ease that almost makes it hard to notice. The "I thought a..." turn of the phrase in the hook takes on a mind of its own, and that's just the push needed during a workout. Plus, who doesn't like to boast about how people can't keep up?

"Hot"

Young Thug featuring Gunna

Young Thug and Gunna have plenty of high-level collaborations, but "Hot" is a one of one. From the start, with those majestic horns, before the window rattling drums come in, any listener would be engaged. Gunna's flawless verse that feels much longer than its under one minute runtime, is great for getting into your fitness groove, as he's fully locked in. By the time Thug gets to the mic, the song is at a fever pitch, especially the part of his verse where he flips Cartier in all sorts of directions. The way "Hot" doesn't waste a second would be great for any workout, preferably as loud and safely as possible.

"Crunk Ain't Dead"

Duke Deuce

There's no one in modern rap quite like Duke Deuce, a classic Memphis rap revivalist with more than enough flair and uniqueness to stand out. His breakout single, "Crunk Ain't Dead," encapsulates his appeal, while also being a high-level exercise song. With Duke yelling, "Crunk ain't dead" through the headphones, it's impossible to let up at the gym, no matter how tough it gets. The production is vintage Memphis, hearkening back to when Three 6 Mafia was coming up, before they were hip-hop Hall of Famers. The song is sleek and concise, and feels like a night at a club during the Southern rap set.