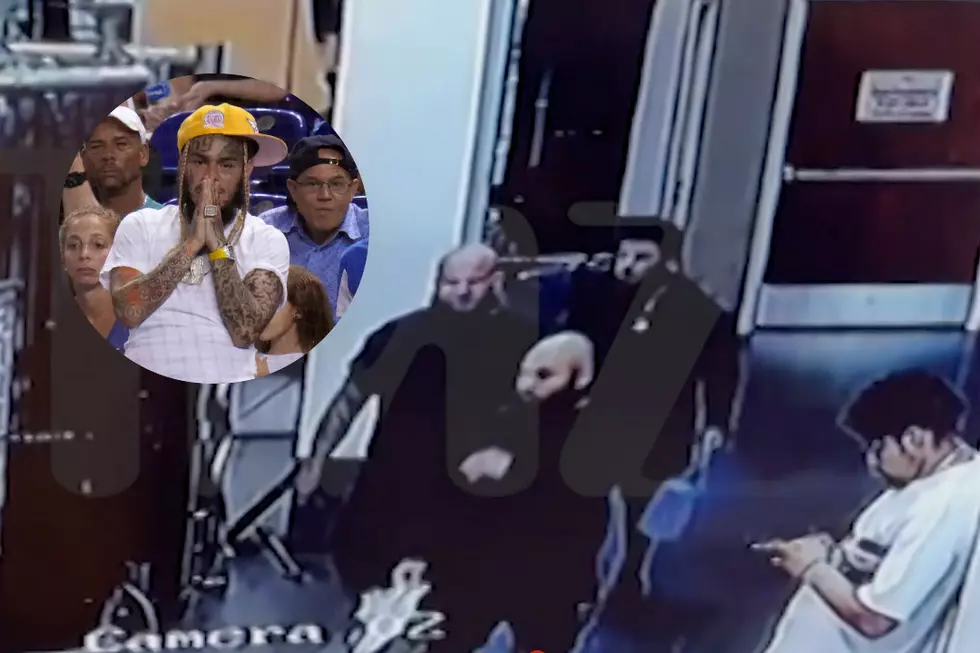 6ix9ine's Bodyguard Challenges Tekashi's Attackers to Fight – 'If You Lose You Die'
TMZ/Mark Brown/Getty Images
6ix9ine's bodyguard is ready to rumble after his client was recently pummeled by multiple men at a LA Fitness in Lake Worth, Fla.
On Wednesday (March 22), 6ix9ine's protector Bam-Bam spoke out on social media after being accused of being in on the plot to have 6ix9ine assaulted.
"First of all thanks for the free promo," he captioned an Instagram blog post questioning his involvement (below). "I need it but second the whole city know how I move N if any of my guys put hands on somebody they ain't gone move Let alone go f**k for b*tches all vixens like @6ix9ine just did… last person disrespect ended up falling asleep in his own piss."
"These Negas with some pillow fist ain't even that worry about my ex-wife would whoop they a*s. Weak a*s clowns weak a*s punches .. THEY WONT CLAIM IT THO… " he continued.
Bam went on to say he spoke with one of the men who has been accused on social media of being one of the attackers.
"Me n @bullet_guzman spoke he say it ain't him watch the video n it ain't him.. n I don't beat people up at LA FITNESS we do it for real @goatshed," Bam continued.
Bam concluded by challenging the men who attacked 6ix9ine to a fight to the death.
"SO THISE GUYS IN THE VIDEO 3 n 4 counting camera guy .. 4 vs 1 y'all weak a*s b*tches against me .. you win I pay you 10,000$ n if you lose you die .. there will be no ref.. CLAIM IT GANGSTAS," he added.
Video of 6ix9ine being savagely beaten by multiple men in a gym bathroom first surfaced on Tuesday night (March 21). The viral clips show the helpless rapper getting hands and feet applied to his body.
Following the beating, he was transported to a local hospital. Video has since surfaced of the alleged men who attacked 6ix9ine entering the building prior to the beatdown.
The Palm Beach County Sheriff's Office has released a statement about the violent incident. The motive for the attack remains unclear.
See 6ix9ine's Bodyguard's Post Challenging Tekashi's Attackers to a Fight Below
See the Definitive List of Bizarre Tweets From Rappers