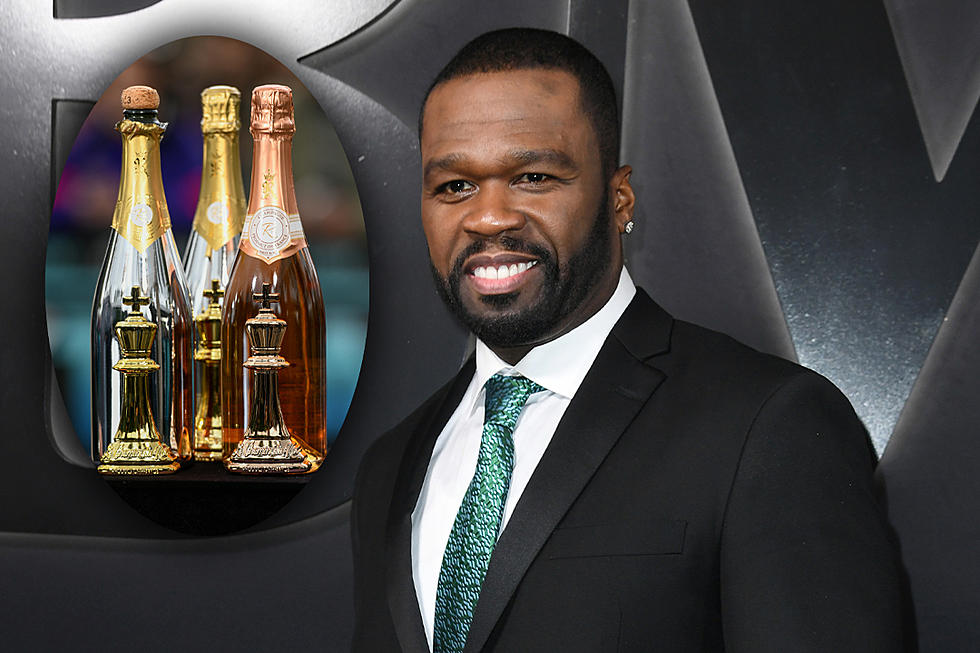 50 Cent Champagne Bottle Sells for $325,000 at Auction
JC Olivera/Noel Vasquez/Getty Images (2)
A bottle 50 Cent's brand of champagne, Le Chemin du Roi, has sold for $325,000 at an auction.
On Sunday (Feb. 26), 50 Cent and his Le Chemin du Roi champagne had an impressive outing at the 2023 Rodeo Uncorked! international wine competition in Houston. Aside from being awarded Grand Champion Best of Show, a bottle of Fif's award-winning French vintage Le Chemin du Roi Brut AOC brought in six figures, according to an article published by Chron.
After taking home Grand Champion Best of Show in the aforementioned international wine competition, the single bottle of Le Chemin du Roi that was awarded the honor was auctioned off at a record-breaking $325,000 in a winning bid by real estate firm J. Alan Kent Development.
Amid his renowned champagne brand winning awards among over 3,000 other entries and raking in cash in the process, 50 Cent dropped some serious cheese of his own at the prestigious wine auction. The current Houston resident by way of Queens, N.Y. dropped $165,000 on a bottle of Bernhardt Winery's Antiquity Chardonnay Reserve, which was produced in Danube Plain, Bulgary in 2020 and was crowned 2023 Reserve Grand Champion at this year's Rodeo Uncorked!.
In highlighting the fact that Le Chemin du Roi earned Grand Champion status and broke the record for the event's highest bid on a single bottle, Fif did a little flexing on social media on Monday (Feb. 27).
"You think you know money until you make it to the Rodeo in Houston," wrote 50 Cent on Instagram. "I bought the lot 2 Reserve champion [for] $165,000. You need a real bag to play over here."
This isn't the first time a bottle of 50's luxurious bubbly has been honored at the annual wine competition that takes place as part of Houston's Livestock Show and Rodeo. In fact, it's the second. Back in 2021, Le Chemin du Roi was named Reserve Grand Champion at the same Rodeo Uncorked! competition in H-Town.
See 50 Cent's Le Chemin du Roi Champagne Win Grand Champion Best in Show and His Reaction to it Selling for $325,000 at the Auction Below
See Rappers' Other Streams of Income