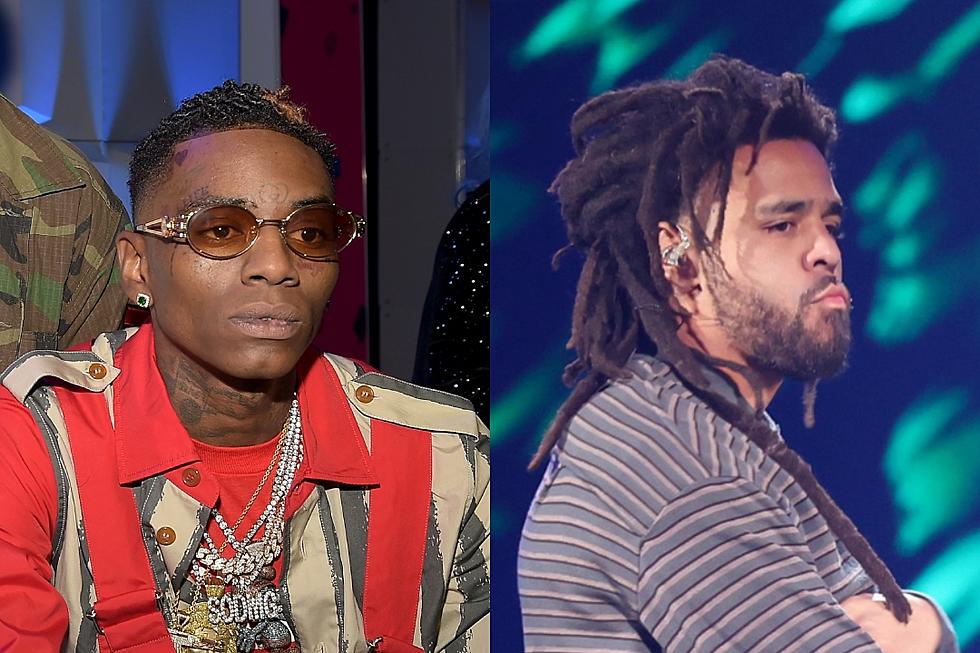 Soulja Boy Curses Out J. Cole in Another Rant for Saying He Used to Be a Soulja Boy Hater
Marcus Ingram/Getty Images for BET/Rich Polk/Getty Images for iHeartRadio
UPDATE (Nov. 6): 
Soulja Boy has apologized to J. Cole shortly after cussing out the Dreamville leader on X. In a pair of follow-up tweets posted on Monday night (Nov. 6), Draco said he was misinformed about what Cole actually said during his time on Lil Yachty's podcast. He revealed Nicki Minaj helped him see the light when they spoke about the incident on Instagram Live, which can be seen below.
"Nicki just told me I took what he said wrong," Soulja Boy tweeted. "And that he was showing love. So I'm gonna let it go. My bad y'all I really thought dude was hating on me."
He continued, "My bad dawg. @JColeNC sorry for the confusion. keep doing your s**t we from two different worlds. I stand on what I stand on, it's hard coming from where I did man. I dealt with a lot of hate my whole career so it was just messed to think it would come from you."
ORIGINAL STORY (Nov. 6): 
Soulja Boy has continued his tirade against J. Cole after the Dreamville leader admitted he used to be a SB hater.
Soulja Boy Continues to Attack J. Cole
On Monday (Nov. 6), Soulja Boy continued to attack J. Cole, calling him out on X, formerly known as Twitter. Soulja said Cole was being a "p***y," among other expletives, and that he was on a lower level than him because Draco didn't need Drake to hand him a chart-topping record. He was referring to the fact that Drake's "First Person Shooter," which Cole is featured on, debuted at No. 1 on the Billboard Hot 100 last week, in turn giving the North Carolina rapper his first No. 1 song.
"You a b***h @JColeNC f**k you and ya fans," Soulja Boy wrote on X. "N***az will slap the s**t out you, f**k your opinion dirty stank dreads having a** b***h."
He added, "P***y n***a I wrote and produced a #1 record at 17 in 2006 drake just gave you your first #1 this year sit the f**k down n***a u not all that @JColeNC u don't got a #1 solo record I do."
Soulja Boy continued by replying to a J. Cole supporter who said The Off-Season rapper didn't care what Big Draco had to say.
"F**k clout. f**k fame. f**k streams," Soulja Boy replied. "Don't want me replying to s**t don't speak on me @JColeNC you a bitch and it's stamped keep my name out your mouth."
J. Cole Says He Used to Be a Soulja Boy Hater
On Thursday (Nov. 2) Cole had admitted to being a Soulja Boy critic while he was in college. While a guest on Lil Yachty's A Safe Place Podcast, Cole said he had since grown to deeply respect the Atlanta rapper.
"Around the time Soulja Boy came out, I don't know how this happened, but I had a realization within myself 'cause I'm hearing that s**t and I'm like, 'Man, this s**t, Soulja Boy Tell 'Em," J. Cole stated. "Sounds crazy to say now 'cause it's such a classic to me. But at that time I had resistance. Similar to when you came out and your class came out, I had resistance. 'Nah, that's not the thing that I love. Like what? Y'all f**king with this?' I was one of them."
He clarified: "But there was a part of me that had a realization. I was proud of myself for this realization. So, I was like, 'Bruh, you a hater.' Like, 'Yo, you are literally hating. You know you like this s**t.'"
Soulja Boy clapped back at Cole on Saturday (Nov. 4), criticizing Cole's age on X, and said this behavior was "nothing new."
"N***az always hated on me nothing new," Soulja Boy typed. "Him and big sean was on some hating s**t. But f**k them im still lit [fire emoji]."
See Soulja Boy respond to J. Cole again on X below.
See Soulja Boy Respond to J. Cole Again
See Unnecessary Hip-Hop Beefs That Never Should've Happened
50 Cent vs. Fat, Meek Mill vs. Drake and more.