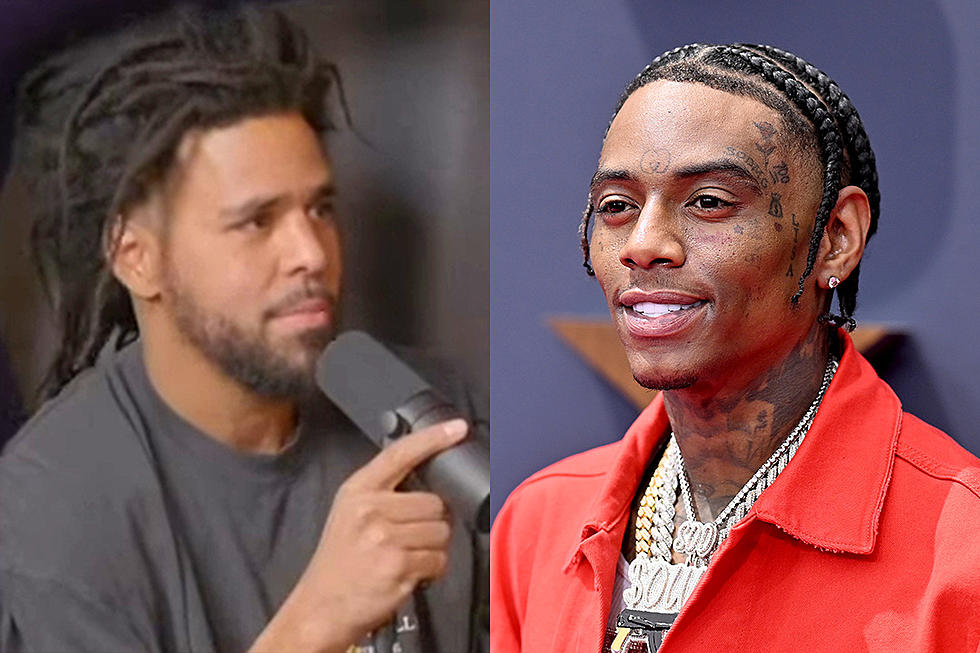 J. Cole Admits He Was a Soulja Boy Hater, Soulja Boy Fires Back
A Safe Place Podcast/YouTube/Paras Griffin/Getty Images for BET
J. Cole admitted in a recent interview that he was a Soulja Boy hater, and now Soulja Boy is firing back.
J. Cole Says He Used to Be a Soulja Boy Hater
On Thursday (Nov. 2), J. Cole went on Lil Yachty and Mitch's A Safe Place Podcast and spoke about his feature verse on Drake's song "First Person Shooter," a diss track Cole made about mumble rappers and much more. In the two-hour interview, however, the North Carolina rapper revealed that he used to dislike Soulja Boy's 2007 hit single "Crank That (Soulja Boy)" after Lil Yachty talked about Cole's record "Everybody Dies," which allegedly served as a diss track toward emerging mumble rappers.
At the 11:51-mark of the video below, Cole says that when Soulja Boy's "Crank That (Soulja Boy)" first came out, he didn't find the track sonically pleasing. Cole then took accountability for not being open to the new subgenres in hip-hop.
"Around the time Soulja Boy came out, I don't know how this happened, but I had a realization within myself 'cause I'm hearing that s**t and I'm like, 'Man, this s**t, Soulja Boy Tell 'Em," J. Cole stated. "Sounds crazy to say now 'cause it's such a classic to me. But at that time I had resistance. Similar to when you came out and your class came out, I had resistance. 'Nah, that's not the thing that I love. Like what? Y'all f**king with this?' I was one of them."
He continued: "But there was a part of me that had a realization. I was proud of myself for this realization. So, I was like, 'Bruh, you a hater.' Like, 'Yo, you are literally hating. You know you like this s**t.'"
Soulja Boy Claps Back at J. Cole
Despite J. Cole's changed views on Soulja Boy's music, the 33-year-old rapper still wanted to air his grievances with Cole after witnessing the interview. On Saturday (Nov. 4), Soulja hopped on X, formerly known as Twitter, and wrote a few tweets directed at Cole.
In the first tweet, Soulja commented on a clip from Cole's interview on A Safe Place Podcast and claimed that he was used to being hated on, adding that Cole and Big Sean were always critical of him.
"N***az always hated on me nothing new," Soulja Boy typed. "Him and big sean was on some hating s**t. But f**k them im still lit [fire emoji]."
In his next tweet, the Atlanta rapper shared a screenshot that shows J. Cole's age, implying that if Cole was older he wouldn't go easy on him.
"Never mind he got it," he wrote. "2 away from 40. Fasho."
Soulja continued his shots at Cole in the following tweet, telling the Dreamville Records leader to never mention his name again in conversations.
"Aye bruh don't speak on me @JColeNC," he penned. "I'm not lil pump, drake, or none of these rapper n***az. On God."
Look at J. Cole talk about why he used to be anti-Soulja Boy and Soulja Boy's response below.
Watch J. Cole Admit That He Was a Soulja Boy Hater
See Soulja Boy Fire Back at J. Cole
See Unnecessary Hip-Hop Beefs That Never Should've Happened
50 Cent vs. Fat, Meek Mill vs. Drake and more.