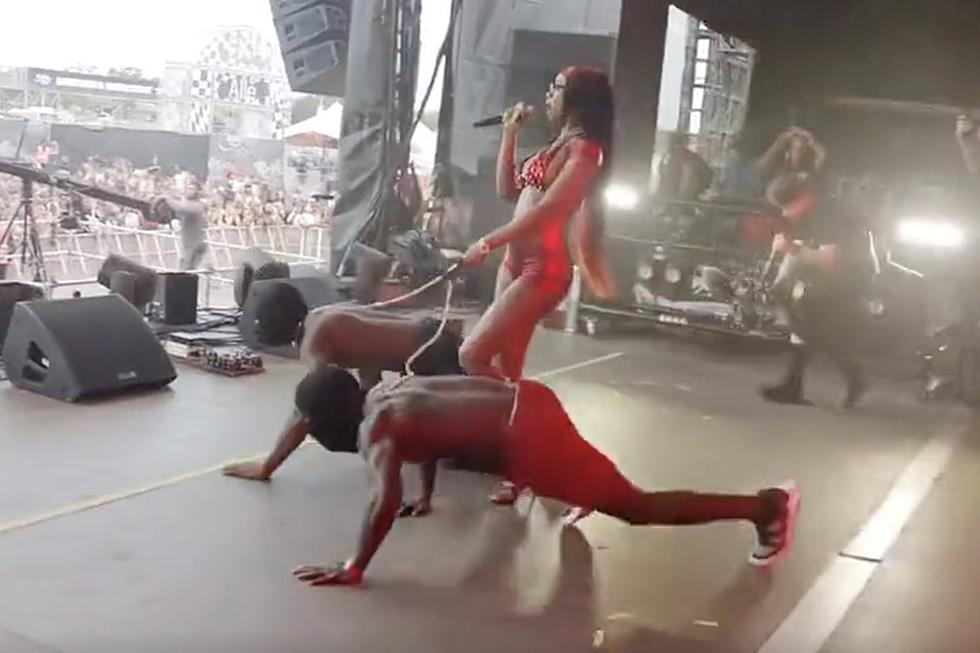 Sexyy Red Walks Men Like Dogs on Stage During 2023 Rolling Loud Miami Performance
SexyyRed314_/Twitter
Sexyy Red walked two men like dogs onstage during her 2023 Rolling Loud Miami performance.
Sexyy Red Dog Walks Two Men During Her 2023 Rolling Loud Miami Performance
Sexyy Red made a helluva entrance during her performance at the 2023 Rolling Loud Miami festival on Friday (July 21). The "Pound Town" rapper jumped on her Instagram page and shared a brief clip of herself making her way to the stage at Rolling Loud Miami. In the video below, Red steps out, holding long leashes attached to two ski-masked men on all fours, whom she walks like dogs. Once she reaches the stage, the St. Louis rhymer lets go of the leashes and the two men turned around while still on all fours and walk back to the backstage area.
NLE Choppa Walked Sexyy Red and Sukihana by Their Hair for Music Video
While Sexyy Red walking two men like dogs onstage during her RL performance was for fun, the 25-year-old artist found herself in some controversy earlier this year when she allowed NLE Choppa to walk her and fellow rapper Sukihana by their hair in his sexually-explicit video for "Slut Me Out (Remix)."
The video, which you can watch below, caused a wave of outrage on social media. Many people found the visual to be repulsive and demeaning to Black women, while others were shocked that NLE Choppa would allow himself to degrade Black women in a music video.
In response to the backlash, NLE told The Breakfast Club that he didn't force Red or Suki to get on all fours and that it was done out of jest. However, he understands the public's misunderstanding and sees it as a "learning experience."
"Everything's like a learning experience. I know how sensitive the world is, and I know the type of person I am as well," he said. "I do a lot of good [and] I feel like I was kind of getting attacked in that area."
"I've watched people degrade women in real life," he continued. "And I feel like, with me having fun [as a] 20-year-old male...with the girls that wanted me to do it, I feel like what is the conversation really about?"
See video of Sexyy Red's Rolling Loud Miami performance below.
Watch Sexyy Red Walk Men Like Dogs During her 2023 Rolling Loud Performance Below
Check out female rappers who embraced having cosmetic surgery below.
See Female Rappers That Embrace Plastic Surgery