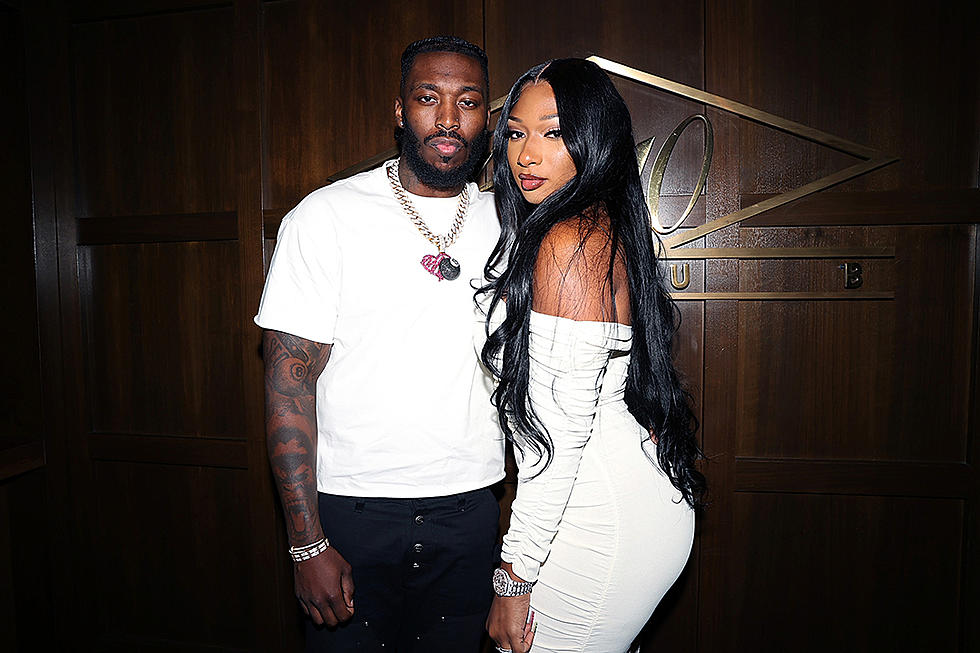 Megan Thee Stallion Raps About Catching a Man Cheating in Bed on New Song 'Cobra,' Fans Think It's Pardison Fontaine
Shareif Ziyadat, Getty Images for 40/40 Club
UPDATE (Nov. 3): 
Pardison Fontaine appears to be reacting to the many fans who believe he is the cheating lover Megan Thee Stallion references on her latest single, "Cobra."
On Friday (Nov. 3), Pardi hit up his Instagram Story with two posts that seemingly make light of his comments section being bombarded by those who think Megan caught him in bed with another woman. The first slide sees a short video clip of Future declaring, "It's an evil world we live in," while the second is a photo of NBA player Tristan Thompson laughing heartily.
While there are no words directly from Pardison Fontaine included in the IG Stories, it's perceived that he chose to include Future and Thompson due to their alleged cheating scandals with Ciara and Khloé Kardashian, respectively.
ORIGINAL STORY (Nov. 3): 
Megan Thee Stallion is addressing catching a man cheating on her new song "Cobra" and fans are convinced she is talking about Pardison Fontaine.
Megan Thee Stallion Raps About Cheating Man on New "Cobra" Track
On Friday (Nov. 3), Megan Thee Stallion returned with her latest single "Cobra," which finds the Houston rapper opening up about her mind state and tribulations over the past year. At one point in the first verse, she talks about catching a man cheating.
"Pulled up, caught him cheating, gettin' his d**k sucked in the same spot I'm sleepin'," Meg raps on the Bankroll Got It-produced track. "Lord, give me a break, I don't know how much more of this s**t I can take."
Social Media Reacts to Cheating Line
Fans have been weighing in on the line, assuming Meg is referring to her relationship and recent breakup with Pardison Fontaine.
"Pardi cheated on Megan Thee Stallion of all ppl???" one person on X, formerly known as Twitter, posted.
"So you tellin me that Pardi cheated on THEE Megan Thee Stallion in her own bed?!?" someone else tweeted. "HE CHEATED ON MEGAN THEE STALLION!? HOW DO YOU FUMBLE THAT BAD???"
Another post reads: "I understood the video of Cobra by Megan Thee Stallion to be she's shedding, coming out of her skin after everything she went through, this time, poisonous and for revenge. And yea, it's f**k Pardi. Wicked man. Fine for nothing. Really excited for her new free era! Good music."
Megan Thee Stallion and Pardison Fontaine Breakup
Megan Thee Stallion and Pardison began dating shortly after she was shot in the summer of 2020. Speculation that Megan and Pardi had broken up began back in February when she unfollowed him on Instagram. In May, Meg was spotted with Inter Milan soccer player Romelu Lukaku at a wedding. She was then pictured showing PDA with Lukaku, confirming she and Pardi were done.
See Megan Thee Stallion's "Cobra" video and reactions to her saying she caught her man cheating below.
Watch Megan Thee Stallion's "Cobra" Video
See 37 of the Raunchiest Hip-Hop Lyrics of All Time