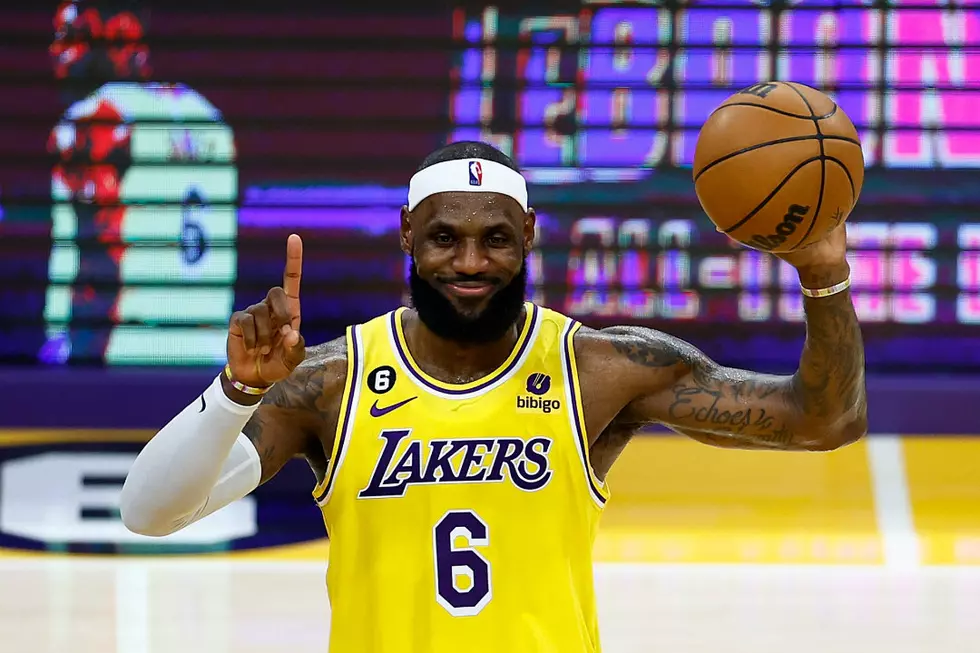 LeBron James Breaks NBA All-Time Scoring Record, Jay-Z, Drake and More Congratulate Him
Ronald Martinez/Getty Images
LeBron James made history last night by becoming the NBA's all-time leading scorer and the feat drew praise from Jay-Z, Drake, Kendrick Lamar and more.
Last night (Feb. 7), LeBron James surpassed Kareem Abdul-Jabbar's nearly 40-year-old record for career points, doing so on a fade-away jumper at the end of the third quarter of a matchup with the Oklahoma City Thunder. LBJ entered the game needing 36 points to capture the record and wound up with 38 in a close loss.
Jay-Z was on hand to take in the record in person. He was seen on camera congratulating LeBron after the game, with the two dapping each other up and sharing a hug.
Drake made a special video congratulating the future NBA Hall of Famer on his record-setting night.
"LeBron, what a magical night in NBA history," Drake says in the clip, appearing to be inside a high school gym. "You're breaking the all-time shoring record. To honor that, I had to come back to the place where it all started, Akron, Ohio."
A green screen then falls revealing Drake to be at a club.
"I lied to you," he then admits. "I'm actually still at the club in Miami. But definitely all the girls say congrats."
Kendrick Lamar also made a more serious video bigging up King James.
"From the time you went to the league and you had the doubters and the naysayers and people didn't think you would take it this far. You proved them wrong, dawg," K. Dot says in the clip.
More hip-hop artists also congratulated LeBron James on his big night on social media.
See More Rappers Commenting on LeBron James Surpassing Kareem Abdul-Jabbar for the NBA's All-Time Scoring Record Below
Future
Snoop Dogg
2Chainz
Plies
Lecrae
Diddy
Ice Cube
Best Space Jam References in Hip-Hop
Which one is your favorite?