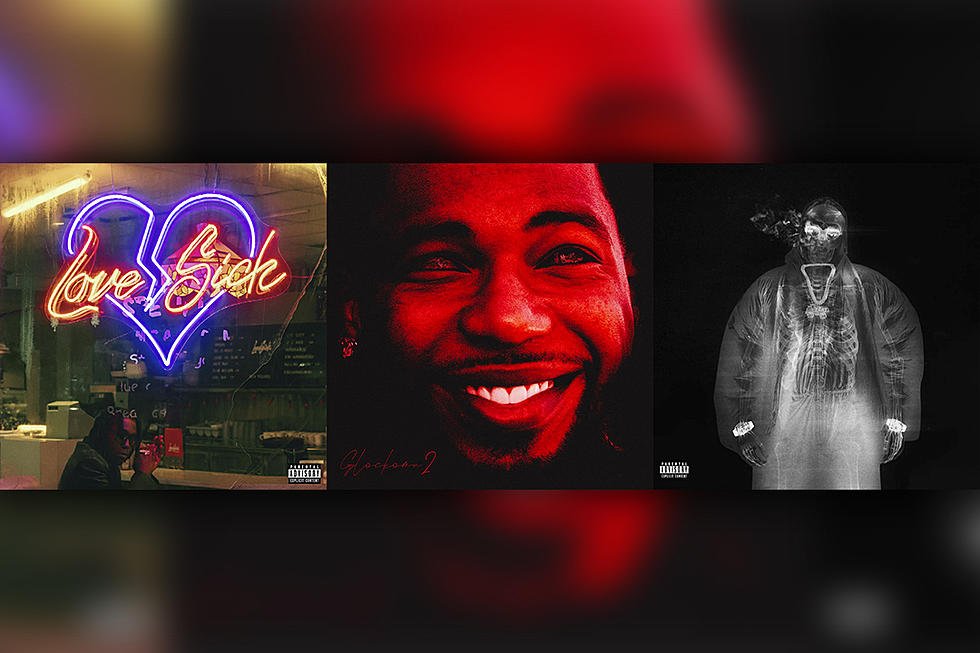 Key Glock, Don Toliver, Yeat and More – New Hip-Hop Projects
Cactus Jack/Atlantic Records Group LLC/Paper Route/Empire/A Field Trip Recordings/Geffen Records
The last new music Friday of the month brings releases from various corners of the hip-hop space. As February begins to come to a close, a Memphis spitter drops a sequel to a well-received album, a rap-crooner repping Houston unleashes his third studio LP, a California rapper with a cult following puts out a highly anticipated project and more.
Five years after the release of 2018's Glockoma, Key Glock comes through with the sequel to the revered LP in the form of his new album, Glockoma 2. The Memphis rhymer displays his bravado over 15 tracks with no guest features. Ahead of the album's release, Glock dropped "Work," which features the 26-year-old artist vowing to keep working to be the best rapper in the game. On his latest single, "Dirt," Glock reflects on the loss of his beloved mentor, the late and great Young Dolph, and reminds his fans that no one can throw dirt on his good name.
Next month, Glock will kick off the Glockoma Tour 2023 in support of his Glockoma 2 project. The 32-city trek launches in Atlanta on March 5 and will hit major cities like Charlotte, N.C., Philadelphia, Queens, N.Y., Boston, Indianapolis, Detroit, Chicago, Minneapolis, Denver, Los Angeles, Houston and New Orleans. The tour wraps on April 28 in his home state of Tennessee with a show in Nashville.
Don Toliver is back with his third project, Love Sick, which follows his 2021 effort, Life of a Don. The project is a concept album with the Cactus Jack Records artist taking cues from disco culture, mobster films and the rich archetype of the 1970s. As part of the promotion for Love Sick, Don released a short film set in the 1970s, around a fictional eatery called the Love Sick Diner. Throughout the film, Don narrates different stories about balancing work, opening a nightclub, finding love and evading the law.
Additionally, Don Toliver shared on his Instagram page 1970s-inspired illustrated posters based on Love Sick's tracklist. Among the songs on the LP include "Leave the Club," which features Lil Durk and GloRilla, the Beenie Man-sampled "4 Me" featuring his girlfriend Kali Uchis and "Do it Right," which samples "Take Your Time (Do it Right)" by The S.O.S. Band.
After having a phenomenal breakout year in 2002 with 2 Alivë and Lyfë albums, Yeat kicks off 2003 with a new release, Aftërlyfe. While his two previous albums were loaded with guest features, the enigmatic artist decided to keep it short on Aftërlyfe and have only YoungBoy Never Broke Again join him on the song called "Shmunk." Interestingly, however, the other cameo appearances—Kranky Kranky, Luh Geeky and Talking Ben App – are actually Yeat's alter egos. "Them features is myself im jus different people sometimes," he wrote on a post unveiling the tracklist on his Instagram account.
Last month, Yeat dropped a video for "Nvr Again," which is one of the standout tracks on 2 Alivë. Directed by Jack Rottier, the visual matches the sonic vibes of the song's saturated video game blips and hyperpop music.
Check out other new projects this week from Logic, Tink, $uicideboy$, Gorillaz and more below.
Cactus Jack/Atlantic Records

Cactus Jack/Atlantic Records

A Field Trip Recordings/Geffen Records

A Field Trip Recordings/Geffen Records

Let's Do a Drill 2

Asian Doll

Shameless Suicide EP

$uicideBoy$ and Shakewell

Winter's Diary / WD Records / Empire

Winter's Diary / WD Records / Empire

Bank Appointment

Blac Youngsta

Heavy Camp / Create Music Group

Heavy Camp / Create Music Group

JFKLAX

Kxng Crooked and Joell Ortiz

Parlophone Records Limited

Parlophone Records Limited

The Hip-Hop Lab Records/ShittyBoyz/Empire

The Hip-Hop Lab Records/ShittyBoyz/Empire

Star Power (Rerelease)

Wiz Khalifa

Ghost Mode

Payroll Giovanni

BYLUG Entertainment/Empire

BYLUG Entertainment/Empire