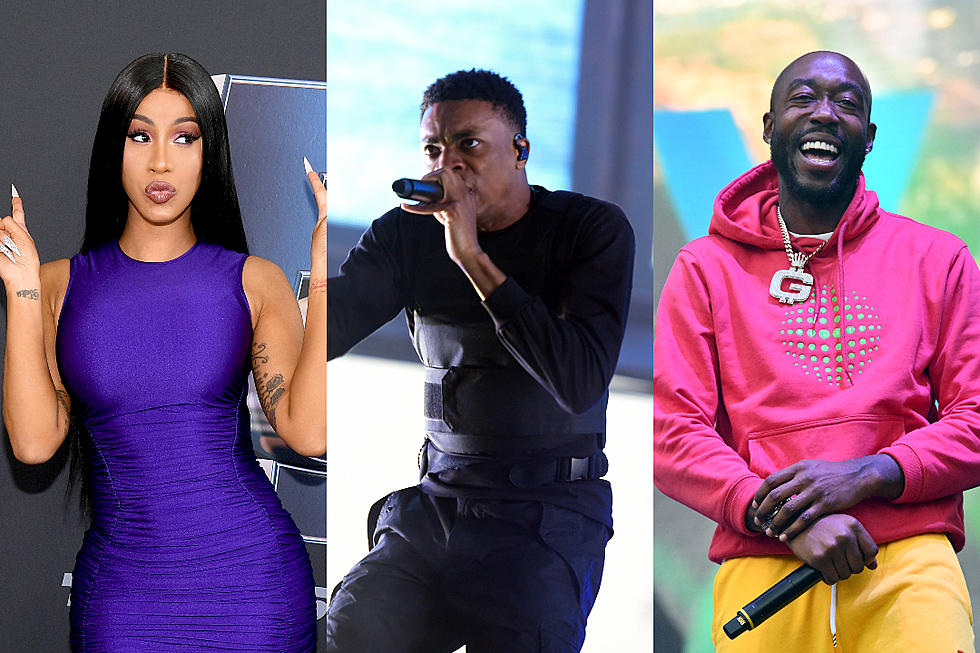 These Are the Funniest Rappers Guaranteed to Make You Laugh
Dia Dipasupil / Kevin Winter / Scott Dudelson, Getty Images (3)
Having personality matters in hip-hop. Rappers trying to win people over or just stand out from the crowd do so by the way they act and carry themselves—it tells fans plenty about the artist. From hip-hop's very beginnings, some of the largest, funniest personalities in rap have entertained fans. These days, there are plenty of hilarious rappers to choose from, and we highlight a few here. The focus is on the rappers with the best sense of humor and the ones who are good for laughs on the regular.
Some rappers have taken their ability to make people laugh and gone outside of rap with it. Tyler, The Creator was much wilder in his younger days, and that carefree attitude coupled with his comedic timing helped him (and Odd Future) get their own show on Adult Swim called Loiter Squad, where they acted out comedic skits. Action Bronson also had a slate of shows on Vice on multiple topics, from discussing conspiracy theories to traveling the world and trying food on F*ck, That's Delicious. His candid demeanor and snarky commentary is always good for a laugh. Vince Staples is talented and very much respected for both his wit and sense of humor. After building this reputation outside of the music across plenty of tweets and interviews, he got his own show on Apple Music's Beats 1, Ramona Radio, to further share wisecracks on a different platform.
There are plenty of other artists that are just as funny, but let it be known that it mostly shows up through social media. Boosie BadAzz is a prime example. When he isn't getting into trouble for stating things he likely shouldn't on social media, he is pure entertainment, whether he's arguing with viewers of his Instagram Live or living his day to day life. Cardi B, who has been more serious as of late, finds a way to poke fun at anything, and her friendly disposition makes her content feel relatable. Then there's 50 Cent, who's reputation precedes him. The Queens rapper uses social media to diss his enemies or just make fun of anyone, and has amassed a huge following, partly because of that.
There's many different ways to be funny. These Are the Funniest Rappers Guaranteed to Make You Laugh. Find your favorite funny rappers below.
If you couldn't tell by his absolutely ridiculous Instagram stories, where he posts fights and other foolishness, Freddie Gibbs' videos clearly give you a look into his sense of humor. Posted below, Freddie's video for the Bandana cut "Gat Damn" reimagines him as the leader of an old-school soul band with money issues, complete with wigs and era-accurate attire. The rollout for his Freddie album featured him on the cover posing like musical legend Teddy Pendergrass. He also dropped hilarious commercials as if it was an R&B album.

Known earlier in his career for his offensive humor, Tyler, The Creator became more comfortable on social media as he got older. He regularly interacts with fans, and isn't afraid to roast them when they throw insults at him. Tyler also had a TV show on Adult Swim, titled Loiter Squad, where he and the rest of Odd Future performed comedic skits. Below, he takes on the role of Denzel Washington's Alonso from Training Day, except at a fast-food joint.

Vince Staples is known for being an extremely skilled rapper as well as someone who will always speak his mind. He's deathly serious but is also very funny. Vince takes his hilarious thoughts to his Twitter and his Beats 1 radio show Ramona Radio. Below, he discusses why he'd be able to beat up certain historical figures.

Action Bronson has lived quite a life. He started out as a chef, became popular for his rapping ability and then his charisma got him multiple TV shows. Bronson has always been funny, and that translates into his music and the accompanying videos for his songs. Here is the "Baby Blue" video, a song he released with Chance The Rapper in 2015. He reimagines the Black comedy classic Coming to America, where he fills various roles.

Back in the day, Boosie BadAzz became such a lauded rapper because of how serious his music was, detailing his experiences in the streets of Louisiana. As he grew older, Boosie's sense of humor became more pronounced thanks to his Instagram antics. He has gotten into some hot water for some offensive things he's said and done (Instagram stripper parties and more), but he also has moments where he's just a funny family man.

Cardi B has found a way to be a star in multiple mediums: rap, reality television and social media. She has always been pretty big on social media, but due to the coronavirus pandemic slowing everything down, she's around more often to fire back at haters and address rumors. She also never holds her tongue, and has plenty of funny observations about life. Here, she shares some dating and friendship advice.

Sada Baby can really rhyme. He has plenty of flows,hilarious punchlines, and he's never afraid to dance. Part of the reason he's become so popular recently is the success of his 2018 video for the song "Bloxk Party," which has all of the things that make Sada who he is. From funny lines comparing a shotgun's scale to an NBA player, and saying a brick of cocaine looks like pro wrestler Brock Lesnar, Sada has personality in droves.

There aren't too many rappers funnier than ScHoolboy Q. Years ago, he used to dominate Snapchat, making fun of his friends and his daughter, Joy. In addition to the roast sessions, he shined a light on his day to day life, whether that's playing with his dogs or hitting the greens for some golf. Here, he pokes fun at Joy, Atlanta accents and more.

DaBaby first broke out in rap in 2018, due to the video for his song "Walker Texas Ranger" blowing up. The video was a perfect display for his humor, and he continued that with his future offerings. A perfect example of such is 2019's "Pony," where he dresses up like Tony Montana from Scarface, complete with the wig.

Earlier in Jim Jones' career, he was always an attention-grabber due to his raw personality, hilarious threats and ad-libs on songs. Nowadays, he posts funny weather report videos, where he updates everyone on extreme weather wherever he happens to be. His most memorable reports take place in New York City through rain, sleet and hail. Jimmy looks out for your 'fits and your feet.

50 Cent certainly has the reputation of a bully, who will aim his vitriol at anyone, provoked or not. On the flip side, he's also hilarious when he pokes fun at himself because he's so frank and such a charismatic personality. Case in point: this screenshot from a moment on BET where 50 Cent is quoted as saying, "I lost my virginity to your mom." "I'm not your father, but i fathered the style you got see that's my lingo. #bransoncognac #lecheminduroi #starz #BMF," he wrote in the caption of the Instagram post.

Sauce Walka is a rapper from Houston, Texas, who is just as adept at rhyming as he at letting his feelings be known about other artists. He seems to have an ongoing beef with Young Thug and YSL (the origins of which are known), but outside of that, he's just a wild guy. Check out the video below, where he emulates the anime Naruto, and shows off his martial arts skills.