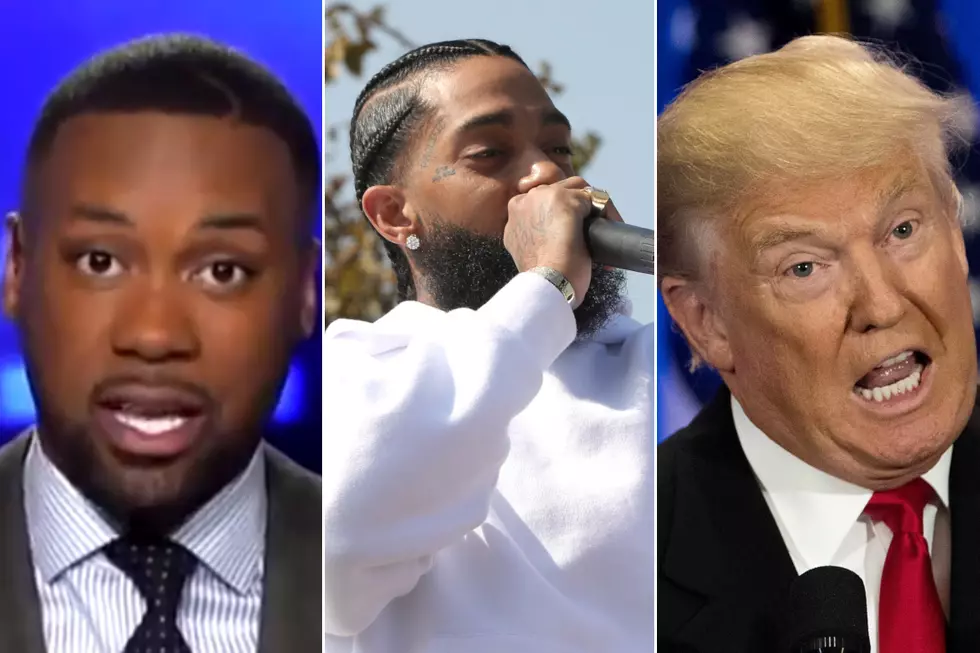 Fox News Contributor Called Out for Nipsey Hussle, President Trump Comments
LawrenceBJones3 via Twitter / Jerritt Clark / Drew Angerer , Getty Images (2)
A Fox News contributor actually suggested that President Donald Trump should sit down with rappers like the late Nipsey Hussle, and was immediately dragged through the mud.
On Tuesday (May 13), Campus Reform's editor-in-chief, Lawrence Jones, attempted to make a point about the president's stance among Black voters. Jones, a Black man himself, not only supports Trump but he also encourages the president to take advantage of any opportunity to sit down for a conversation with select rappers in order to gain the trust of Black voters. Jones' first suggestion was the late Nipsey Hussle.
"You know, if Nipsey Hussle was still alive, I would say, president, talk to Nipsey because he is one that's talked about financial literacy," Jones said. "I don't think the black community wants the president, the politician. I think more black folks want Donald Trump the businessman. I think that's the person that they admire."
"If the president were to sit down with someone like Ice Cube, T.I., or Jay-Z and talk about the finances and the real issues that affect black America, I think you could see a change in the electorate," Jones added.
Naturally, fans of the late rapper weren't happy with Jones for dragging Nip's name into Trump's reelection plans. Soon after Jones posted the video, Twitter users held nothing back as they provided their honest feedback.
"That Lawrence Jones nigga is a bozo," one Twitter user said.
Jones' suggestion, which also includes Jay-Z and Ice Cube, doesn't make much sense since Nipsey Hussle was featured on YG's song "FDT (Fuck Donald Trump)." In his verse, Nip lets his fans know how he really feels about our current POTUS.
"I thought all that Donald Trump bullshit was a joke," Nipsey rapped on the 2016 song. "Know what they say, when rich niggas go broke/Look, Reagan sold coke, Obama sold hope/Donald Trump spent his trust fund money on the vote/ You vote Trump then you're prolly on dope."
As of this report, Jay-Z and Ice Cube have not responded to Jones' suggestion. Watch Jones speak on the Black vote in 2020, and peep the backlash below.
See 10 Times Rappers Went at Fox News