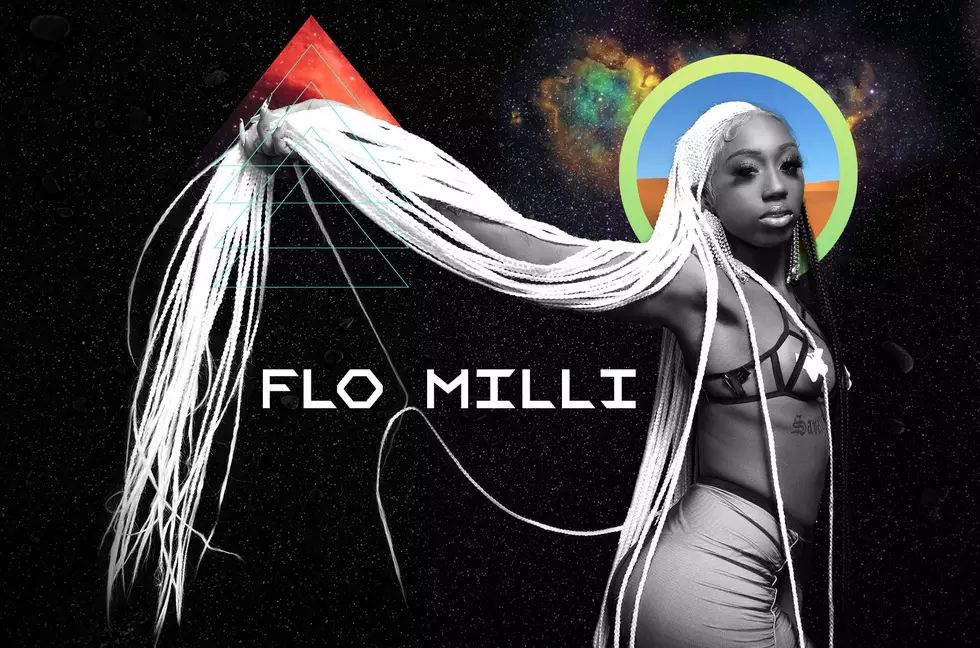 Flo Milli – 2021 XXL Freshman
GOV'T NAME: Tamia Carter
AGE: 21
REPPIN': Mobile, Ala.
TWITTER: @_flomilli
INSTAGRAM: @flomillishit
TIKTOK: @flomillishit
NOTABLE RELEASES: Singles: "Beef FloMix," "In the Party," "May I," "Not Friendly," "Roaring 20s"; Mixtape: Ho, Why Is You Here?; Guest Appearances: $not's "Mean"
LABEL: RCA Records
CURRENTLY WORKING ON: As-yet-untitled debut album due out later this year.
WHO ELSE SHOULD BE PART OF THIS YEAR'S CLASS: "KenTheMan. I feel like she deserves it. Omeretta. Because they simply have talent. I don't think it's anything that's different about them that would make them not deserve to be here."
INFLUENCED BY: "I'm influenced by a lot of people. Every woman that came before me, I am definitely influenced by in a way 'cause if you think about it, history is repeating itself, always. So, I think everybody who came before me, Lil' Kim Nicki [Minaj], Eve, even Diamond, Missy Elliott, MC Lyte. All of them."
AS A FRESHMAN IN HIGH SCHOOL: "As a Freshman in high school, I was outspoken. Freshman and school, that's two different things 'cause like, coming to high school, I was so hyper and ready for the world. But then like, after the first year, I started to kinda smarten up on what high school was about. And I started to, like, really cut everybody off. So, I was really, like, to myself for the most part and hustling. For real. Getting money, rapping and staying to myself. I hated school."
TRUTH ON BEING AN XXL FRESHMAN:
"
XXL
is a big deal because simply, like, it's such a cultural movement. It's been going on for so many years. Even rappers from my hometown. It's not common to make it out of Mobile, Ala. I remember Rich Boy. He was the first one from our city to be on
XXL
, which was a while ago. Seeing him, it was like, Damn, now I'm the first female on it. It's very like, it's a humbling experience and I think it's a milestone.It's important to show people because a lot of times people will see you, hear your name, still won't listen to your music. So, it's like, with
XXL
, you know people ain't finna miss that shit. It's a platform for people to really show what they're made of, for real.I think it's the perfect timing [to be a Freshman] 'cause No. 1, quarantine is over, majority of it. I feel like things are opening up, shows are coming, so, it's a great time to really be able to enjoy the fruits of it. Last year, everything was kind of closed up, but now it's like, we're here and we finna be outside. So, it's gon' be even more entertaining, like, exciting.
I definitely think [being a Freshman will] open up more doors because it's such a huge platform, but I think it's more so about me showcasing why I'm here. So, I think that's really the most important thing about it. 'Cause you can get all the opportunities, but if you don't know what to do with them, they're really useless. So, I feel like it's really to show people what type of artist I am and that I'm here to stay."—Aleia Woods
FLO MILLI'S 2021 XXL FRESHMAN FREESTYLE
A rapper from Mobile, Ala. hasn't appeared on an XXL Freshman cover since the very first Freshman issue in 2007. At the time, Rich Boy, known for his hit "Throw Some D's," was the first Mobile native graced the cover alongside Saigon, Plies, Lupe Fiasco, Boosie BadAzz, Gorilla Zoe, Joell Ortiz, Crooked I, Papoose and Young Dro. This year, the 2021 XXL Freshman Flo Milli is the second rapper from the city, and the first woman, to be inducted into the coveted roster of artists.
"I remember Rich Boy, he was the first one from our city to be on XXL, which was a while ago," shares the budding RCA Records superstar. "So, you know, even seeing him, it was like, Damn, now I'm the first female on it. So, it's very like, it's a humbling experience and I think it's a milestone."
While poised, Flo also offers an abundance of fearlessness and self-assurance in her rhymes. Flo is talented and she knows it, but the 21-year-old rapper doesn't take her craft lightly. She began to capture attention and turn heads in the hip-hop space in 2018, after repurposing the beat for the Playboi Carti's "Beef," produced by Ethereal, and and making it her own. She calls it "Beef FloMix," which she didn't expect to transcend into the rap stratosphere the way it did, but Flo embraced the response she received. The track is now at over 80 million Spotify streams and more than 13 million YouTube views.
The burgeoning rhymer's music is entwined with positive affirmations, plenty of sass and lyrical tools for empowerment, especially heard on her feature for Yung Baby Tate's "I Am." This is a stance Flo has been taking on many of her loose singles as well as her 2020 debut mixtape, Ho, Why Is You Here?. Her cadence is higher-pitched than her counterparts; her pen game is fierce and unapologetic. The reverence she has for her rap predecessors—Lil' Kim, Nicki Minaj, Eve, Diamond of Crime Mob, Missy Elliott and MC Lyte—could have something to do with that.
"Nicki proved that you can do this for a long time, you can be on top for a long time and, you know, not fall down," she said of Nicki Minaj's influence in XXL's Spring 2021 issue. "You could persevere and make history as a Black female." Something Flo aims to do in her own career.
Flo Milli is intrepid and spunky, which oozes through her rhymes. She brings this exact vitality to her 2021 XXL Freshman freestyle.
"How could a broke boy ever play me?/You ain't made shit, God made me/I'm a Bugatti and she a Mercedes/Money so long it go back to the '80s/I'm at the top 'cause you bitches is lazy/Beef with a ho?/I ain't makin' 'em famous/I ain't see you on none of these playlists/You can see I don't care and you hate it/He say he real, but I know he fakin'," she flows—no pun intended.
Flo caps off her freestyle with some sexually charged lines. "Pull out the steel, my shooters is aimin'/Up in the hills, community gated," she delivers. "Throw on that ice, still ride on me naked/This pussy a milli' and he wanna taste it/Come with a billi', I might let you take it/Make love on a jet/Fuck on a check/We makin' movies when we havin' sex."
Watch Flo Milli's 2021 XXL Freestyle, powered by BODYARMOR, above.
FLO MILLI'S ABCs
Self-confidence is a trait that Flo Milli exudes effortlessly. While she's on the rise in hip-hop, Flo has her feet firmly planted in the game's soil and isn't giving up her spot to anyone. The 2021 XXL Freshman may be more soft-spoken on the regular, but her rhymes are the complete opposite—don't play with her. All in all, Flo Milli personifies the ultimate poise in her version of XXL's ABCs.
For starters, Flo, 21, kicks things off with "Ass fatter than yours" for the letter A. Next is B, and the Mobile, Ala. rapper credits herself as the "Baddest bitch breathing." And of course, a woman of that caliber is irreplaceable, bringing us to the letter C, in which Flo Milli says she's "Coming for any ho that think she finna take my place." Following up with the letter D, she forewarns her non-believers: "Don't ever play with me, ho."
Skipping to H, the rising star, who's signed to RCA Records, pays homage to her debut mixtape, Ho, Why Is You Here?. She later sheds light on social injustice, a cause that she's been an advocate for, even protesting in her hometown last June amid the civil unrest. When the letter J comes up, she sternly asserts, "Justice for Breonna Taylor."
Towards the end of Flo Milli's rendition of the alphabet, she states it plainly that she's unfazed by pretty much anything attempting to take her from her focus. That being said, the letter U is for "Unfuckin bothered" while W stands for "Winning all the time."
For the letter X, Flo memorializes the late DMX, who died on April 9. A day that impacted rhymers of all ages.
Get in tune with Flo Milli's personality in XXL's ABCs below.
FLO MILLI'S TOP FIVE FAVORITE RAPPERS
Every rapper, from their inception as an artist to where they are currently, has a list of rappers who have come before them that they emulate in some form or fashion. 2021 XXL Freshman Flo Milli might be a rookie on the scene, but when it comes to rhymers she admires, her lineup consists of heavy hitters from the 1990s, the 2000s and the 2010s.
During the 2021 XXL Freshman shoot in Atlanta in May, Flo dished on her top five favorite rappers.
"My top five favorite rappers would have to be: Nicki Minaj, Missy Elliott, Young Thug, Eve and Lil Kim," she divulges. "And I would say they're my top five because I feel like the majority of them paved the way for newer generations of rap. I have mad respect for them, and I like their style and the things that they brung to rap. So, those would be my fave."
Flo Milli's top picks aren't surprising though, because when it comes to her style, rap flow and overall appeal, one can easily catch a glimpse of the aforementioned five rappers. Some of these artists also made a few of Flo's favorite albums as well. While on set with XXL, Flo Milli shared her efforts that reign supreme when it comes to projects that have impacted her life or career.
Of the rappers Flo mentioned, her most treasured LPs are Nicki's Pink Friday, Missy Elliott's Under Construction and Young Thug's Barter 6. As you can see, the versatility in Flo Milli's sound stems from her music choices.
She's anything, but ordinary or predictable. Watch Flo Milli share her top five favorite rappers below.
FLO MILLI'S TOP FIVE FAVORITE HIP-HOP ALBUMS
Rap culture is a utopia of sharing and influencing. Just about every rapper has a list of artists they revere or who helped mold them into the rhymers they are today. And then, there's the albums that altered their lives, helped them overcome a difficult time or attributed to their sound. For 2021 XXL Freshman Flo Milli, her top five records come from a chart-dominating rap Queen from Queens, N.Y., a bona fide hitmaker from Virginia, a 2019 XXL Freshman and an Alabama native.
During this year's Freshman shoot in Atlanta, Flo Milli shared the albums that she holds dear, whether it's because it was a soundtrack to her life at one point, the duality of masculine and feminine energy the effort offers or the vibe was simply undeniable.
"So, my top five favorite hip-hop albums would be: Pink Friday [Nicki Minaj], Barter 6 [Young Thug], Under Construction by Missy Elliott, Ho, Why Is You Here? by Flo Milli, Gunna's Wunna album," Flo tells.
The First Lady of Young Money is first up and Flo Milli explains why. "I chose Nicki Minaj's Pink Friday because, you know, that was a part of my life where I was kinda just growing up," she says. "And that's who was lit at the time, so that's all I would hear is Nicki. So I grew easily as a fan."
Flo continues with her pick for Thugger. "I chose Young Thug's Barter 6 'cause, like, around that time, Thug was just starting to get poppin' and stuff, so, I really like the energy that he brung to music," she conveys. "I chose Missy Elliott's Under Construction because Missy just had that factor about her where it was very much a balance of masculine and feminine energy and she really knew how to work that."
And of course, the Mobile, Ala. rhymer would be remiss without including her own work, naming her debut mixtape as the No. 4 joint on her list.
"I chose Flo Milli's Ho, Why Is You Here? because No. 1, if you don't love yourself, nobody will," Flo declares. "So, you have to support queen things, so, I had to put myself in there."
And lastly, Young Stoner Life signee and XXL Freshman alum Gunna nabs the fifth spot. "I chose Gunna's Wunna album because it was a vibe, like a smoke and vibe-type feel," she concludes. "So, I liked his album 'cause it's like no skips and you can really vibe to it."
Let Flo Milli put you up on game with her top five albums below.
FLO MILLI, RUBI ROSE, POOH SHIESTY AND 42 DUGG'S 2021 XXL FRESHMAN CYPHER
There are some exciting regional scenes in rap right now and four of them are represented in the final 2021 XXL Freshman cypher. Rubi Rose reps the Bluegrass State of Kentucky, a place that's also home to acts like Jack Harlow and EST Gee. Pooh Shiesty was bred in the streets of Memphis, a city that's thriving with young spitters like NLE Choppa and OG leadership from people like Yo Gotti. Flo Milli came up out of the prospering hip-hop scene in Alabama, also bolstered by Grammy Award nominees like Chika. And 42 Dugg calls the chilling scene of Detroit his home alongside hood favorites like Sada Baby and Babyface Ray.
First up, Rubi Rose coasts onto the Nick Mira and Paryo-crafted beat. The haunting melody paired with 808 bass, which hits in different pockets, heightens her orotund tone as she offers a verse about being on demon time, humbling the sidepiece and having sauce that thousands of people want a taste of. "Pretty little face, but this body like a porn star/Shiesty little bitch, yeah, you know I'm going too far," the 23-year-old rhymes.
The heavy southern drawl in Pooh Shiesty's verse is up next. The 1017 signee delivers a two-part rhyme, separated with his signature "Blrrrd" ad-lib. The lyrics about his position as a cricket when the federals are asking for info, honoring his lost homies and still being ready to slide at any given moment despite being famous now aren't new. Fans who listened to the deluxe version of his Shiesty Season album will recognize the rhymes from the song "Murder Skool." "Been nothing but trouble since a child, now I'm making my mama proud/I can't beef with niggas rolling mid, I'm booked at Rolling Loud," he flaunts.
Flo Milli tags in on the follow-up, giving her fans game on how to secure the "no face, no case" method. She dances on the beat, shining light on the power of her aura before speeding up her flow to unveil the precision-based skills she has in her armory. "He finna treat me right 'cause I'm a lady, but I got him fucking me like I'm a ho/It ain't nobody who do it like Milli/It ain't nobody who hotter than Flo," she raps with a chipper pace.
42 Dugg has the role of the anchor. Showcasing his slurred style of rap that he deems "shit-talking," the 4PF and CMG divide spits about staying true to the mottos he learned in the streets, putting on for his gang and running through holes like a NFL running back: "You wifing her, I'm fucking that Niesha/They all know a Kiesha/I think she fucked a reaper/How you doing? Nice to meet you."
Watch Rubi Rose, Pooh Shiesty, Flo Milli and 42 Dugg body their cypher, powered by FX's Dave, in full below.—Kemet High
FLO MILLI, RUBI ROSE, POOH SHIESTY AND 42 DUGG'S 2021 XXL FRESHMAN ROUNDTABLE INTERVIEW
Creating the XXL Freshman cover and its supporting content is typically a hectic but rewarding experience during the day of the shoot, which went down in Atlanta in May this year. Selected artists get pulled in different directions all day, and other than grouping up to hear the cypher beat, don't often get time to sit down and converse with one another. The roundtable interview discussions that follow each cypher offer them that opportunity, with Rubi Rose, Pooh Shiesty, Flo Milli and 42 Dugg being the last batch to have their thoughts shared on the entire experience.
Lexington, Ky. native Rubi Rose speaks on the celebratory nature of the day's events and meeting people who secured a spot on the same elevator to the top. "Today has been super lit, super cool," she recounts. "The cypher was a little scary. Everything else was a breeze, fun. And it was cool to meet my fellow freshmens."
Flo Milli adds to that, explaining that though there was a sense of pressure to capitalize on the platform, the energy was warmer than one might expect. "It kind of shows a light energy," the Mobile, Ala. talent explains. "Like you ain't gotta be too serious about it and shit. But I definitely think it's like a milestone for people who make it on there. 'Cause like, you only get a certain amount and it has such a big platform. So, I think it's dope to be on here."
The 2021 XXL Freshmen also spend time discussing their musical influences, tracing back the ingredients they used to create their own stylistic concoction. 42 Dugg, the hottest young artist out of Detroit right now, credits Jeezy and Yo Gotti as his inspirations. "Just 'cause they was talking some shit I was going through or some shit I was living," says the man who's been eating off of his recent release Free Dem Boyz. "So, I'll probably say them, far as music. That's all I used to listen to, for real."
The four artists also flex their awareness of what makes them special. For Memphis-bred Pooh Shiesty, it's all about having a fresh, new flavor. "Talking about something different instead of just mumble rapping…," the platinum-selling rapper says. "Different style, you gotta have your own sauce."
Or else you're lost, as his label head Gucci Mane once said.
You can watch Rubi Rose, Pooh Shiesty, Flo Milli and 42 Dugg's 2021 XXL Freshman roundtable interview below.—Kemet High