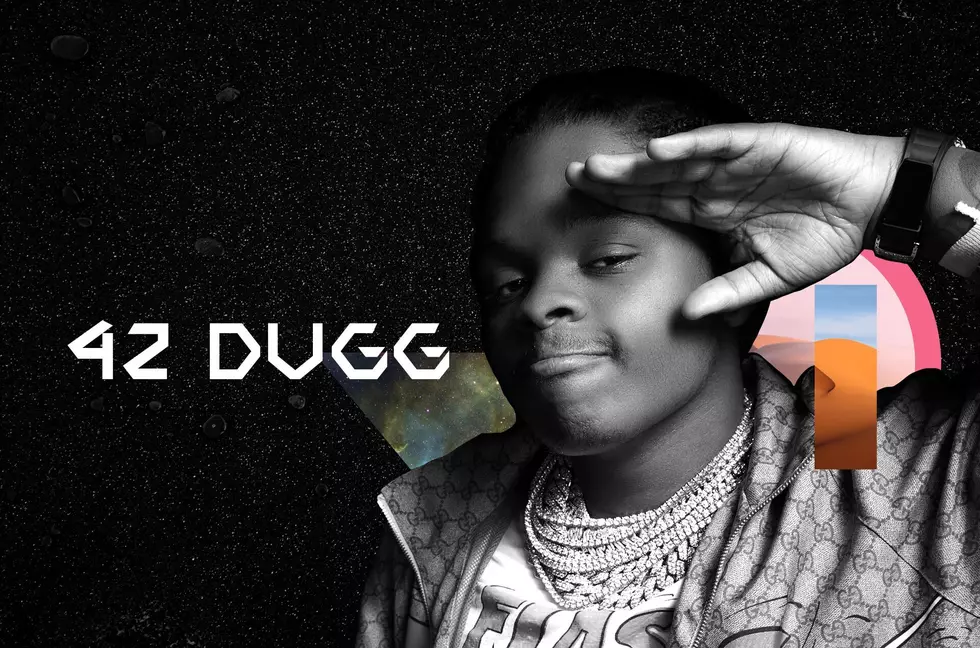 42 Dugg – 2021 XXL Freshman
GOV'T NAME: Dion Hayes
AGE: 26
REPPIN': Detroit
TWITTER: @42_Dugg
INSTAGRAM: @42_dugggg
NOTABLE RELEASES: Singles: "Dog Food," "Been Turnt," "Not a Rapper" featuring Lil Baby and Yo Gotti, "4 Da Gang" with Roddy Ricch; Mixtapes: 11241 Wayburn, Young and Turnt; Projects: Young & Turnt 2, Young & Turnt 2 (Deluxe), Free Dem Boyz; Guest Appearances: Lil Baby's "We Paid," Lil Baby's "Grace," Meek Mill's "GTA"
LABEL: CMG/Interscope/4PF
CURRENTLY WORKING ON: Young & Turnt, Vol. 3 release date TBD.
WHO ELSE SHOULD BE PART OF THIS YEAR'S CLASS: "EST Gee, Rylo [Rodriguez] and Baby Money."
INFLUENCED BY: "[Yo] Gotti, Jeezy and Peezy. They just talked shit I could relate to that helped me get through a lot of shit. They were like a voice to me when I was younger."
AS A FRESHMAN IN HIGH SCHOOL: "I was turnt. Funny. In trouble. I liked to hoop and talk shit to hoes. And swim."
TRUTH ON BEING AN XXL FRESHMAN: "I feel like it's important for me to be a 2021 XXL Freshman because I've just been working hard. I feel like my music is starting to go where I always wanted it to go, all the ears I wanted it to go to. This year, I'm showing up.
My music is moving, you know what I'm saying? I'm a better artist. And I just feel like we're doing our thing right now. I don't even know if I'm doing hip-hop. I just call it shit-talking. I'm different just because I'm me. I'm not really anybody else. I don't sound like nobody. I don't rap like nobody. I ain't taking somebody else's lifestyle and making it mine. I'm doing me.
[When my fans see the cover], they gon' be like, 'Why he ain't make it last year?' Hopefully [the public] fuck with it, you know? Hopefully they fuck with a nigga. I got some good fans. I'm hoping [it will open more doors]. It's really just telling me to keep going hard. I feel blessed to be recognized by XXL. I appreciate y'all for having me. Hopefully [being on the cover] gets me somewhere big or takes me somewhere different, wherever it is. I'm still working, though. I ain't chilling or complacent. I'm still striving every day."—Kemet High
42 DUGG'S 2021 XXL FRESHMAN FREESTYLE
The streets of Detroit are burning fiercely right now with the amount of talent trekking through them. And one of the hottest acts to hail from the Motor City goes by the name of 42 Dugg.
It's been an elevating three years for Dugg, now a 2021 XXL Freshman. Rewinding back in time, a war with boredom that stemmed from being in the hole in prison when he was 20 incited the now 26-year-old rapper, born Dion Hayes, to push his pen into a notebook. That stack of paper soon had pages full of verses that doubled as ammo. By the time he emptied the clip upon his release from behind bars, the firepower songs "Never," "Marcelo Burlon" and the Babyface Ray-assisted "Fuck The City Up," all on his 2018 two-part mixtape 11241 Wayburn, solidified him as an early yet favorable local name.
After just a few years, 42, who represents the East side of his city, had signed two record deals in 2019: one with Lil Baby's imprint 4PF and the other with Yo Gotti's rising CMG empire, now in conjunction with Interscope Records. With such a fortified backing behind him from those fellow industry stamps, more success was the goal and achieved with his 2019 mixtape, Young and Turnt, led by "Dog Food." A year later, he delivered the freestyle-only sequel Young & Turnt 2, which features tracks "Not A Rapper" with his label heads, "Been Turnt" and "Hard Times," to name a few.
Simultaneously proving that he could hold his own, his features scored him yet another level up. Alongside Lil Baby, he came through with standout verses on the multiplatinum-selling "Grace," which peaked at No. 48 on the Billboard Hot 100, and "We Paid," which peaked at No. 10 on the chart. 42 Dugg's quotable lyrics like "'Fore I go broke like Joc/Fuck with that dog like Vick (Roof)" further established him as a walking caption machine. As a matter of fact, Dugg states that effect as the primary backbone of his sound. "I don't even know if I'm doing hip-hop," he says. "I just call it shit-talking."
Over the last few years, he's thrived through his melodic storytelling that details the still relevant days of being neck deep in the streets, similar to his influences of Gotti, Jeezy and Peezy. The cracked, slurred tone used to deliver them are the secret ingredients to his special sauce and are evidenced on his latest project, Free Dem Boyz, including 19 songs, fan favorites "Maybach" with Future and the Roddy Ricch-featured "4 Da Gang"—a flipped sample of the rock classic "No One Like You" by Scorpions. The effort earned Dugg his first top 10 project on the Billboard 200, with a peak at No. 8. So it's safe to say that the ascension has been steady.
"I don't sound like nobody. I don't rap like nobody. I ain't taking somebody else's lifestyle and making it mine. I'm doing me," he explains of why his movement has soared upwards.
The same braggadocious nature of his music and emphasis on evocative lyrics define how he secured a spot in the 2021 XXL Freshman Class. They're also threaded into the 35 seconds of his 2021 XXL Freshman freestyle. After swinging into the freestyle with his signature whistle, utilized to help him find the rhythm when he first started rapping, 42 Dugg flexes the fact that he's been popping in the concrete jungle long before he decided to become a rapper.
"Nah, for real, before the deal, young and had it jumping/Nah for real, before the deal young and had some money," he garbles. After diving into a bit more of that good ol' bag and broad talk, Dugg salutes his home team once more before the scene is cut. "CMG, Moneybagg, Youngsta, me and Gee/Fuck with us, if it's up with us, bitch, it's stuck with us," he declares. Enough said.
Watch 42 Dugg's 2021 XXL Freshman freestyle, powered by BodyArmor.
42 DUGG'S ABCs
42 Dugg coins his style of rap as talking crap. It's an innate, empowering thing for him to do and frankly, one of the key reasons that fans eat the energy right up on songs like "Been Turnt" and "Dog Food." So when it comes to the 2021 XXL Freshman's version of XXL's ABCs, best believe that the CMG and 4PF signee has no problem popping his stuff for the masses once again.
As he launches the segment, the Detroit-born street whistler can't help but to affirm his ice tray go-tos. For the letter A, he chooses one of hip-hop's staples watches: Audemars Piguet. Then, he chooses another form of expensive wristwear, this time around selecting a Breitling for B.
When the 26-year-old rapper lands on the letter D, he discusses the origin story of his rap name, which was also influenced by a family member. "I got the name Dugg from my grandma," he shares.
Midway through the pack, 42 Dugg shows some respect to Nas' on and off-the-mic efforts for the letter N. "I like his acting in Belly," Dugg says before singing the chorus of "Hate Me Now" featuring Puff Daddy. Shortly after on the same note of movies, the lauded artist recalls one of his favorite lines from the ending scene of Training Day starring Denzel Washington. "P, pine oil. You going to pine oil heaven, boy!"
Before closing out things, 42 Dugg lets it be known that his eyes are forever locked onto the prize. For W, he elects the word win—something he feels he has no choice but to do to succeed. Lastly for Z, he brings up NBA All-Star Zion Williamson, who similarly knows a thing or two about victory despite it being early in the game. Regardless of how much time has gone by, both rising stars have earned the tag of being next up.
Watch 42 Dugg give a shout-out to his home team, discuss why he's so committed to the grind and more in his ABCs below.
42 DUGG'S TOP FIVE FAVORITE RAPPERS
Artists naturally gravitate toward other creators that they relate to. There's something special about the confirmation that other people came up out of a similar struggle, fought the same demons or, on the other side of the spectrum, live life just as golden, as Jill Scott once said. During his 2021 XXL Freshman video shoot, Detroit's chosen one 42 Dugg offered up his top five favorite rappers, who all earned a starting spot for that same reason.
Heard in a good 80 percent of his lyrics, Dugg, now a 2021 XXL Freshman, was raised by way of the concrete. Rappers who could soundtrack the day to day survive-of-the-fittest lifestyle the 26-year old rhymer was living in the Motor City are the people he gravitated to the most.
The inaugural talent spoken upon is Jeezy, who everyone knows had the streets on lock in the 2000s, whether he was serving or preaching to them. Similarly to the Snowman's movement, Dugg is deemed by many fans as a hood favorite. The next person is Yo Gotti, who Dugg is actually signed to via Gotti's CMG record label. Talk about full circle. Alongside Lil Baby, it was actually the CMG head honcho that pushed 42 to take rap seriously.
Following the mention of his label head, the rising star mentions 2007 XXL Freshman Boosie BadAzz. The two got the chance to spit alongside one another on Mozzy and Tsu Surf's 2019 track "Everybody On Go." And on the note of features, Future is next as one of Dugg's favorite rappers. The Atlanta artist helped make Dugg's "Maybach" sound so wavy. Ultimately, DMX gets punched in for the last position, further proving the impact X left on rap is forever.
"I just feel like each artist appeals to my life in a different way, far as something they've been through, far as something they're rapping. Just the whole nine yards," Dugg remarks of his five choices.
Watch 42 Dugg name his top five favorite rappers below.
42 DUGG'S TOP FIVE FAVORITE HIP-HOP ALBUMS
Artists like Jeezy, Boosie BadAzz and Yo Gotti were salient voices to 42 Dugg when he was younger. Their stories about swimming through the streets resonated most with people who lived through the same experiences, as Dugg did. When the Motor City rapper was asked about his favorite hip-hop albums and mixtapes of all time, he infused his list with trap classics from those very names that have an infinite amount of respect in the gutter.
Starting from No. 5, the 2021 XXL Freshman elect positions Webbie's sophomore album, Savage Life 2, in the fifth slot. Most people remember that project because of its single "Independent," which taught a lot of young folks how to spell the word properly. Dugg adds reason to his choice by saying, "Front to back, he was talking shit on there."
Rap heads know how amazing it feels when a certain project releases and details specific events or moments as if the artist is speaking about the listener's life. With that in mind, Incarcerated by Boosie gets listed as the immediate followup. "I was going to jail when he came out with that so I felt him, you know what I'm saying, on a different level," Dugg shares.
Betwixt the top and bottom half of his ranking, Dugg deems Trap or Die 2 by Jeezy as one of his old anthems. And next, another mixtape that precedes his favorite rap project of all time is Yo Gotti's tape Cocaine Muzik 5 (White Friday). It's "the hardest shit in the world," if you let 42 tell it.
42's No. 1 choice is arguably the best trap album of all time. "[Let's Get It:] Thug Motivation 101, Jeezy," he maintains. "Best album ever." Straight like that.
You can watch 42 Dugg reveal his top five favorite hip-hop albums and mixtapes below.
42 DUGG, POOH SHIESTY, RUBI ROSE AND FLO MILLI'S 2021 XXL FRESHMAN CYPHER
There are some exciting regional scenes in rap right now and four of them are represented in the final 2021 XXL Freshman cypher. Rubi Rose reps the Bluegrass State of Kentucky, a place that's also home to acts like Jack Harlow and EST Gee. Pooh Shiesty was bred in the streets of Memphis, a city that's thriving with young spitters like NLE Choppa and OG leadership from people like Yo Gotti. Flo Milli came up out of the prospering hip-hop scene in Alabama, also bolstered by Grammy Award nominees like Chika. And 42 Dugg calls the chilling scene of Detroit his home alongside hood favorites like Sada Baby and Babyface Ray.
First up, Rubi Rose coasts onto the Nick Mira and Paryo-crafted beat. The haunting melody paired with 808 bass, which hits in different pockets, heightens her orotund tone as she offers a verse about being on demon time, humbling the sidepiece and having sauce that thousands of people want a taste of. "Pretty little face, but this body like a porn star/Shiesty little bitch, yeah, you know I'm going too far," the 23-year-old rhymes.
The heavy southern drawl in Pooh Shiesty's verse is up next. The 1017 signee delivers a two-part rhyme, separated with his signature "Blrrrd" ad-lib. The lyrics about his position as a cricket when the federals are asking for info, honoring his lost homies and still being ready to slide at any given moment despite being famous now aren't new. Fans who listened to the deluxe version of his Shiesty Season album will recognize the rhymes from the song "Murder Skool." "Been nothing but trouble since a child, now I'm making my mama proud/I can't beef with niggas rolling mid, I'm booked at Rolling Loud," he flaunts.
Flo Milli tags in on the follow-up, giving her fans game on how to secure the "no face, no case" method. She dances on the beat, shining light on the power of her aura before speeding up her flow to unveil the precision-based skills she has in her armory. "He finna treat me right 'cause I'm a lady, but I got him fucking me like I'm a ho/It ain't nobody who do it like Milli/It ain't nobody who hotter than Flo," she raps with a chipper pace.
42 Dugg has the role of the anchor. Showcasing his slurred style of rap that he deems "shit-talking," the 4PF and CMG divide spits about staying true to the mottos he learned in the streets, putting on for his gang and running through holes like a NFL running back: "You wifing her, I'm fucking that Niesha/They all know a Kiesha/I think she fucked a reaper/How you doing? Nice to meet you."
Watch Rubi Rose, Pooh Shiesty, Flo Milli and 42 Dugg body their cypher, powered by FX's Dave, in full below.—Kemet High
42 DUGG, POOH SHIESTY, RUBI ROSE AND FLO MILLI'S 2021 XXL FRESHMAN ROUNDTABLE INTERVIEW
Creating the XXL Freshman cover and its supporting content is typically a hectic but rewarding experience during the day of the shoot, which went down in Atlanta in May this year. Selected artists get pulled in different directions all day, and other than grouping up to hear the cypher beat, don't often get time to sit down and converse with one another. The roundtable interview discussions that follow each cypher offer them that opportunity, with Rubi Rose, Pooh Shiesty, Flo Milli and 42 Dugg being the last batch to have their thoughts shared on the entire experience.
Lexington, Ky. native Rubi Rose speaks on the celebratory nature of the day's events and meeting people who secured a spot on the same elevator to the top. "Today has been super lit, super cool," she recounts. "The cypher was a little scary. Everything else was a breeze, fun. And it was cool to meet my fellow freshmens."
Flo Milli adds to that, explaining that though there was a sense of pressure to capitalize on the platform, the energy was warmer than one might expect. "It kind of shows a light energy," the Mobile, Ala. talent explains. "Like you ain't gotta be too serious about it and shit. But I definitely think it's like a milestone for people who make it on there. 'Cause like, you only get a certain amount and it has such a big platform. So, I think it's dope to be on here."
The 2021 XXL Freshmen also spend time discussing their musical influences, tracing back the ingredients they used to create their own stylistic concoction. 42 Dugg, the hottest young artist out of Detroit right now, credits Jeezy and Yo Gotti as his inspirations. "Just 'cause they was talking some shit I was going through or some shit I was living," says the man who's been eating off of his recent release Free Dem Boyz. "So, I'll probably say them, far as music. That's all I used to listen to, for real."
The four artists also flex their awareness of what makes them special. For Memphis-bred Pooh Shiesty, it's all about having a fresh, new flavor. "Talking about something different instead of just mumble rapping…," the platinum-selling rapper says. "Different style, you gotta have your own sauce."
Or else you're lost, as his label head Gucci Mane once said.
You can watch Rubi Rose, Pooh Shiesty, Flo Milli and 42 Dugg's 2021 XXL Freshman roundtable interview below.—Kemet High