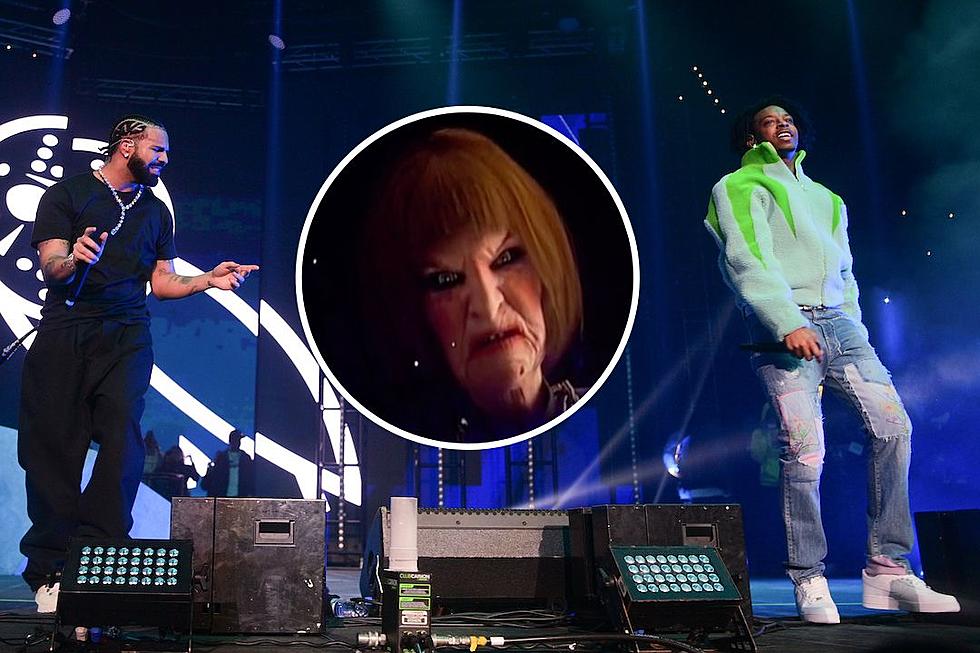 Drake and 21 Savage Use Grisly Anna Wintour Image on Tour After Vogue Lawsuit
Prince Williams/Wireimage/jessmorgnn/TikTok
There are so many wild moments from Drake and 21 Savage's It's All a Blur Tour. The latest is the rap duo using a grisly image of Vogue Editor-in-Chief Anna Wintour while performing onstage.
Drake and 21 Savage Use Grisly Anna Wintour Image on Tour
According to a TMZ report, published on Sunday (July 16), Drake and 21 Savage are using a horrible-looking visual of Vogue Editor-in-Chief Anna Wintour on their It's All a Blur Tour. Several videos have been popping up online of this graphic image, which is giving fans the creeps.
The A.I.-generated image shows Anna's signature bob haircut and sunglasses but with some decaying teeth. Drake initially posted the image on his Instagram page earlier this week, and now it is an attraction on Drizzy and 21's tour. It looks like the avatar appears during their performance of "Jimmy Crooks."
Why Are Drake and 21 Savage Using an Anna Wintour Image?
Drake and 21 are probably using the Anna Wintour image to be petty following their Vogue magazine lawsuit. In 2022, while promoting their collaborative project Her Loss, the rap duo embarked on a deep-fake promotional campaign on social media that was pretty clever. One of their promo stunts included them posing on a fake cover of the long-standing fashion bible.
However, Condé Nast, the publisher of Vogue, was not amused and slapped Drake and 21 Savage with a $4 million lawsuit in November of 2022 for copyright infringement. The publisher claimed in their lawsuit that Drake and 21 deceived the public with their "counterfeit cover" and ignored their repeated attempts to resolve the situation.
In February of 2023, Drake and 21 settled their legal dispute with Vogue for an undisclosed settlement. But that doesn't mean they wouldn't get their revenge.
Look at the Anna Wintour image below.
Watch Drake and 21 Savage Use a Grisly Image of Anna Wintour on Their Tour Below
Peep our 2023 Summer Tour Guide below.
See the Guide to Rappers Touring in 2023