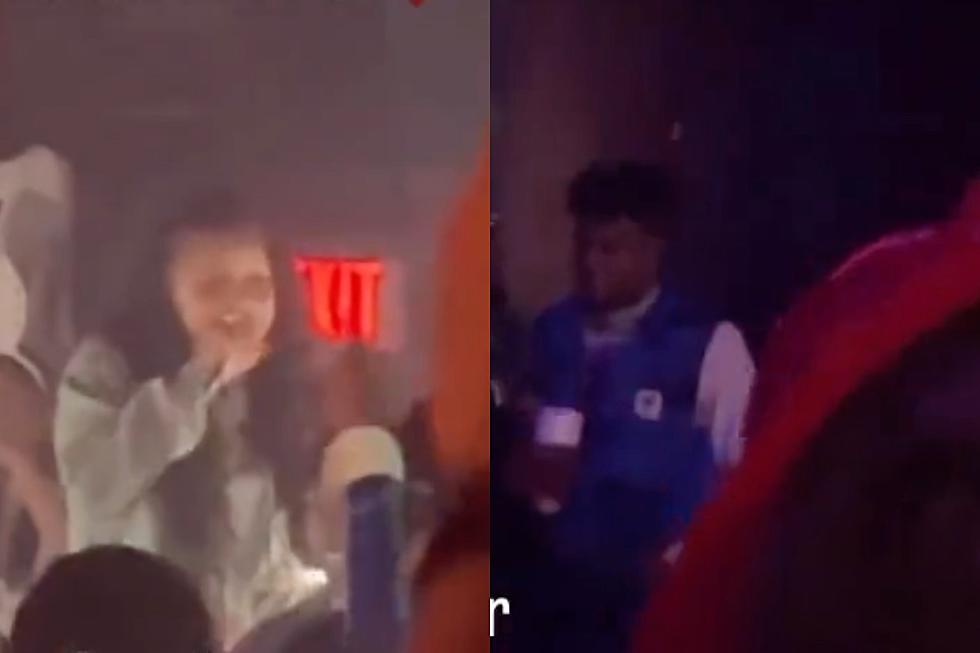 Chrisean Rock Performs Blueface Diss Track at Club While He's There – Watch
nojumper/Twitter
Chrisean Rock recently performed her Blueface diss song during a club performance with the subject of her ire present for the set.
Chrisean Rock Performs Blueface Diss
On Tuesday night (Oct. 31), Chrisean Rock performed at a Miami club. Also in attendance were Moneybagg Yo and Chrisean's estranged babyfava Blueface. It is unclear if the two being in the same building was a coincidence, but Chrisean did not shy away from performing her diss song aimed at the Los Angeles rapper. In video of the set, which can be seen below, Chrisean gives an impassioned performance of "Mr. Take Ya B***h" featuring Lil Mabu, rapping, "I used to f**k with blues, now I f**k with ones/Only f**k with White boy's that be totin' guns."
Chrisean Rock's New Interview
A new Chrisean Rock interview on The Jason Lee Show is debuting on YouTube today (Nov. 1). In a clip of the interview, which was released on Tuesday, Chrisean Rock told the whole story about why Blueface posted their son's hernia photo on social media.
"That's his son, yo," Chrisean responded when asked why she sent Blueface the photo in the first place. "He texting my phone about bulls**t. 'You doing this! You doing this! Lil Baby! Lil Baby!' I'm like, 'Bro, your son is about to go under [anesthesia] for a big hernia. Can I at least get a little bit...Do you care about our son's life right now? This is what it looks like. I'm not capping. Can you calm down.' I didn't know he was gonna post it. I just thought he was gonna be a dad."

Blueface and his fiancée Jaidyn Alexis were on The Jason Lee Show earlier this month.
See video of Chrisean Rock performing her Blueface diss song in front of Blueface below.
Watch Chrisean Rock's Recent Club Performance
See Rappers' Most Wildest Insults They've Said During Beefs