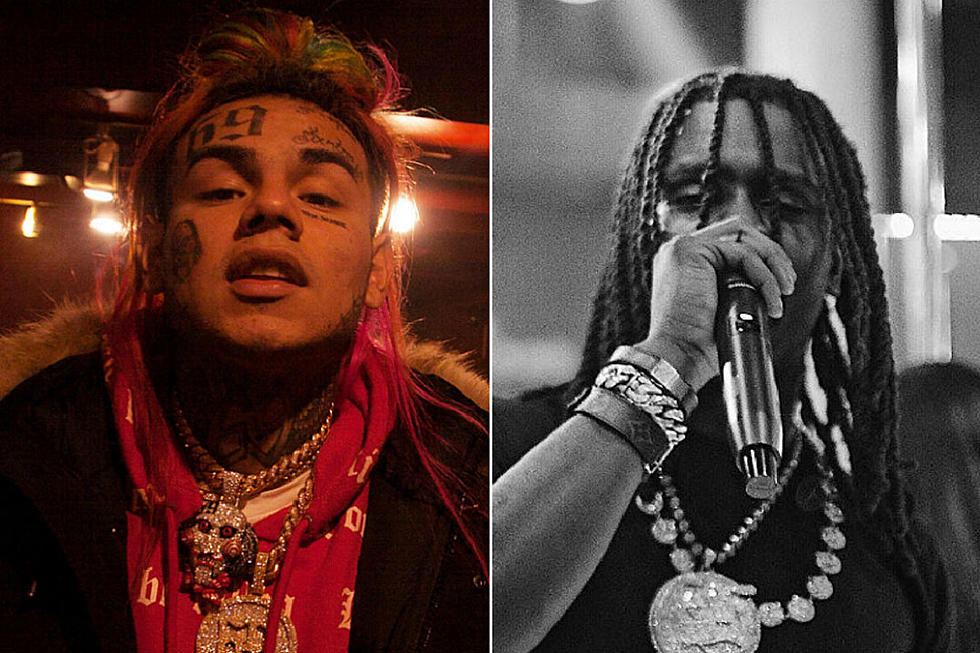 6ix9ine Continues Trolling Chief Keef by Saying He Wants to Work With Him After Diss
Johnny Nunez, Getty Images / Benny Flash
6ix9ine is one curious character. A few days after dissing Chief Keef and affiliate Lil Reese, the Brooklyn rapper now says he'd be down to work with Sosa.
The "Gummo" rapper was spotted by TMZ coming out of the Montage hotel in Beverly Hills, Calif. on Saturday (June 2). When asked about Chief Keef being shot at in New York City over the weekend his words about the Windy City rhymer were much different. "I'm a big fan of Chief Keef," he said. "How much you think a feature cost from Chief Keef?"
When asked about going at Keef online he responded, "My account be getting hacked and shit. But I'm a big fan."
He even said he'd get in the studio with Keef. "Yeah, just try and find out how much a feature cost," he added.
6ix is either clearly trolling or he totally forgot about calling out Sosa and Reesie on social media on Thursday (May 31). Our bet is on the former. For reasons that are fully unclear, 6ix9ine went in on the Chicago rappers. "I don't give a fuck about what y'all niggas did three years ago, I don't think y'all understand what I was talking about in my last video," he said in the clip. "What y'all did four years ago, three years ago, live in y'all raps, y'all don't do. I know that personally."
He didn't stop there. "What y'all gon' give me? 48 hours? 'Yo wait two months this shit gon' die.' Where? Where I'ma die? Fuck Chief Keef. Fuck Lil Reese. Fuck all them niggas. Fuck are y'all niggas talking about? Fuck are all y'all niggas talking 'bout," he continued. "I bet y'all niggas [won't] pull up to New Jersey now. Jersey ain't even my city but my brothers out here, you heard me."
See 6ix9ine's most recent comments on Chief Keef and Fetty Wap below.
See 46 Hip-Hop Artists Who've Gone Gold in 2018