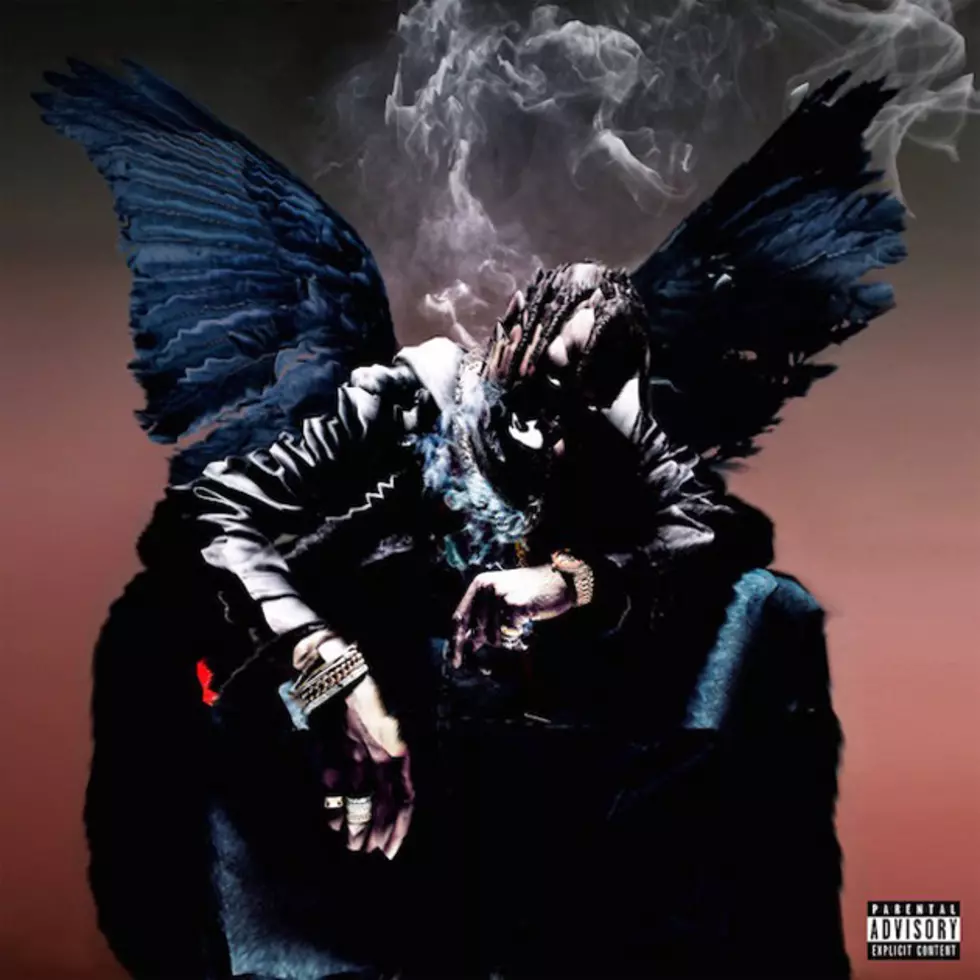 Every Guest Appearance Ranked on Travis Scott's 'Birds in the Trap Sing McKnight' Album
Epic
By now, every Travi$ Scott fan has had a chance to sit with his sophomore album, Birds in the Trap Sing McKnight. After months of mystery and delay, the Houston native finally delivers his 14-track album via Apple Music and as expected, there are a ton of featured guests. Scott has never shied away from dishing out his talents for others while receiving them in return as well. In fact, there are only two tracks on the entire album that feature Scott rolling solo, the remaining 13 all have at least one other vocal collaborator.
Travi$ takes a play straight out of Kanye West's playbook as he does a great job of molding his guests' abilities to match each song's mood. It's clear that Travi$ garnered a lot of creative control when crafting this album as some featured guests slightly step out of their predetermined comfort zone to fit the song's themes. Every feature makes sense, is well placed and for the most part feels like a genuine collaboration track instead of a couple of strangers emailing verses back and forth.
Some of the usual suspects like The Weeknd and Young Thug make appearances but some unexpected placements like Andre 3000 and Bryson Tiller also add to the creative group effort. However, as solid as the features are on this album, some come across stronger than others. Check out our ranked list of all 13 features on Travi$ Scott's Birds in the Trap Sing McKnight.
13

In all honesty, this feature isn't much of anything. Cudi lends his assistance to the first four bars and the deep mumble of an outro. It isn't necessarily bad but if you didn't peep the album's liner notes than there would be almost zero way to know he was even on this one.

12

This cut is by far the most unique on the album and that's thanks to Cassie. Scott and Cassie do a surprisingly good job at merging their voices together to create a quick break from all the melodic trapping. As sonically pleasing as it is though, there isn't really much to the collab other than the words "Drink some, smoke some, pop one" being repeated over 30 times.

11

On "guidance," K. Forest is more of a sample than a feature but he's nevertheless credited as a featured guest. The original track is an uptempo Caribbean-flavored track that Scott flips into his own dancehall-inspired ode to tempting females from the island. In a smart move, Forest's original vocals come through on a quick four bar hook. Never mess with a good thing.

10

Bryson Tiller

"first take"

Pen Griffey thankfully makes up for his mediocre showing on DJ Khaled's Major Key album ("Ima Be Alright") with this heartfelt featured spot. Bryson Tiller manages to harmonize with Scott for the last hook rather seamlessly before diving into his own song-stealing verse. The best part about this particular feature is that Tiller doesn't hold back from describing an intricately personal story that is the perfect culmination to Scott's big-picture verses at the top of the track. Did we also mention that he sounds earth-shatteringly smooth?

9

Blac Youngsta

"coordinate"

Blac Youngsta opens up an abrasive intro to this track but doesn't exactly get used to his full potential. He offers more of a spoken word pep talk than anything, which is good and well, but we all know he could have snapped on a well-oiled 16 bar verse. Nevertheless, his intro sets the tone for the coarse nature of the track.

8

Young Thug

"pick up the phone"

This track is truly a genuine collab between Scott and Thug. The two go back and forth on multiple occasions and are able to complement their Auto-Tune croons to basically mirror each other. On top of their unified coordinating, Thug smashes his verse in true Thugger form. "Pour up a four of that Actavis/Lean like my mothafuckin' granny did" is just one example of how wildly left field Thug's bars can go, but on this particular song, it works.

7

The Canadian producer, who's also a rapper, gets a big look on one of the catchier cuts on the album. Using fellow Canadian Justin Bieber as a personification for cocaine, NAV finesses a strong chorus and even stronger verse. If it weren't for Travi$ Scott coming crazy correct with his verse, this collab could have been one of the best on the album.

6

The most menacing song on the Birds in the Trap Sing McKnight obviously had to include 21 Savage. Here, a warning is issued to anyone messing with Scott's crew and if his threatening murmur doesn't drive home the message then 21 Savage's words sure do. Savage's verse is a combination of women-stealing, gun-toting and pill-popping -- all of which don't seem like fiction for the 23-year-old Atlanta gangster.

5

Even though this track was released almost a year ago, the collaboration managed to withstand the test of time and fits well within the final project. The Weeknd's voice cuts through the atmospheric T-Minus and Boi-1da-produced beat with ease. This collaboration not only stands out for its vocal performance but for its surprisingly positive vibe. Scott and The Weeknd are both usually type cast to make songs about love and loss whereas this song is more of a celebration.

4

Quavo

"pick up the phone"

Thanks to Quavo's eccentric creativity, Travi$ Scott was inspired to name this album after one of the lines in the third Migos' verse. "I draped her up in ice, I pour my four on ice/Birds in the trap sing Brian McKnight" was so dope to Scott that he straight up named the album after it.

3

Kendrick Lamar

"goosebumps"

This feature is a prime example of Scott molding his guests' abilities to his liking. Kendrick Lamar raps with a flow that he's never really used before but manages to pull it off without a hitch. While comparing the rap game to the love of a woman, K. Dot raps with such poetic simplicity. Lines like "Put the pussy on a pedestal" as well as "Peter, piper, picked a peppers/I could pick your brain and put your heart together" make it hard to imagine anyone doing this song justice.

2

Three Stacks is slowly coming out of the woodwork and sending off some top-notch verses as he delivers another perfect showing on the album's intro track. OZ, Vinylz, Daxz and WondaGurl all meticulously craft a gloomy beat with enough hop to throw off your average MC. Luckily, Andre is no stranger to unconventional beats as he details the darker side of growing up in Atlanta. Genius lines like "What a memory in me, needing to lose/What's gon' patch up my intertube/So I could pop a wheelie and walk it too" prove that Andre hasn't lost his edge.

1

Kid Cudi

"through the late night"

"Through the late night" is not only the album's best track but also features the album's most fiercely entertaining and intriguing vocals from none other than Kid Cudi. While his first of two features ("way back") was ultimately useless, this is the feature that both Cudi and Travi$ fans have been waiting for. Travi$ has openly admitted that Cudi is one of his biggest inspirations and he proves it on this track by bringing his best vocal range to the forefront. Cudi's haunting voice on the chorus and first verse are enough to force even a casual fan to sign up for Apple Music.