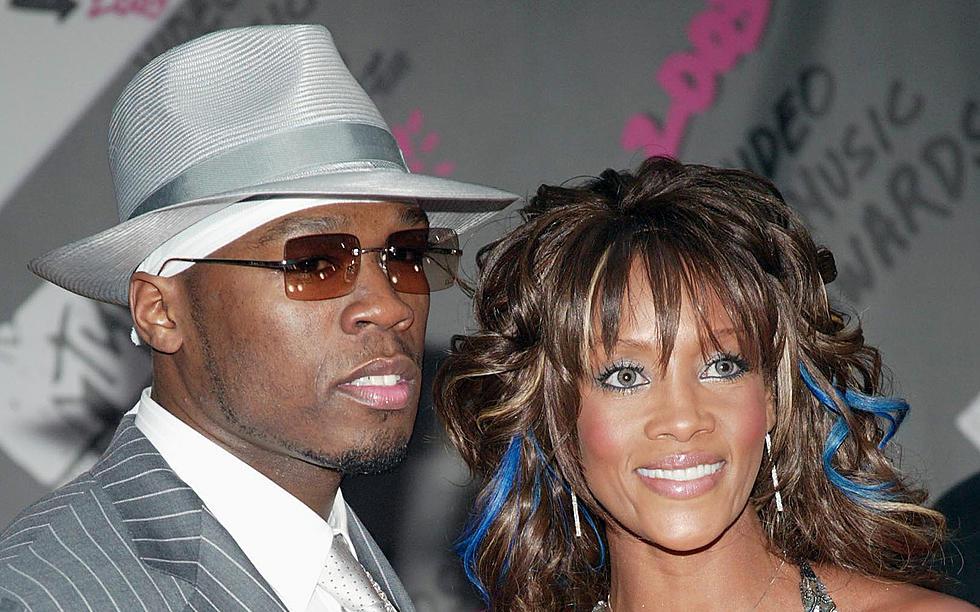 A Timeline of 50 Cent and Vivica Fox's Beef
Evan Agostini/Getty Images
Sometimes exes pop up at the oddest moment. When 50 Cent suggested that Empire's ratings might be slipping due to the "gay stuff" that the show was including in its plot lines, many people tied it to his executive producer role on competing music drama Power. But when his one-time beau, the actress Vivica Fox, suggested that there might be something more personal at play.
Fox appeared on Bravo's Watch What Happens Live and hinted at there was something sexual underscoring 50's comments. "Pot calling the kettle black is all I'm saying," she said. "No he's not [gay], but he just seems like he's got something that's not quite clear." (The actress has been cast as Taraji P. Henson's sister on this season of Empire; she and 50 were an item when the latter became an international star in 2003.)
Fox also said that 50 looked like a "booty snatcher" when he appeared on a 2010 November XXL cover with Soulja Boy. (Said the Atlantan at the time: "Being Black, with money, from the hood, struggles, and coming from nothing to something, of course you're going to share the common struggles. You going to have people hate. You going to have people that change on you, and all that. So of course, watching 50, and him going through what he did—if there wasn't no 50 Cent, there would be no Soulja Boy. You know what I mean?")
As is his custom, 50 responded in short order. The Queens rapper took to Instagram to tease a more concerted response. Many of those posts have since been deleted, but a few survive:
Naturally, social media users ran with the story, producing hundreds of memes. XXL collected many of the best examples right here.
Though Vivica didn't run back her comments about her ex, she did apologize to Soulja Boy via Twitter. But at the same time, she provoked 50, saying he was "in his feelings" and that she might post unflattering pictures from earlier in his career:
(At this point in the feud, we collected all of 50's best responses into one slideshow.)
In a since-deleted post, 50 told Vivica to "shut the hell up," further inflaming the situation. Yesterday (Nov. 11), the two traded barbs in the comments section:
With Fox's run on Empire continuing for the next two weeks, one can only imagine that the beef won't flame out any time soon.