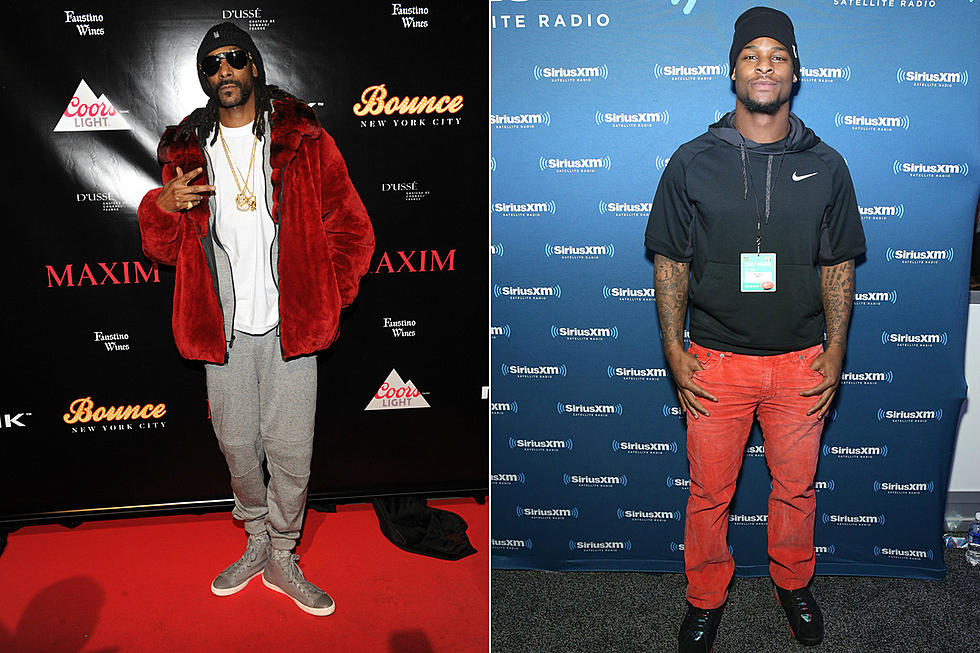 Snoop Dogg Wants to Record With Pittsburgh Steeler Le'Veon Bell
Jag Gundu / Cindy Ord, Getty Images
Snoop Dogg is ready to work with Pittsburgh Steelers running back Le'Veon Bell. In March, the talented NFL player released a mixtape called The Interview under his "Juice" moniker. Not long after that, Bell expressed his interest in recording with Snoop Dogg since the Doggfather is a fan of the Steelers. TMZ caught up with Snoop to see what he thought about the idea and the West Coast O.G. was more than willing.
"I'll make it happen. I want to make sure his leg's back right," Snoop Dogg said. "He's a Steeler. He gets that love. Tell him. 26, get at me, cuz, so we can make some music. Get your feet back up under you so we can get back in the playoffs and win that thing."
Le'Veon Bell was clearly excited about Snoop Dogg's willingness to collaborate as he went on Twitter yesterday (May 5) to gloat a bit.
"Y'all can hate all y'all want," Bell wrote. "I gotta get this track done with Snoop Dogg now."
Snoop Dogg might be hitting the studio with Le'Veon Bell, but he's also busy at work on another solo album. The "Murder Was the Case" rapper is currently cooking up some new records with producer Just Blaze.
"I've always been a Snoop fan since Doggystyle and The Chronic, so to get a chance to work with him a little more extensively than just, 'Here's a beat,' has been great," Just Blaze told Billboard.
Just Blaze said that this new project harkens back to Snoop Dogg's early work as the veteran rhymer is channeling the classic Snoop personality once again.
30 Albums That Will Make You Appreciate Hip-Hop