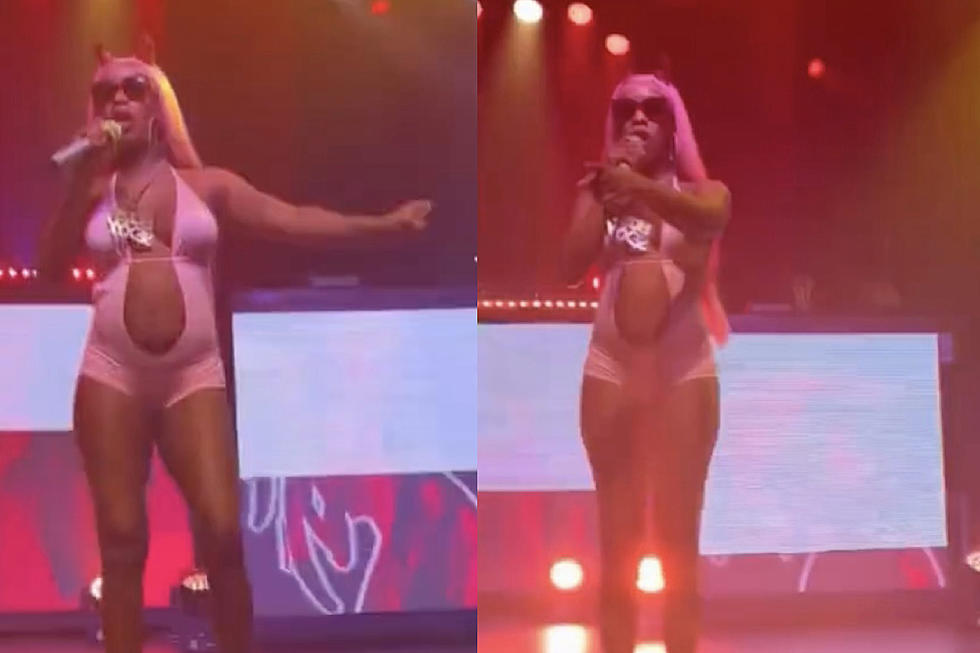 Sexyy Red Snaps at Fan for Looking at Her Crazy at Show
raphousetvgang/Instagram
During a recent concert performance, Sexyy Red snapped at a fan looking at her crazy.
Sexyy Red Pauses Show After She Spotted a Fan Looking at Her Crazy
On Sunday (Oct. 22), a video surfaced online featuring a very pregnant Sexyy Red snapping at a fan who she felt was looking at her crazy during her concert performance. In the clip, which you can watch below, the St. Louis rapper is performing "Shake Yo Dreads" when she pauses the show to address a woman in the crowd.
"You got a problem? You OK...in the brown braids?" she questioned the concertgoer. "You cool? I thought you ain't f**k with a b***h for real I seen you looking crazy," she says in a huff.
The woman in question seemed to find Red's harsh attitude hilarious. The "Pound Town" rhymer quickly diffused the situation by offering to twerk for the crowd, which they seemed pretty excited about, judging by the cheers.
Overall, it was a bizarre moment.
Sexyy Red Goes in on DJ for Stopping Her Music During Performance
Sexyy Red is no stranger to snapping at people during her shows. Back in August, she did it again at Key Glock's birthday pool party in Houston. During her performance, she called out the DJ for cutting the music during her song "Hellcats SRTs."
"Why you turn it off, n***a? " she yells at the DJ. "Yo, run that s**t back. You turned off my favorite part. Don't turn my s**t off again, n***a."
The DJ she called out, DJ Mr. Rogers, would later go on X, formerly known as Twitter, to clarify what happened. In a series of tweets, the Houston DJ explained that he was not Red's official DJ and didn't have a chance to discuss her cue setup with her. He blamed the venue for the technical issue he experienced with Sexyy Red.
You can watch Sexyy Red snap at DJ Mr. Rogers below.
See Sexyy Red G-check a fan during her performance below.
Watch Sexyy Red Snap at a Fan for Looking at Her Crazy During Her Show
Here Are Rappers Who Are Still Supporting Donald Trump in 2023