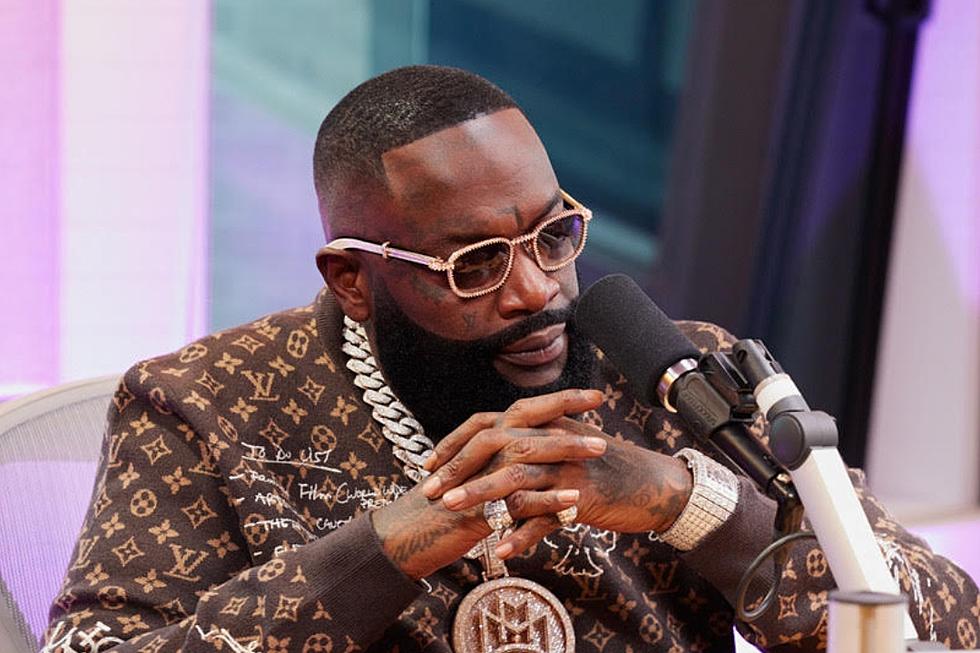 Rick Ross Admits He Must Take Special Medication Now Due to Past Lean Use
Ebro Darden on Apple Music 1
Rick Ross has admitted that he now must take a special medication due to his heavy use of lean in the past.
Rick Ross Talks Overcoming Substance Abuse
On Tuesday (Oct. 3), Rick Ross and Meek Mill appeared on a new episode of Ebro Darden Apple Music 1's Rap Life, where they spoke about their struggles with substance abuse. The pair told Ebro that they helped overcome their addictions together. However, Rick Ross admitted that he now has to take medication twice a day due to the damage lean did to his body.
"So me drinking lean at a time and now I'm taking medication two times a day because of this," Ross said at the 16-minute mark in the video below. "And then you walk into a session, you see your little bro. 'Hey little bro, man we got to take...we got to tighten up on this s**t,' you know what I'm saying? So it's a lot of different ways we could have issues back and forth, but you know, we always got the money. You know what I'm saying? It ain't never been no s**t that we ain't never choke up."
Earlier in the interview, Meek also detailed his past drug addiction and said he wasn't even able to drop music at one point.
"No I wasn't healthy," Meek said at the 15-minute mark. "I was drinking liquor every day. I started working out. My stomach was bent over for a year and a half. I came home in 2019, I couldn't smoke weed or really drink liquor like that. And before 2019, I was off the lean and all that. I changed my lifestyle."
Meek went on to say, "Well, I thought I changed, try to change over to the liquor every day. I'm being on tour, afterparty. That s**t kind of ruined my stomach. So I had to sit down for a minute, let my s**t build up. That was another human trial that we go through on the inside and they're like, 'Yo when you dropping?' I'm telling my own family, yo, my stomach f**ked up...People wasn't seeing it though. People would see it or might make a joke about it in real life. Like 'yo, my s**t f**ked up.'"
Meek Mill and Rick Ross Announce Joint Project
Elsewhere in the interview, Meek Mill and Rick Ross also announced that their latest single "Shaq & Kobe" would be part of a larger joint album called Too Good to Be True. Rozay said the album would be dropping soon.
"We won already. We playing with what? The house's money and it's only one way to explain that or describe that," Rozay said. "It's too good to be true, which is the name of the project me and Meek Mill will be releasing. Too Good to Be True. We'll give you that A.S.A.P."
Watch Rick Ross and Meek Mill's interview below.
Watch Rick Ross and Meek Mill's Apple Music Interview
See 20 Ways in Which Rappers Schooled Us About Life
Travis Scott, Kendrick Lamar, Juice Wrld, Pop Smoke and more have taught us quite a few things along the way.