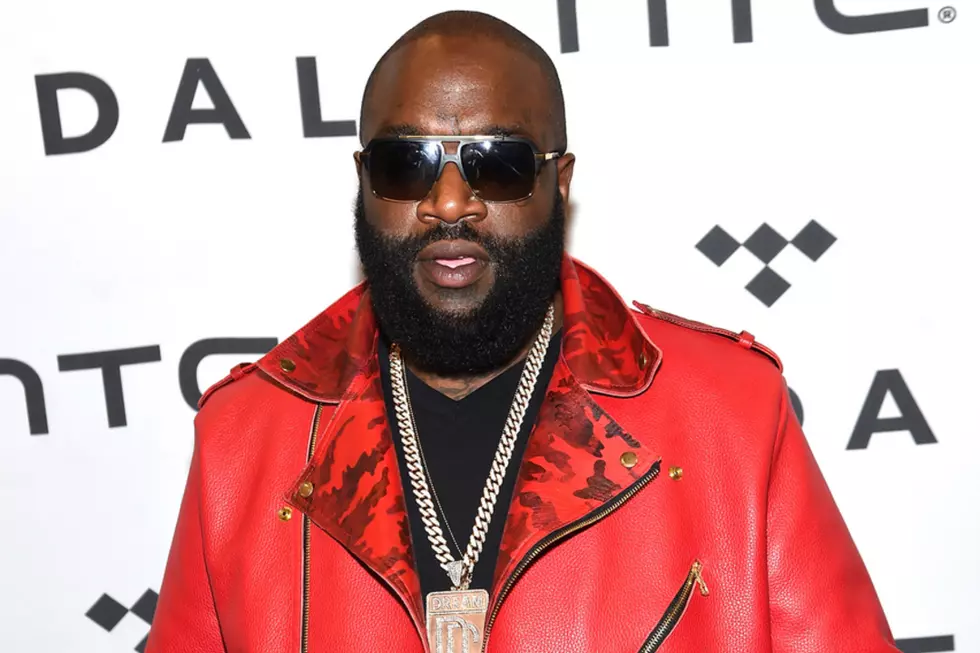 Rick Ross Loses 60 Pounds But Still Needs His Wingstop Fix
Jamie McCarthy, Getty Images
Rick Ross is shedding the weight but finding a way to keep Wingstop in his diet. TMZ reports that the Maybach Music Group boss has dropped 60 lbs. after gaining some weight following last year's arrest on assault and kidnapping charges.
Sources tell TMZ that Rick Ross is back on his RossFit program, which requires daily workouts. The sources claim that Ross was eating a big plate of food before bed, but has cut this habit out. The MMG leader is eating earlier in the evening with more fruits and vegetables in his diet. But Ross won't stop indulging his love of Wingstop.
That should come as no surprise since Rick Ross owns 25 Wingstop franchises. The company has a great relationship with the Black Market rapper. Wingstop's Chief Marketing Manager Flynn Dekker recently spoke to XXL about the chicken chain's ties with Ross.
"Rick is an awesome business man and great promoter," Dekker said. "I work a lot with his sister Tawanda, she is the backbone of the organization. She's not only helping him run his empire, she's really in the day-to-day in the Wingstop business as well and they are growing fast. They are passionate about it. Rick has been a great ambassador. He found the product on his own, decided he wanted to invest, brought his family into the business and they've done an amazing job. We get to spend some time with him from time to time and chop up some ideas and we're always working on ways to co-promote the brand. He's a self-promotion machine; we love the partnership."
Rick Ross is determined to get more fit, but not at the cost of removing Wingstop from his diet.
30 Albums That Will Make You Appreciate Hip-Hop