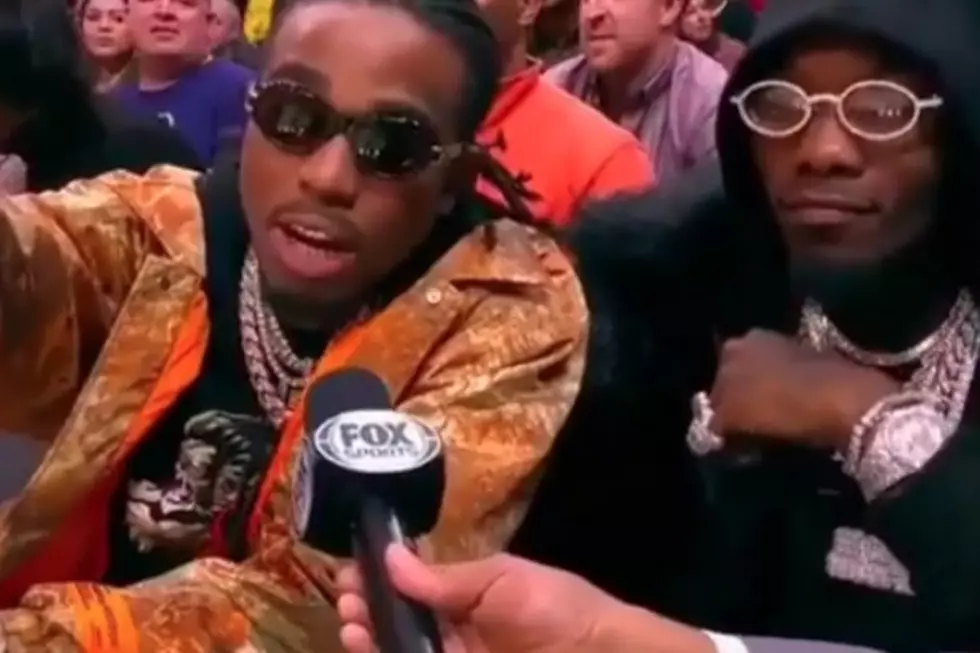 Quavo and Offset Help Coach the Atlanta Hawks From Courtside Seats
QuavoHuncho via Instagram
During the Hawks' home game against the Indiana Pacers (Dec. 26), the Culture II rappers were sitting courtside when Fox Sports approached them for an unscheduled interview without Takeoff. In the brief clip, both Quavo and Offset get to talk about their experience shouting plays at the Hawks players whenever they get the chance.
"We coach the team, you know what I'm sayin," Quavo said. "We know all the players."
The rapper-sports commentator continues to point out the players he's familiar with and call some plays. He even says that he already called out Myles Turner aka No. 33 on the Pacers, and warned him not to make the "Workin' Me" rapper get on the court. Meanwhile, Offset also tells the Hawks' Kevin Huerter to throw the ball before commenting on how the Hawks could win the game.
The Fox Sports reporter also mentions that Quavo, Offset and Takeoff had been at the Hawks' Phillips Arena for a stop of their Aubrey and the Three Migos tour with Drake. Before the clip ends, the reporter asks if Migos will return to Atlanta to perform during Super Bowl weekend.
We know that they'll be performing at the pre-game festivities at the Bud Light Super Bowl Music Festival, however, there's no confirmation that the group will perform at the game. After the question was asked, both rappers looked at each other with Offset putting his index finger over his lips as if they have a surprise in store.
We'll see in due time, but for now watch Quavo and Offset flex their coach skills at the Atlanta Hawks game.
See Photos of Migos' Different Looks Over the Years