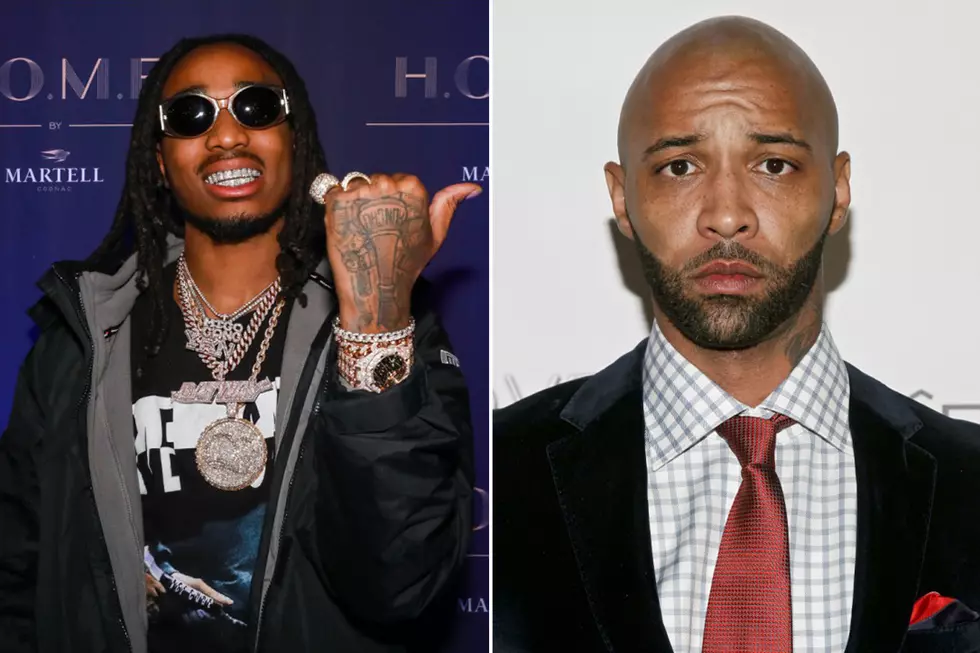 Quavo Disses Joe Budden on New Song "Ice Tray"
Scott Legato / Brian Ach, Getty Images (2)
While it appeared the short-lived feud between Joe Budden and Migos was over, Quavo has now rekindled the beef.
On Wednesday (Dec. 6), the Atlanta rapper used Twitter to drop a snippet of a new song called "Ice Tray," from the upcoming Quality Control Music compilation project, Control the Streets: Volume One. The track includes a line aimed at Budden. "Ice tray on nigga, flooded/If a nigga hatin', call him Joe Budden (pussy)/Coupe outside and it's press-button/Had that nigga mad cause your bitch fuckin'," Quavo raps.
Following Quavo's tweet, the New Jersey rapper laughed off the diss, tweeting, "Quavo want smoke? Lol." Budden also quoted Kanye West's famous dig at Wiz Khalifa, saying, "@QuavoStuntin i am your OG & you will respect me as such." Joe also added, "Nigga called me pussy on the adlib track 😂."
The feud between Budden and Migos began in June at the 2017 BET Awards, when the rappers almost came to blows. After an awkward exchange between the trio and Everyday Struggle co-host DJ Akademiks during an interview, Budden told Akademiks to "wrap up" the interview. When the co-host wouldn't end it in time, Budden threw his microphone to the ground and stormed off camera. This led Quavi, Offset and Takeoff to pop out of their chairs and ready for a fight.
Although a tracklist for the Quality Control compilation project has yet to be revealed, according to Quavo's tweet, Control the Streets will drop on Friday (Dec. 8). The project is expected to feature the recently released "My Dawg (Remix)" from Lil Baby. The track includes Quavo, Kodak Black and MoneyBagg Yo.
Listen to a snippet of Quavo's new track and check out Joe Budden's tweets in the gallery below.
Joe Budden Responds to Quavo's Diss