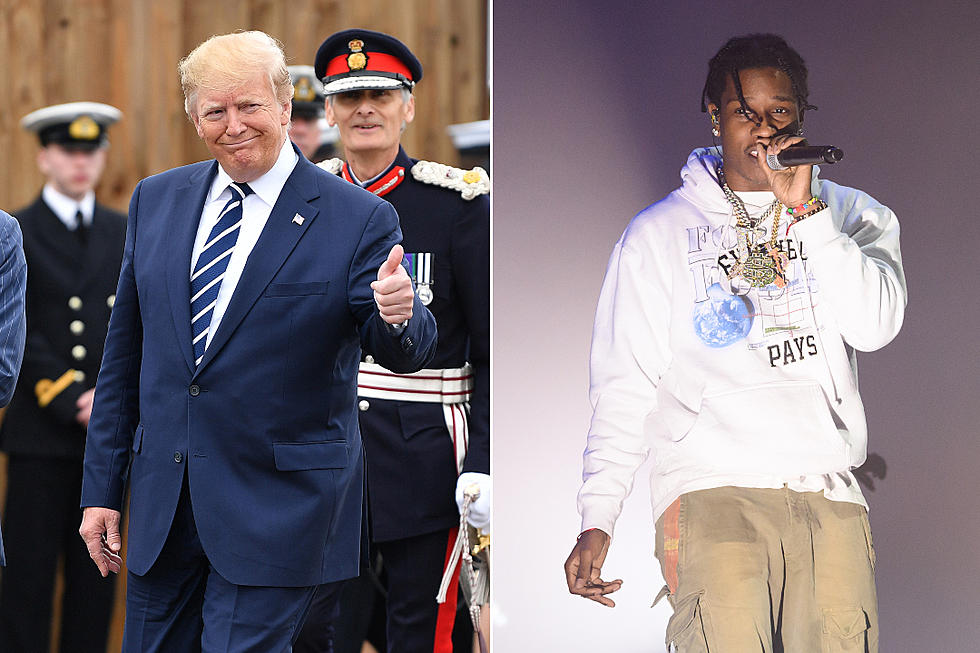 President Trump Allies Call ASAP Rocky and His Lawyer "Ungrateful Muthaf*!kas"
Jeff J Mitchell / Noam Galai , Getty Images (2)
According to a report Yahoo News published on Thursday (Aug. 22), Darrell C. Scott, an Ohio pastor, and Kareem Lanier, who runs Scott's non-profit organization designed to promote Trump's politics to Black Americans, claim that the rapper didn't thank them or the White House for intervening in Rocky's assault case, which stemmed from a June 30 brawl with a 19-year-old man in Stockholm, Sweden.
Scott and Lanier reportedly got in contact with Rocky's manager John Ehmann and lawyer Damien Granderson to facilitate President Trump's involvement. Lanier and Scott said their only condition for helping Rocky out was getting a thank you and Ehmann said there would be one.
On July 25, Trump demanded that Rocky be released from the Swedish prison after making calls to the Swedish Prime Minister to discuss the case. The tension between Rocky's camps and Lanier and Scott reportedly grew after Granderson was, in their words, too nonchalant about Trump getting involved in the case.
"I was like, man, you ungrateful muthafuckas, you. I can't believe you. ... We didn't ask you guys for nothing other than for you guys to be grateful," admitted Granderson. "We just want you guys to be appreciative and say thank you."
After Rocky was finally released from jail on Aug. 2, he thanked his fans and supporters on social media without specifically mentioning the White House. Then, once his guilty verdict was delivered on Aug. 14, the Testing rapper released a statement thanking everyone who supported him but not Trump specifically.
"All he had to do was do a two-minute call to say thank you," said Scott. "Rocky hasn't even called us and said, 'Hey, man, thank you guys. I appreciate it,' in private. Just in private."
XXL has reached out to A$AP Rocky's team for comment.
See 18 Rappers Who've Been Arrested in 2019