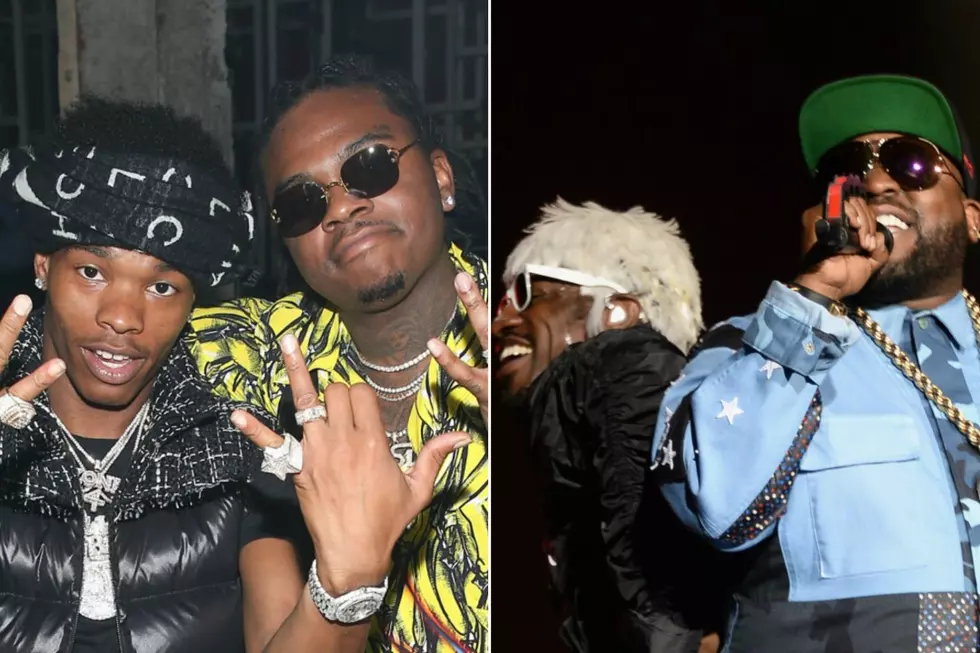 Lil Baby Thinks It's Great That People Compare Him and Gunna to OutKast
Bennett Raglin / Theo Wargo , Getty Images (2)
From time to time, the internet has compared Lil Baby and Gunna to other successful rap tandems of the past. That said, Lil Baby hasn't ever heard of himself and Gunna being compared to OutKast—until now. Speaking with Hot 97's Nessa yesterday (Nov. 26), Lil Baby took in the intriguing parallel between the legendary rap duo and himself and Gunna.
Midway into the conversation, Nessa mentions that the e-streets agree that Lil Baby and Gunna have an "OutKast vibe." She describes how their individual styles and their vibe when they hit the booth together is similar to how Big Boi and Andre 3000 were during their prime.
"That's a great title," Lil Baby said in a conversation that touched on everything from his forthcoming Street Gossip mixtape to working with Drake and 6ix9ine. "I never heard of that though," he adds. "I can see where that would come from."
Lil Baby went on to say that Andre 3000 is one of his top five favorite artists. Later on, Nessa asked the Drip Harder rapper about "Tic Toc," which is a 6ix9ine collaboration from the rainbow-haired rapper's newly released Dummy Boy album. After mentioning the album leak from over the weekend, Lil Baby said that he had "heard of it" but hasn't listened to the entire song in full yet. Then he explained how he started working with the "Fefe" rapper.
"We've kinda been cool for a minute," Lil Baby told Nessa. "When I first started rapping, he was already poppin' but he was on my music."
After they exchanged numbers, the Brooklyn native kept in touch with the Atlanta rapper up until 6ix9ine and several of his former crew members were arrested last week for rackeetering and firearms charges. During an arraignment hearing at Manhattan's Thurgood Marshall United States Courthouse Monday afternoon (Nov. 26), the rainbow-haired rapper pleaded not guilty to all charges. In response to Nessa's question about whether or not he's contacted Tekashi since the rapper's been behind bars, the Quality Control rapper makes it clear that he hadn't spoken to Tekashi.
"I don't be talking to nobody in jail," Baby told Nessa.
Watch Lil Baby talk react his comparison to OutKast and more below. The OutKast part of the conversation pops up at the 5:15 mark.
See Photos of 6ix9ine on the Red Carpet and More