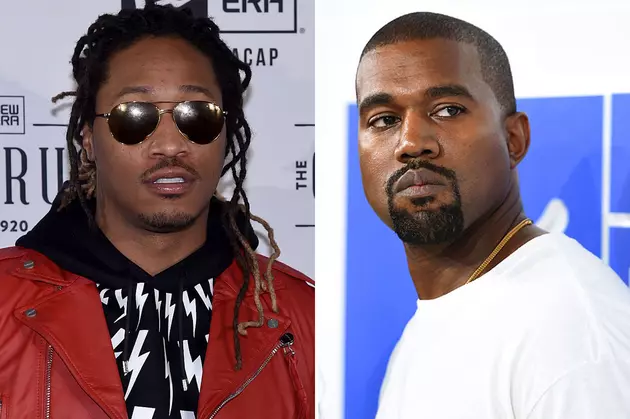 Lawsuit Claims Future, Kanye West and More Were Discriminated Against by Atlanta Hawks
Ethan Miller/Larry Busacca, Getty Images (2)
An explosive claim has been made by a former security manager for the Atlanta Hawks and Philips Arena. Samuel Hayes was fired sometime in April after he claimed injustices were taking place when it came to Black performers.
According to TMZ, Hayes first took notice of racially-charged decision making by the staff in August 2016, when Future and Drake made their way into the Philips Arena to perform for their Summer Sixteen tour. Hayes claims his White boss denied their request to sidestep the metal detectors, though AC/DC were able to bypass them when they performed a week later. Hayes alleges he continually noticed the pattern when it came to other Black celebrities such as Kanye West, 2 Chainz, Migos, Tyler Perry and Katt Williams. Hayes says his White boss let other White stars like Ariana Grande, Adele, Bon Jovi and the WWE Live Tour avoid the detectors without a hitch.
Sometime around April 2017, Samuel Hayes was let go after he says he brought these accusations to a head during a conversation with his managers. Allegedly, they told him, "Hip-hop acts draw a different crowd and the White acts bring in more money." His higher-ups, however, are claiming the complete opposite, saying they fired Hayes because of the way he treated lower-level staff without speaking to Human Resources first. The Atlanta Hawks have vehemently denied all allegations made by Hayes, who is now suing the team. "[Samuel Hayes] was terminated for poor performance and his claims are baseless. We will defend vigorously," the team's spokesperson told TMZ Sports.
This isn't the first time the Atlanta Hawks have faced racial scrutiny. In 2014, Killer Mike defended former Hawks co-owner Bruce Levenson. An email Levenson had written found him saying, "My theory is that the black crowd scared away the whites and there are simply not enough affluent black fans to build a significant season ticket base. I want some white cheerleaders … I have even bitched that the kiss cam is too black."
See Photos of Future's Different Looks Over the Years