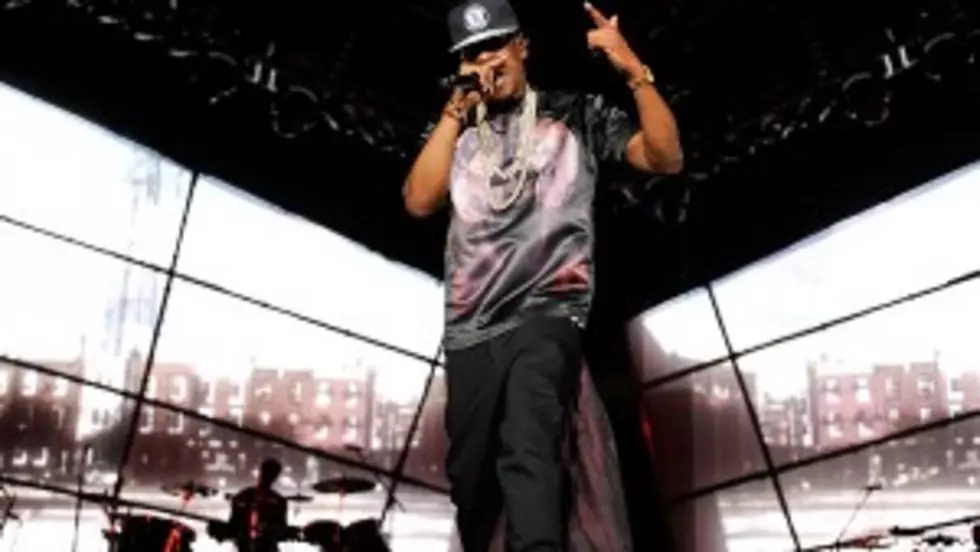 Jay-Z Holds Court in Brooklyn For Barclays Center Opening: Show Recap
Grand opening! No grand closing. It has taken almost 10 years, but the greatest MC ever and are arguably music's most premier entrenched, Jay-Z finally did it. He helped to bring the New Jersey Nets to Brooklyn and, in doing so, opened up the beautiful Barclays Center right in the heart of his home borough.
Last night in Brooklyn felt extremely special. Most in attendance we're too young to have been there when The World's Most Famous Arena, Madison Square Garden, opened, so, at the very least, all ticket buyers, were a part of history. Jay-Z and his business partners were opening Barclays with an eight-concert event, Friday's show being the first.
Outside, people waited patiently to enter as patrons had to stand on a long line just to get in, then go through metal detectors once you entered. After the security protocol, you could see an abundance of food and beverage stands, including a Nathans, a Stoli vodka stand and there were stores solely dedicated to selling Nets apparel, as well as Rocawear attire.
Inside, Brooklyn own's Mister Cee began putting the building on tilt, playing music from BK hip-hop royalty, including Notorious B.I.G., M.O.P., Fabolous, Lil Kim, Foxy Brown and he later spread his playlist out to cover all region with records like Juicy J's "Bandz A Make Her Dance" and Drake's "The Motto."
Cee then called Jay's longtime friend and artist Memphis Bleek to the mic.
"Its about to go down," Bleek proudly yelled. "Brooklyn we did it!"
"Everybody stand up! This is our night tonight," Cee later affirmed.
A tremendously huge big screen lay on the stage on it's back, but tilted upright so everyone, from every angle, could perfectly see, was Jay's only backdrop.
A video montage of pictures of monumental Brooklyn icons played on the screen as a timeline right before Jay-Z came out. The Dodgers winning the world series, the births of Aaliyah, Big Daddy Kane and Biggie, finally, the Nets move to BK. The timeline culminated with O.D.B.'S "Brooklyn Zoo" parading out of the speakers.
Hov's first record was one of his all-time cherished hallmarks, "Where I'm From."
"Tonight is a celebration of where I'm from. So when I say 'is Brooklyn in the house, I wanna hear everybody,' Hov, wearing a black and white Nets jersey with his own name and number 4, commanded.
A hologram of Big's face (reportedly to cost around 400K, by Miss Info) hung above the stage while Jay and audience rapped to "Kick In The Door." Hov fell back and let the crowd recite "Juicy" next. There was a thunderous roar when the line "Spread Love is the Brooklyn Way" came around.
"I said everybody in here tonight is from Brooklyn," Jay reiterated. "This is a long, long journey to get here. We started out 2003... Nothing feels like tonight...I performed at the Grammys, I performed at Glastonbury, tore Coachella to pieces. Nothing feels like tonight."
Later came "Run This Town" and "Big Pimpin'." In between, Jigga flipped a new verse for the crowd.
"This is Rich Porter, part two/ You can stunt like that when you're rich before your debut
Money and the murder, rapper or the trapper/ Either way I'm gonna serve ya
Shooters on my team… No really, I got shooters on my team
Juan or Deron/ How you niggas want it, pick a arm
They call me Lucky Lefty…/ Ball so hard I don't respect the fuckin' referees."
Throughout the night, Jay continued to unleash cherished material from his catalog, from the obscure (at least to fans of Hov outside the urban community) "Murder Murder Marcyville" to mega-smash hits like "I Just Wanna Love U (Give It 2 Me)" and "99 Problems."
"I don't know how I'mma do eight nights after tonight," Jay said towards the end of his regulation time set, as "Encore" began. "I had an amazing time tonight."
With the lights still out, nobody in attendance (among them, Beyonce, The-Dream, J.Cole, Dave Chappelle and others) was budging. Everyone knew Jigga was going into overtime.
He came back with his verse from Beanie Sigel's "Do It Again (Put Ya Hands Up)," throwing a perfect alley oop at the end of his bars "I seen the same shit happen to Kane."
For hip-hop fans who know there history, it was moment of euphoric frenzy, Big Daddy Kane (the only guest of the night)—dressed in all white—came out to "Ain't No Half Steppin" then followed with "Set It Off" and "Warm It Kane." The BDK may have lost a few steps, but it was still fun to see him being lifted over Scoob Lover's head and landing on the ground in a split in a fluid motion.
As the show closed out, Jay, exuding sincere emotion told the audience he was "humbled."
"This night was a dream. I can't even put into words how I feel," he said. "I look around this arena... Oh shit!.... Thank you Brooklyn for making me the man I am today." —Shaheem Reid (@ShaheemReid)