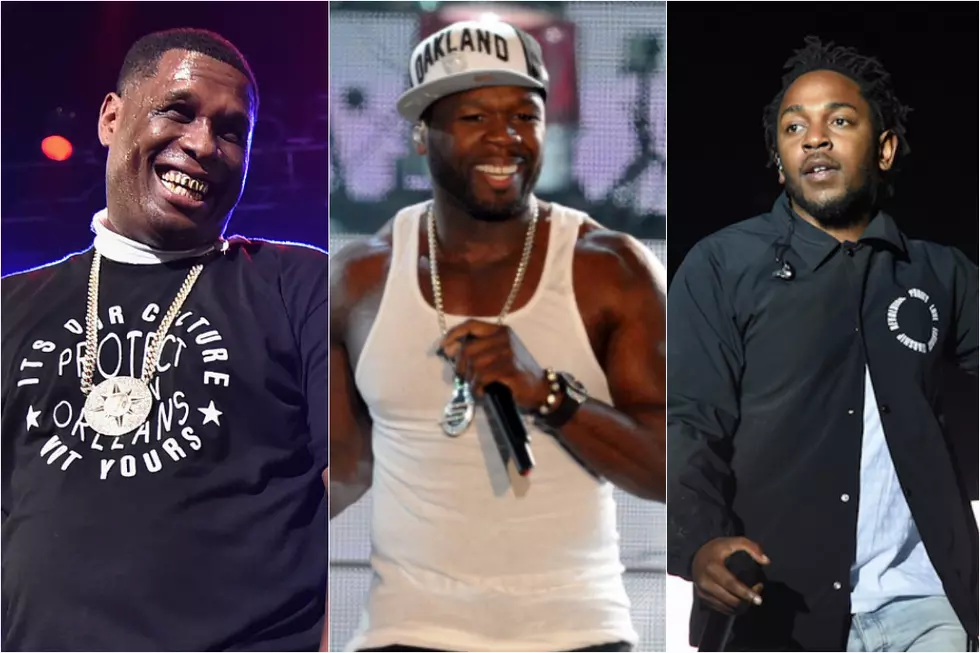 Jay Electronica Threatens to Slap 50 Cent, Says Kendrick Lamar Wishes to Be Like Him
Theo Wargo/Kevin Winter/Jason Merritt, Getty Images (3)
Jay Electronica refuses to drop an album, but he just dropped a bomb of a video on the internet, where he oddly threatens bodily harm to 50 Cent.
The New Orleans native recently conducted a Periscope session with fans in which he touched on a number of topics and random ramblings, and gave some interesting answers. Concerning Kendrick Lamar, whom he rapped alongside on Big Sean's "Control," Elec doesn't seem convinced of his critical acclaim.
"Look, I like the one Kendrick song with Gunplay, 'Cartoon & Cereal,' but other than that we don't know what nigga talking about," Electronica said. He later added to the topic after one of his fans had some harsh words for Cornrow Kenny. "Don't say fuck Kendrick, that's still our brother," the rapper states. And moving further into the clip (at the 12:40-mark), he brings up Lamar again adding, "Kendrick is my son, Kendrick is my baby, Kendrick wishes he could be me."
But the even more head-turning revelation are his thoughts and threats to Fif. "50 Cent at once, he was a good rapper," Electronica notes at the 12-minute-mark. "Right now he got the potential to be a rapper but he's on some sucker shit…and we will slap 50 Cent's eyeballs loose out his scalp."
Wow. Did we miss something? Someone who surely wont miss this jab is 50 Cent who bites his tongue for no one. Already embroiled in a new beef with Meek Mill that sort of kind of popped up out of nowhere, we are sure the Queens MC will have no problem adding this squabble to the docket. Stay tuned.
See 40 Hip-Hop Albums Turning 20 in 2016