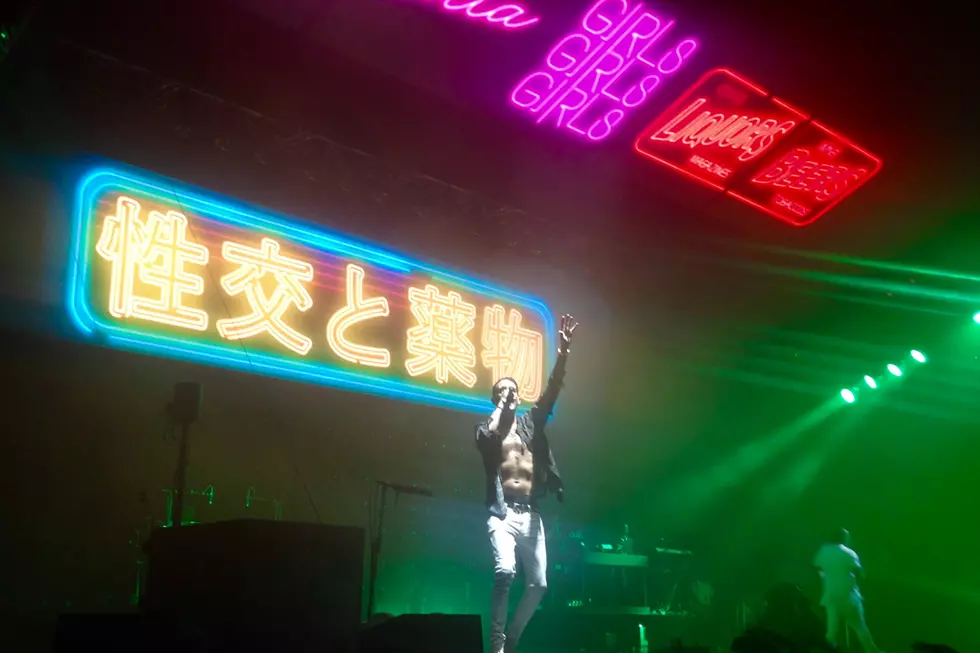 Worlds Collide at G-Eazy and Logic's Endless Summer Tour
XXL
G-Eazy and Logic's Endless Summer Tour is an example of how well opposites can attract, especially in the rap world. The Bay Area rock rapper and DMV lyricist brought their show to the Barclay's Center in Brooklyn last night (July 26) and made it clear to see how the seemingly odd couple match up to put on a show that can appease both of their worlds.
As the crowd of the sold out show filed the seats, Logic took the stage first at 8 p.m. with his resident record scratcher, the trusted DJ Rhetorik. The duo greeted fans with two huge LED block screens reminiscent of Logic's set up for the Incredible World Tour. With each new song performed ("Wrist," "Under Pressure," "Flexicution", "Fade Away") Logic's fans got high off his contagiously fun energy. The video game aficionado understandably brought out a dabbin' Mario mascot to act as his hypeman for "Super Mario World" off his most recent tape, Bobby Tarantino. Logic finished up his set by rapping "Gang Related" at unimaginable speed. When he saw someone in the front row rapping along with him word-for-word, Logic singled him out and had the fan do the last verse with him and threw his Ratt Pack hat to the fan as a keepsake.
Next up was G-Eazy at around 9:30 pm. The Bay Area native's set included booming renditions of his early and recent hits. From "You Got Me" to "Random" and "Loaded," the seasoned showman proved just why he has risen to stardom in the last three years. Guest appearances included West Coasters Nef The Pharaoh, Ty Dolla $ign, Marc E. Bassy and YG. Memphis hitmaker Yo Gotti hit the stage and broke up G-Eazy's set for proportional pacing. When G-Eazy brought out YG for the remix of the Bompton rapper's "FDT," the crowd got exceedingly zealous, but it was a surprise appearance from New York's own Jadakiss that really had the show's attendees lose control.
Though G-Eazy and Logic's sets differ in terms of content—G Eazy's burbon swigging, pyrotechnics and raunchy lines vs. Logic's live beat-making, fandom shoutouts and lyrical acrobatics—they share a common thread: the morales of perseverance, gratitude and hard work. During Logic's set he preached about treating everyone the same, no matter their status.
"You make sure you treat your trash man like the president of the United States. We are equals," said the 26-year-old.
And G Eazy's set drove home the idea of hard work as he thanked his mother who sat front row in the arena.
"Growing up in the Bay, this shit don't happen... I just bought a motherfuckin' house off rap music."
With a few more stops left on their national tour, the guys plan to bring the party to Cleveland, Philadelphia, Boston and more before wrapping up in early August. Check out some of XXL's social coverage of the Endless Summer Tour below.
50 Fire Hip-Hop Albums You Need to Listen to This Summer