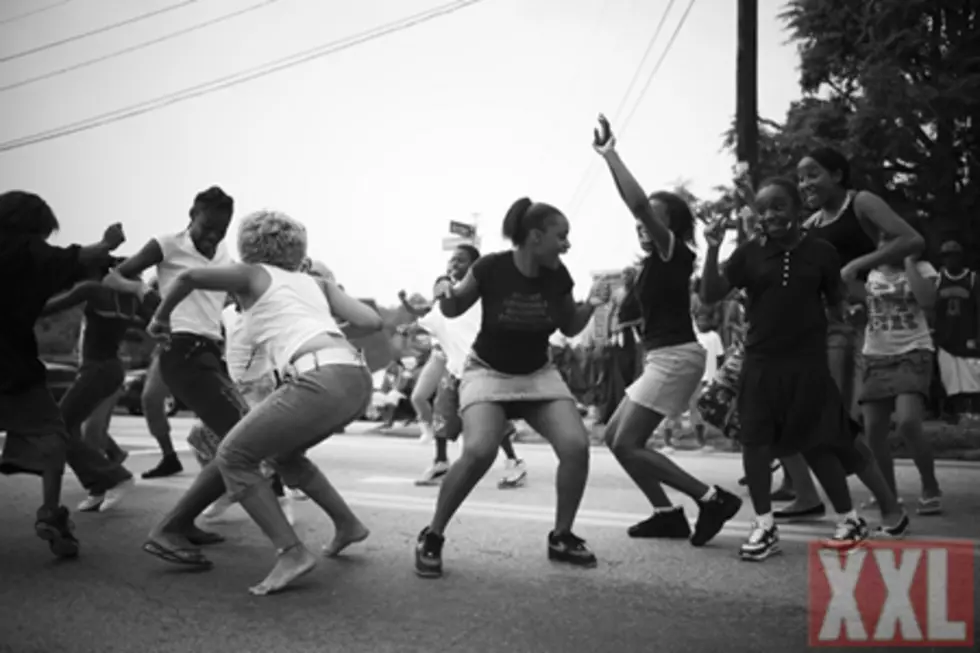 FEATURE: Sweeping The Nation
A brunette in a purple hoodie, tube socks and black fitted futilely flails her limbs. A rail-thin dude in basketball shorts who bears an eerie resemblance to Lil Boosie gyrates like an earthworm in a badly lit bedroom. Two blonde chicks in matching "UNT Football" tees and shorts pose and squat in unison. They've all come here, on YouTube, to dance—in uploaded home videos of themselves doing the Stanky Legg, the Dougie and the Ricky Bobby, respectively. This is what the creation of a new hit dance will get the average Southern rapper: viral-video love, thousands (sometimes millions) of YouTube views, 15 seconds of fame, a foot in the door of the waning music industry. Recognition? Respect? Well, more on that later.
The South has, without question, dominated hip-hop for much of the millennium, producing most of the medium's recent stars—Lil Wayne, T.I., Young Jeezy, Soulja Boy, Rick Ross—and marginalizing older Meccas like New York and L.A. The South is where they dance, and the whole world loves it when they do their dance. Go on and lean wit' it; rock wit' it; wipe it down; walk it out; pop, lock and drop it; crank that; shoulder lean; swag surf; do the Stanky Legg, the Ricky Bobby, the Dougie, the Halle Berry, the Dame Dash, the Franky, et cetera, et cetera… Seems like there's a new move to learn every week. What is it about the South that makes it the hotbed for new bops?
"The South is, like, the new Motown," says Atlanta's DJ Unk, 26. "It's a lot of new artists that come out every day, and everybody got they own lane. West Coast got West Coast music. North got up-north music. The South is the party!"
The initial blitz arrived around 2006, amid hip-hop's Southern renaissance, when several regional dance hits went national. On the Billboard Hot 100 chart that year, Dem Franchize Boyz' "Lean Wit It, Rock Wit It" peaked at No. 7, while Yung Joc's "It's Goin' Down" (the video to which featured the motorcycle-revving dance none other than Tom Cruise busted out on BET's 106 & Park) rose to No. 3. In 2007, DJ Unk's "Walk It Out" reached No. 10, while singles like Huey's "Pop, Lock & Drop It" (St. Louis) and Trill Fam's "Wipe Me Down" (Baton Rouge) also made their mark. By September 2007, Soulja Boy's "Crank That" was the No. 1 song in the country. Continuing what many pegged as a fad, songs like "Stanky Legg" (by GS Boyz, from Dallas) and "Swag Surfin'" (by Fast Life Yungstaz, from Decatur, Georgia) have gained steady national airplay in recent months.
Due to such popularity, while most dances are conceived by improvisation, there's often a premeditated desire to create the next phenomenon. The GS Boyz (whose Stanky Legg requires leaning to one side while rotating the opposite foot, as if stamping out a cigarette) admit to being inspired by Soulja Boy's Superman-dance-and-YouTube-fueled ascendance. "We like to dance a lot," says group member Marcus "Marc D" Dinkins. "And to see somebody like him, he came up from where he live, and he was just a normal kid. He ain't have nothing—it's kinda like ourselves."
As with the history of dance itself, the origin of certain moves can be hard to trace. DJ Unk learned how to "walk it out" from a group of tipsy girls in the parking lot of Atlanta's Club Chocolate and then recorded a song about it. Oftentimes, YouTube users take the initiative and create their own, as was the case with dances designed for Dallas rapper Dorrough's debut single, "Walk That Walk," and Hurricane Chris's "Halle Berry (She's Fine)." "Neither one of us came up with the dance," says Chris, 20, the Shreveport, Louisiana, upstart who hit huge with "A Bay Bay" two years ago, and whose new Halle Berry dance pantomimes checking oneself in the mirror. "We dropped the hit, and, like, two months [later], we turned on YouTube and they had already put their own dance to it."– CLOVER HOPE WITH ADDITIONAL REPORTING BY
MICHAEL ARCENEAUX
For more of the Sweeping The Nation article, make sure to pick up XXL's July issue on newsstands now.