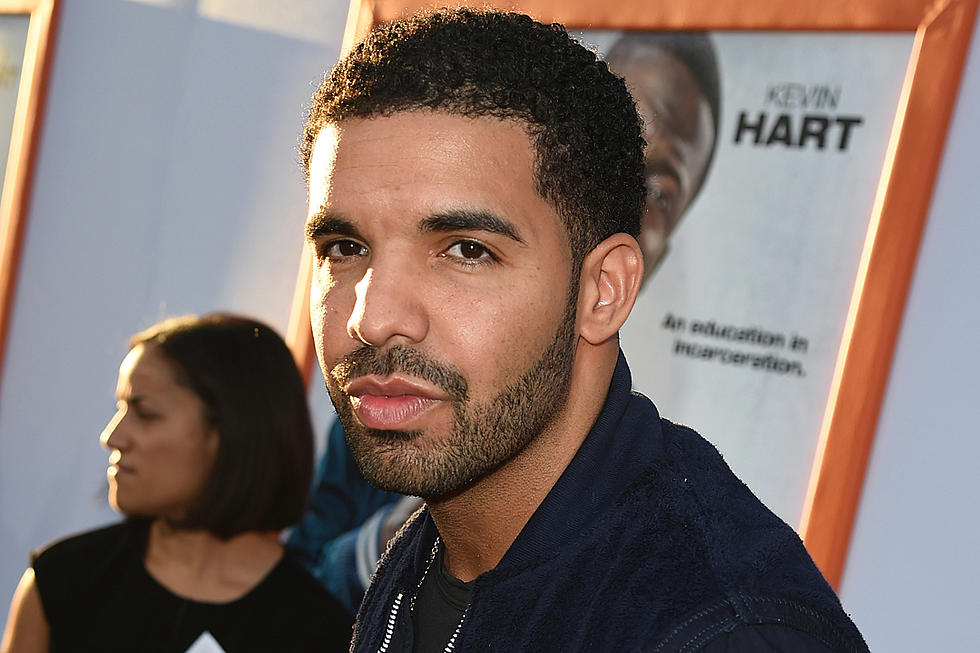 Everything You Need to Know About Drake's 'Views From the 6′ Album
Kevin Winter, Getty Images
Rumors of Drizzy's new album began circulating in 2014, around the time he released the infamous "0-100/The Catch Up" in July of that year. A month later at OVO Fest, a picture of Rihanna with the numbers "666" across her face flashed across the screen during the show. Drake clarified on Twitter, stating that his new album title would include "the 6" in the title. In an interview in April 2015, the rapper revealed that he had only two songs completed for the album. One of the songs was "Can I," a track that features Beyonce. The following month, he gave details on how Toronto influenced his work on Views.
By November a huge, mysterious billboard popped up in Toronto. "The 6 God is watching" was the slogan. Over the next couple of months, more billboards and posters with the number 6 have been spotted not just around T-Dot, most notably in Billy Bishop Airport and Dundas Square, but across the pond. The billboard in London was thought to be the cover art for the album but a rep denied the claim. It is "100 percent not the album artwork," said a U.K. rep for Island Records, which distributes Drake's music. "Sorry about any miscommunication."
In January of this year, Drake started off 2016 with a bang by dropping "Summer Sixteen" on OVO Sound Radio. He also announced that Views From the 6 drops in April. "For now, just know we are working," he said. "I'm here. I'm excited for all this." His go-to producer and right-hand man Noah "40" Shebib also posted photos on Instagram hinting that the LP was in its final production stages. The following month, 40 said that Views is "special."
"It's going to be what everybody expects and wants from Drake and from us," Shebib shared. "A lot of introspection, very vivid. He's discovering new flows, new cadences, new patterns." As for the music, "I'm trying to find ways to pull more untraditional sounds in, to push the boundaries a little further."
Then last month, Aubrey posted four Instagram photos with the caption "Home Stretch." He reaffirmed the April release date via Instagram when he shared another image of a Views billboard with the caption "April." Pitchfork reportedly confirmed that the album will drop at the end of the month as well.
Before Views From the 6 arrives, take a look below to find out everything we know about Drake's new album.
It was first revealed in late January, when Drake let "Summer Sixteen" loose, that Views would drop in April. "We're here working overtime on it tryna make it everything I know it should be and the album itself will be coming in April 2016, so 416, you know that's where I'm from," the rapper revealed.

Artists That Might Show Up as Featured Guests

Beyonce, Jay Z, Kanye West, Kendrick Lamar, Popcaan, Willow Smith, Timbaland, Chris Brown, Wizkid, Kyla and Future are all rumored to be on the album. Queen B was featured on "Can I," which dropped in the middle of 2015. Drizzy was in the studio with Kanye for "30 Hours" and "Father Stretch My Hands Pt. 1" off The Life of Pablo so it's highly likely that they recorded more songs outside of the recent single "Pop Style," which also features Jay Z. Since What a Time to Be Alive, it's pretty likely that Future Hendrix and Drake have more hits in the stash too.

After Drake and Kendrick posted pictures of $2 bills, many believe that the two rivals are working together for a colossal record. In an Instagram post a while back, Drake hinted that even Willow Smith is "all on views." Popcaan was featured on Drake's recently leaked song "Controlla." Wizkid and Kyla also appear on "One Dance," which may or may not be on the album. Timbaland also hinted that he's on Views. Chris and Drake were spotted in the studio together in 2014.

So there's a lot to look forward to when it comes to guest features on the project.

Potential Songs Making the Final Tracklist

Producers Assisting With the Sound

In February, Drake sent out a tweet teasing a potential collaboration with Metro Boomin. Noah "40" Shebib, Drizzy's right-hand man, will more than likely be the executive producer for the LP and has already posted plenty of pictures of his studio sessions with The Boy. Boi-1da should also be assumed to be working on the album since he co-produced "Summer Sixteen."

Odell Beckham Jr. Could Have an Impact on the Final Album

In an interview with Ronda Rousey that was organized by DraftKings, New York Giants star receiver Odell Beckham Jr. revealed that he was living in Drake's house while the rapper was finishing Views From the 6.

"That's my guy right there," OBJ said. "That was the first time we really hung out was that whole weekend. This really was the start of a friendship that'll carry through a lifetime. Weird enough, I'm actually staying at his place right now while he's finishing the album. I'm just out there working out. He needs to chill out with that house he has out there. There's just too much going on."