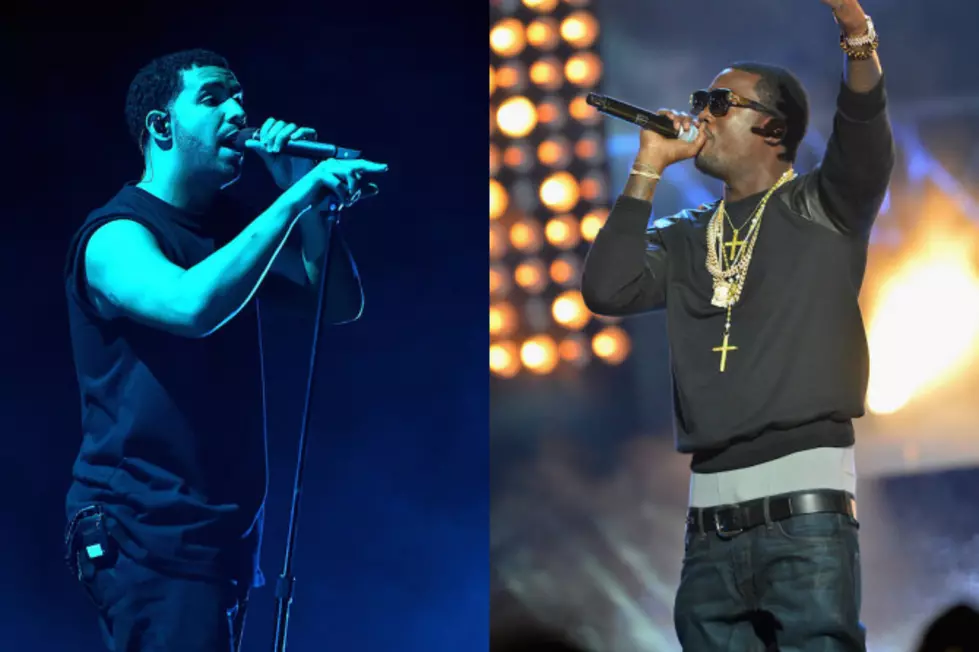 How Much Drake and Meek Mill's Beef Helped Drive Up Their Instagram Followers
Getty Images
Tomorrow, Sept. 3, will mark one month since Drake's headlining set at his 6th annual OVO Fest, a celebratory occasion for the hometown kid who made it in the rap game. But it wasn't a celebratory night for Meek Mill. If you'll recall, OVO Fest 2015 was the site where Drizzy posted up meme after meme of Meek, curating the best of what the internet had to offer after the duo's lyrical sparring match and effectively ending Drake and Meek Mill's beef in its tracks after less than two weeks.
The beef enraptured the hip-hop community (and mainstream got in on the act as well) for as long as it lasted, playing out alternately over Twitter, Instagram, radio and, eventually, on the OVO screen that August night. But it was Instagram in particular that helped spur things along, with Drake caught commenting on the situation via a leaked DM, then liking a video of Krept & Konan replacing Meek's face with Skepta's on a magazine rack, building anticipation for his diss tracks by releasing the cover art on his page, then posting a photo of himself laughing at a basketball game after Meek released a diss track of his own. Meek, for his part, posted a selfie after his initial Twitter outburst to confirm to fans he wasn't hacked, then drove fans into a frenzy by posting a photo of himself and promising his diss track was on its way (it wasn't), then threw shots at Drake in a series of posts after he had largely taken an L.
In short, this was the beef that confirmed Instagram as the king of hip-hop social media apps, as fans refreshed each MC's page over and over waiting to see what would happen next. And one month after OVO Fest, XXL wanted to check how much the beef affected Meek and Drake's followers. But without a firm idea of how many followers Meek and Drake had as the beef was blowing up, we had to turn to the Wayback Machine, Archive.org's storage facility of cached web pages that show what a page looked like at certain specific (though not uniform) dates. Let's dig in.
As of Jan. 20, 2014, Drake's followers stood at 6.8 million to Meek's 3.2 million, while by July 4 Drake had climbed to 9.7 million to Meek's 5 million at July 2. Of course, follower counts can tend to snowball a bit exponentially, so it helps to break the numbers down a bit; in those 23 weeks, Drizzy picked up 3.1 million followers (appx. 134k per week) while Meek added 1.8 million (appx. 78k/week), adding about 1.4 and 1.6 percent to their followers count, respectively.
The next mutual point of data available comes six weeks later on Aug. 14, a time period which encompasses the rappers' back and forth (which would be July 22 - Aug. 3, if we were to put an end to it that night). That's when things really ramped up on both sides; as of Aug. 14, Drake had climbed 1.6 million followers to 11.3 (+49.5 percent per week), with Meek adding 900,000 to land at 5.9 million (+48 percent per week). To put that into a different perspective, in that six weeks both rappers added 50 percent of what they had accumulated the previous 23 weeks combined. That's a time period of periodic disses, subliminals and attempts (from Meek at least) to move on from that situation.
But it's the last period, the three weeks between Aug. 14 and today, that proved the longer-term effect of Drake's lyrical and overall victory at Meek's expense. Since then, Drake has picked up another half-million followers (he's at 11.8 million as we speak), while Meek has picked up 200,000 (6.1 million) in the same time period. There are two ways to contextualize those numbers, of course: cumulatively for 2015, or against the more "normal" numbers of the first 23 weeks of the year that didn't encompass the beef. By adding ~166,000 followers in the past three weeks, Drake's weekly follower count is +19 percent over the first 23 week span, while Meek's ~66,000 is actually lower, at -17 percent, than what he was picking up in those 23 weeks, a 36 percent swing (to use the whole year cumulatively winds up similar; Drake is +7, Meek -27).
In the past three weeks, Drake has posted 20 photos and videos to Instagram. Meek? 102. And they're both actually posting less than they used to, on average. Of course, Meek isn't at the level of celebrity and mainstream attention that Drizzy is by any means, and his increase in followers early this year could have been due to the mainstream spotlight from his relationship with Nicki Minaj. But the numbers provide a look at how beef can effect even the biggest names in the business, on Instagram, at least. Thankfully, "I have more followers than you" didn't find its way into the diss tracks.