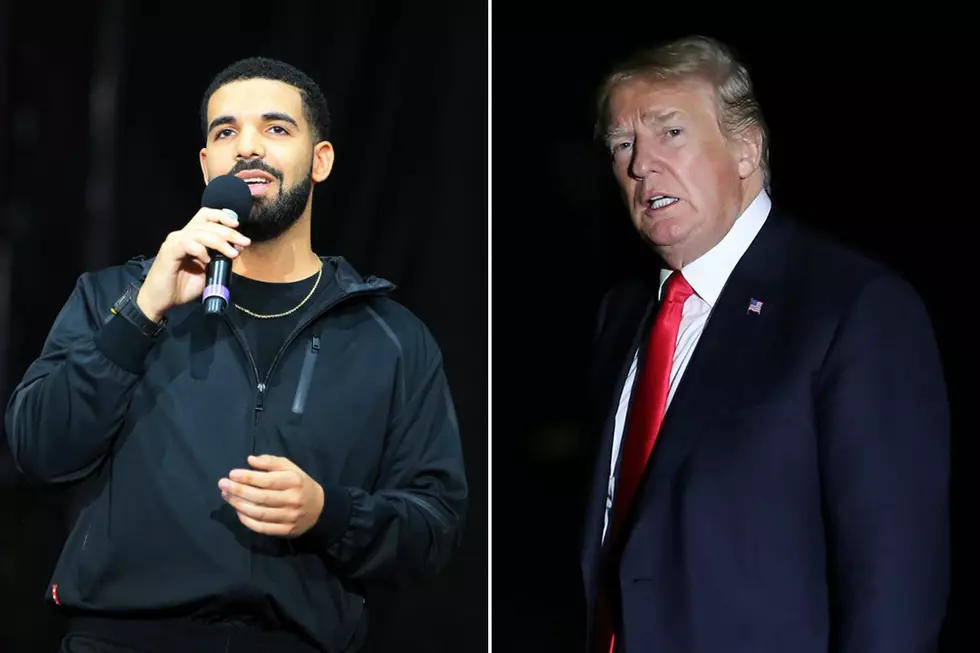 Drake Calls Donald Trump a "F*!king Idiot" at New York City Show
Vaughn Ridley / Mark Wilson, Getty Images (2)
Drake isn't known for making political statements on stage or in his music but on Thursday night (Aug. 30) in Brooklyn, the Scorpion rapper had a message for President Donald Trump.
While wrapping up his performance of "God's Plan" at the Barclays Center, Drake began thanking his fans for their support and went on to discuss the current climate in the United States. "Right now, I feel like we're all living in a country where they try and tell us... that we're living in divided country," the rapper said. "And we're listening to this fucking idiot that's in office. We're listening to this idiot in office that's trying to tell us something is going on," Drake continued, taking a shot at Trump.
"And meanwhile, right here in Brooklyn, we got 16,000 people from all races and all places and all we doin' is just sitting here enjoying ourselves, listening to music," Drake said. "So, I wanna tell you from the bottom of my heart, I'm proud of you because no matter how they tell us the world is goin', this is how the fucking world is supposed to work."
The Aubrey and The Three Migos Tour will continue on Friday (Aug. 31) with two more shows in Brooklyn before Drizzy and Migos head to Montreal. The artists will continue touring through Nov. 17, wrapping up the trek in Atlanta.
Check out Drake's rant aimed at Trump below.
See Photos of Drake's Different Looks Over the Years